The five things you need to know on Wednesday October 14, 2015...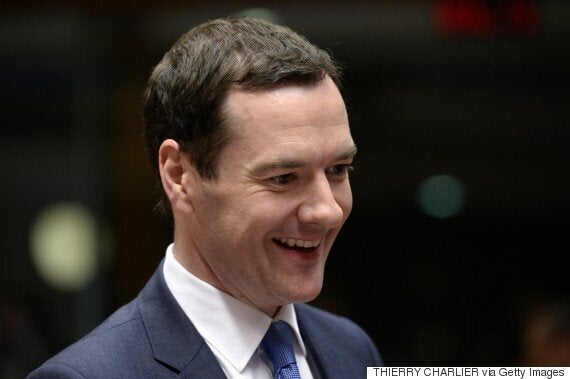 It will be late (after 7pm) and last only 90 minutes, but a debate and vote on a statutory instrument enacting George Osborne's charter for budget responsibility will be the main political focus today.
Well before then, PMQs may well give David Cameron an irresistible opportunity to highlight John McDonnell's U-turn. Cameron will want to exploit Labour confusion, but rather than going on the offensive he is being advised to take a gentler tone that reflects his own conference speech last week: lovebombing, not ridiculing, moderate Labour MPs and voters is the objective. (Though that doesn't meant a Tory MP won't ask about LabourUncut's A-Z of Corbsplaining)
As for Jeremy Corbyn, it's only his second outing in the PMQs bearpit and I understand he will mix it up with a combination of crowd sourced questions and his own, as well as some follow ups.
George Osborne put out some overnight quotes to seize on Labour's discomfort, calling on "all moderate, progressive Labour MPs to defy their leadership and join with us to vote for economic sanity..failing that, they should at least follow the advice of the former shadow chancellor and abstain."
That reference to Chris Leslie is significant because he's one of the few MPs to say he'd rather abstain tonight. Estimates vary of how many will follow suit (I think 'dozens' may be way over the mark, as a cabal of MPs has still to decide). The vote will be whipped and some moderates tell me it's not worth copying Corbyn's serial rebellions, especially as many like Rachel Reeves and Emma Reynolds now think opposing the charter sends a clearer message about Labour's refusal to engage in Osborne's 'gimmick'.
Osborne may see his tactics as having been finally vindicated the collective Opposition stance: his whole emphasis in the coming Parliament is to paint the Labour party, not just Corbyn-McDonnell, as leftwing and divorced from swing voters' concerns about sound finances. There's simmering trouble over McDonnell's failure to consult more widely, and bafflement as to his Guardian interview, but many Labour MPs are happy not to engage in the Chancellor's 'trap'.
As for Ed Balls, I'm told he certainly has had no discussions with Team Corbyn about the charter. Perhaps the key question for moderates now is 'How Will Mike Gapes Vote?'. Gapes became a standard bearer of the anti-Corbynistas yesterday.
McDonnell has done a Mirror piece explaining that it was tears of families of sacked Redcar steelworkers that clinched it for him, and the need to be flexible to borrow to invest in skills and support for manufacturing. (There's a bigger issue here about why Redcar went under, and no-nonsense Anna Soubry yesterday pointed out the global price of steel was the main factor, but that's for another day). The real problem for some Labour frontbenchers is a lack of clarity about Labour's alternative. McDonnell told the PLP he would set out his own principles of fiscal responsibility to deny the 'deficit denier' charge. But today it looks like we will just get a vaguer consultative document instead.
In the Times, one shadow front bencher says the risk is to repeat Ed Miliband's mistakes on the economy, but even earlier. "They've not made any effort to make the case [for their economic plans]. It was the same with Ed [Miliband]."
Danny Blanchflower, an economic advisor to Mr McDonnell, was on the Today programme attacking the idea of 'tying yourself to a silly rule', especially its definition of forcing a budget surplus in 'normal times'. 'That would be fine' he said of the overall principle, but pointed out that with interest rates still close to zero "we are nowhere near normality". Asked why McDonnell had told the Guardian he would sign up to the Osborne charter, Blanchflower replied: "I don't know the answer to that". He admitted he had been 'surprised'.
Jeremy Corbyn is a modest chap but even he may not be able to resist saying 'I told you so' and claiming victory on the Saudi prisons deal at PMQs today. Of course, it is Michael Gove who is the one credited within Tory ranks as having got his way.
Today the Times, which exposed the Government rift yesterday, reports that Theresa May was another loser in the argument, along with Philip Hammond. The paper says that the Home Secretary 'lobbied hard' to keep the MoJ deal in place. Never forget that Gove got a big namecheck from the PM in his party conference speech (though some ministers believe he's overreached himself in the media leaks of the story). Mrs May got a blink-and-you-miss it mention from Cameron.
Francis Elliott has some invaluable detail: Cameron made his decision at his morning meeting with Osborne, even before Cabinet, and gave Hammond one last chance to defend the prison deal. But after being told by officials there would be no financial penalty, the PM decided he couldn't gift Corbyn a victory at PMQs and cancelled the bid.
After winning a Prime Ministerial intervention, the Sun follows up its own scoop yesterday on Karl Andree, the Brit pensioner in Saudi jail for possessing homebrewed wine. The BBC's Frank Gardner insists the Saudis never threatened a flogging for Andree, but the Sun counters he certainly is facing 360 lashes and has been robustly pointing out the BBC has got its facts wrong (or been duped). Today, it has his son saying to the Government it should "get him home for Christmas".
The Indy seizes on Gove's liberalism to splash on a plea for him to now dump another Grayling policy: the criminal courts charge that slaps a £150 fee on anyone who pleads guilty to an offence. There's a Regret Motion on it in the Lords tonight and Gove will have to respond with how he intends to take it forward.
Gove's Celsius 7/7 views about tackling fundamentalist Islam are definitely a motivation. But as Alan Duncan showed yesterday - accusing Gove to his face of being driven by his 'caustic' views of the Saudis - some Tories still believe that engagement is the best policy (indeed the whole point of the prison contract was to improve Saudi jails, while recognising its beheading policies aren't going to change overnight). The real test of the Tory Government's emphasis on human rights comes next week however: will Gove and others speak publicly about China's appalling treatment of prisoners?
3) BOMB-LOAD TO DAMASCUS?
The Guardian reports that Corbyn has signalled for the first time that Labour could support forms of military action in Syria without UN support if Russia blocks a security council resolution.
The switch is set out by Hilary Benn in a piece for the paper and follows a meeting yesterday between Benn, Corbyn, the shadow lord chancellor, Lord Falconer, the shadow attorney general, Catherine McKinnell, the shadow defence secretary, Maria Eagle, and the shadow chief whip, Rosie Winterton.
For the first time, Benn discusses the possibility that it will not be possible to reach agreement on a chapter VII resolution at the security council, stating: "Of course, we know that any resolution may be vetoed, and in those circumstances we would need to look at the position again." That wording is designed to imply that Labour recognises its prior support for military action without explicit UN authorisation, such as in Kosovo.
Benn adds: "We have a responsibility to protect people, but in Syria, no one has taken responsibility and no one has been protected." Just how No.10 will read all that remains to be seen.
Richard Harrington, the minister in charge of our Syrian refugee effort, refused seven times yesterday to say how many had so far arrived in the country. He also ruled out using the grass roots offers of help.
As for the wider issue of migration, it's worth noting Tory MP Richard Fuller's remark from the debate yesterday on the Immigration Bill. "There's been one word that nobody has used about illegal immigrants, and that's the word compassion"
BECAUSE YOU'VE READ THIS FAR...
Watch Anna Soubry accuse Dennis Skinner of 'offensive' 'sexist' 'out of order behaviour'. Clue: it involves Margaret Thatcher
'Sad Nick Clegg' plumbed new depths last night as he finally admitted on Newsnight what everybody else had felt for ages: him sitting mute alongside David Cameron at PMQs for 5 years was not a good look. "The optics of politics made it almost impossible for people to understand what Liberal Democrats did in the Coalition...
"Sitting mute next to David Cameron at Prime Minister's Questions every week was a sort of terrible encapsulation of what our critics said about us, that we were somehow just sort of passengers in the Government when in fact we were active architects rather than observers of the Government. And maybe my biggest mistake was sitting where I did during Prime Minister's Questions."
Of course there are those who say his biggest mistake was joining the Coalition in the first place, or getting outflanked on tuition fees so easily, or not making a break earlier in the Coalition....
One area the Lib Dems were very strong on was of course pensions and the introduction of the 'triple lock' protecting it. But today the FT reports that the triple lock is costing us £6bn a year more and could spiral further. The Government Actuary's Department published the stats last week on its website but the figures were removed a day later - an official said they had been published "in error".
It was the US Democrat contenders first televised debate last night. Hillary Clinton wooed her base with a forthright attack on the National Rifle Association. Given our own marijuana debate over here, it was quite striking to hear a Presidential candidate utter these words too: "I agree completely with the idea that we've got to stop imprisoning people who use marijuana." Echoes of The Wire's Hamsterdam experiment...?
Clinton was firm on prosecuting Edward Snowden. But Bernie Sanders, aka JezWeCan Stateside, had a softer tone: " "He did break the law, and I think there should be a penalty to that. But I think what he did in educating us should be taken into account." Ex governor Lincoln Chafee (the least well known contender) simply said 'Bring him home, he did a service'.
There could be a couple of Government defeats in the Lords today on the Report Stage of the Childcare bill.
If you're reading this on the web, sign-up HERE to get the WaughZone delivered to your inbox.
Got something you want to share? Please send any stories/tips/quotes/pix/plugs/gossip to Paul Waugh (paul.waugh@huffingtonpost.com), Ned Simons (ned.simons@huffingtonpost.com), Graeme Demianyk (graeme.demianyk@huffingtonpost.com) and Owen Bennett (owen.bennett@huffingtonpost.com)