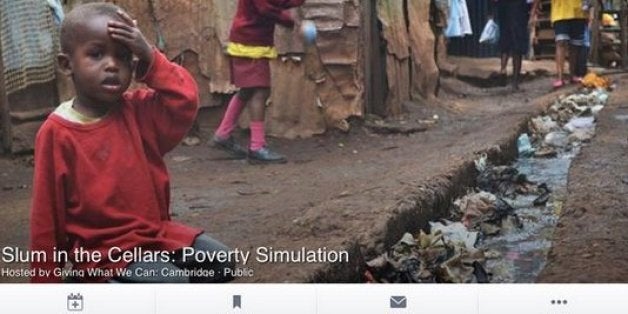 Students at Cambridge University have come under fire for wanting to turn university cellars into an "oppressive slum" for a "poverty simulation" event which was described as "fun and insightful".
Organisers have been forced to cancel the event, which would have seen participants discuss the evening's activities over "drinks in the bar, after a public outcry.
The university's branch of international charity Giving What We Can had teamed up with non-profit organisation Empathy Action to organise the event, called "Slum in the Cellars: Poverty Simulation".
Organisers promised to place participants "in the position of those living in extreme poverty to give a fresh perspective on the issues involved".
"[We] are transforming Clare College cellars into a run-down, oppressive slum. Will you descend into the gloom to encounter the daily reality of devastating poverty?", students were asked.
"Partcipants will be put into 'family units' and attempt to make enough money to pay for food, water, rent and sanitation, all the while trying to send one of their group to school.
"We hope everyone will stay afterwards for a drink in the bar, and further discussion about the event.
"We are delighted to be able to put this event on free of charge for participants."
The organisers also added a review of the event from the London branch of Giving What We Can, which read: "A strange mix of fun and insightful / eye-opening about how people live in the developing world.. 5 stars. Really really good."
Needless to say, news of the event was not received well.
Nungari Mwangi, co-president of the African Society at Cambridge, took to Facebook to slam the "ignorant" idea and said organisers should be "ashamed" of themselves.
"This event is deeply disturbing, inappropriate and an affront to the dignity of the people who actually live in poverty every day," she wrote. "Your vain attempt to appropriate the struggles of the world's poor as a game, over drinks in the most privileged of settings, is appalling, immoral and irresponsible.
"Worse still is the fact that you used the picture of a black child to advertise and market poverty. That is not only blatantly racist but a reinforcement of all the disempowering, negative stereotypes that the developing world has and still is fighting."
The society has since released a statement of apology, saying they now see how the simulation "might have come across problematically".
It read: "As some of you may have seen, we have cancelled our event next week. We now see how the simulation might have come across problematically and are deeply sorry for any offence it has caused.
"We are contacting the people who have raised concerns, asking them for their advice on how to approach raising empathy for and understanding of extreme poverty in the future.
"We are a student society, and the intention of the Empathy Action simulation was to deepen students' understanding of the issues involved in extreme poverty, with the hope that it would motivate students to take action.
"Poverty is not a spectacle for us to enrich our own perspectives, nor to recognise our privilege or, even more deplorably, to enjoy as a unique experience. It is not a game. It is a reality for the 1.2 billion people who live it every single day of their lives. Its existence and persistence in a world of unimaginable prosperity implores action, not just empathy. Giving What We Can members recognise this and many donate at least 10% of their incomes to help eradicate extreme poverty.
"Our mission is to promote the best approaches to overcoming poverty and the last thing we want is any distraction from this goal."
"To be clear, nobody at Giving What We Can was aware of these plans, prior to hearing about them through the understandable backlash generated by the event," the statement reads. "This was an event independently organised by students at a university chapter, and had we had any idea that this event, we would have asked them to cancel it immediately.
"We will learn from this — we obviously need to be clearer in the guidance that we give to our student chapters, to avoid something like this happening again."
The charity added: "We don't want this to happen again, and we'll do our best to make sure that it doesn't."
Related