Ah, the sweet sound of grown-ups squabbling over fish at Billingsgate and debating team names that would embarrass primary school children. It can only mean one thing - 'The Apprentice' is back.
Claude: Stealing hearts and minds since, well, yesterday
Claude's been an 'Apprentice' mainstay for years, appearing in the latter episodes of the show, where it's tradition for him to rip flailing contestants to shreds in the interview rounds.
Now though, he'll be in every episode, and while he can strike fear into the heart of a businessperson at 20 paces, we reckon there's another side to him.
Look, let's just put this bluntly - he's actually really fanciable. Yes, that's right, we said it. There's just something about him, OK?
As half of Twitter debated the merits of costing and upmarket salads on Wednesday night, other feeds took a slightly different turn, proving it's not just us who think so:
Yes, Emma - you do! Just embrace it.
"It was a real shock to see him there, the chair was empty, and as soon as he entered the room the atmosphere completely changed," Dan Callaghan said. "We'd actually only just been introduced to each other minutes before, so it was all a bit overwhelming, frankly."
'The Apprentice' continues on BBC1.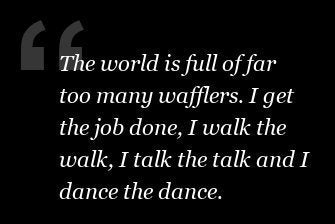 The Apprentice: Episode 1's Most Ridiculous Quotes
Popular in the Community