A father who was wheelchair-bound has defied all odds to walk his daughter down the aisle. And there wasn't a dry eye in the house.
Ralph Duquette was diagnosed with leukaemia in 2012, which left him unable to walk.
As a result, his daughter Heather Duquette fully accepted that he wouldn't be able to escort her to the altar on her wedding day.
But her devoted and determined father had other ideas and secretly planned to build the strength to walk her down the aisle.
On 10 October, after months of tough rehabilitation, he was able to fulfil his dream - a memory that they'll both treasure forever.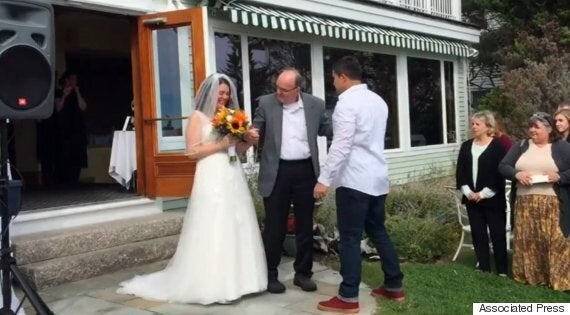 In the run up to the wedding, Ralph arranged to have home visits from nurses and physiotherapists who helped him strengthen his legs. They were the only people that knew about his grand scheme, as well as the wedding's DJ.
Ralph said that when he stood up to walk his daughter down the aisle, she grabbed his hand which made him "feel safe".
"It was so amazing, she was so happy," he said. "It was something that every father dreams of."