Camila Batmanghelidjh has claimed she is akin to a political murder victim following a grilling by MPs over the closure of Kids Company.
She disagreed with claims that the organisation's bankruptcy was her fault, suggesting politicians were to blame for its closure and were trying to kill her reputation.
The charity's boss told the Metro: "In foreign countries they shoot or imprison people who speak out. In this country they kill you off through reputational murder. That's how they did it. It's the same."
Batmanghelidjh faced a select committee on Thursday, where she was questioned extensively about allegations of financial mismanagement at the charity, which worked with vulnerable children.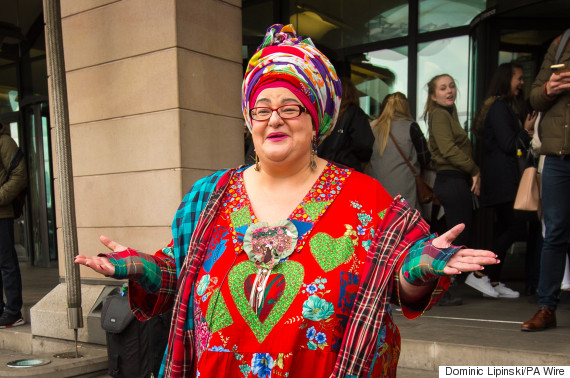 Batmanghelidjh compared herself to victims of political murder
Her performance was mocked by many as she was blasted for blustering through answers, and even warned by one MP: "You are aware that it is contempt of parliament to mislead this committee?"
Her defences to allegations the charity had forked out hundreds of pounds to children seemed to some to be contradictory.
Asked if kids were being given 100s of pounds a week, Camila Batmanghelidjh says "no" then "some did" then "not under 18s" then "very rare"

— John Bingham (@John_Bingham) October 15, 2015
Batmanghelidjh was ridiculed for her response to questions about where the Government funding granted to her charity had ended up.
Kate Hoey asks where employees' taxes went that weren't collected. Batmanghelidjh: "they were conceptualised". Hoey rolls her eyes...

— Anoosh Chakelian (@Anoosh_C) October 15, 2015
This prompted a barrage of awful jokes.
I wish you'd all conceptualise your terrible tweets.

— Ed Jefferson (@edjeff) October 15, 2015
And when she tried to claim some answers shouldn't be given in public, people having none of it.
Camila Batmanghelidjh: "I'm happy to answer these questions in private"

She appears to think she should have the same privileges as MI6

— Ned Donovan (@Ned_Donovan) October 15, 2015
After her series of gaffes, Batmanghelidjh left few viewers impressed:
Camila Batmanghelidjh has the air of a dinner party guest who has said something insensitive and has spent the evening trying to recover.

— David Wyllie (@journodave) October 15, 2015
Board of trustees Alan Yentob was also criticised for his responses.
Batmanghelidjh announced she would step down as chief executive of her charity back in August, when concerns were first raised about serious financial mismanagement with thousands of pounds of taxpayers money it received.
During the hearing, Batmanghelidjh said the charity had 36,000 clients and, since its closure, only 1,069 of them had been handed to local councils.