Alex Salmond has warned an "unelectable" Jeremy Corbyn will push Scotland closer to a second independence referendum since the Labour leader would pave the way for more years of Tory rule.
Speaking to The Huffington Post UK at the SNP conference in Aberdeen, the former party leader also hit out at the "extremely disappointing" launch of the group campaigning to stay 'in' the EU, and the SNP would fight a separate battle and not have an "umbilical" link.
Mr Salmond, once more an MP and the party's spokesman on foreign affairs in Westminster, went on to criticise the Government's "inadequate" response to the Syrian refugee crisis and call for displaced families already in Europe to be allowed into the UK.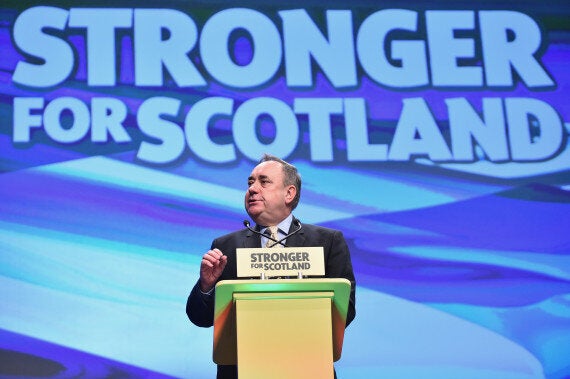 Alex Salmond MP speaks during the afternoon session on day two of the 81st annual conference at the Aberdeen Exhibition and Conference Centre on October 16, 2015 in Aberdeen, Scotland
He spoke to HuffPost UK on the same day he called for "no more futile military interventions" amid David Cameron "itching" for airstrikes in Syria.
Speculation over when another independence vote should be called has dominated the media coverage of conference despite First Minister Nicola Surgeon saying it would be "wrong" until more 'No' voters switch support.
Mr Salmond, who said reporting centred on "incredibly silly clichés of the elephant in the room of this conference", signalled one of three factors likely to trigger another poll included long-standing Tory rule.
He said: "How tenable is it for a Government to run Scotland on issues such as the economy, poverty, welfare, peace and war, Europe on the base of one Member of Parliament in 59 (the Conservatives have one MP out of 59 in Scotland). It just isn't. Reinforcing that is the prospect of more of that because my old friend, Jeremy, looks unelectable."
He said Labour one-time biggest asset, that it can be "the Government of Westminster", has now gone.
He said: "It's very difficult for any political leader to fight front and back, which is where he is at the moment. It doesn't look like a credible argument to say you are going to be the next Government of the UK.
"You take away from Labour in Scotland the last big remaining argument, what's left? Kezia Dugdale is a more convincing first minister than Nicola Sturgeon? Seriously?"
Of the threat posed by the new anti-austerity, anti-Trident leader to the SNP, he said: "Lots of people voting SNP and will vote SNP think Jeremy Corbyn is quite a nice guy. It's not why they would vote for the Labour Party."
The other two scenarios are the non-delivery of the devolution "Vow", which is a "serious matter for the unionist cause", and a "change in material circumstances" of the EU, namely that that Britain votes to leave but Scottish voters want to stay.
Former Marks and Spencer's boss Stuart Rose last week launched the official Britain Stronger in Europe campaign, but Mr Salmond was unimpressed as it was not "optimistic about the future of Europe".
He said: "I was extremely disappointed with the nature of the launch and the inability to understand the key lessons about how to win this campaign comprehensively."
He added: "I don't know Stuart Rose and have no animus towards him whatsoever – I'm sure he's a wonderful business person. But in a referendum campaign you cannot motivate people on the basis of staying in Europe because it's slightly less inconvenient than pulling out. This is not the kind of thing that sends people out to canvass and believe and vote."
He said "my vision" would be of "solidarity on refugees, a credible environmental policy, big ideas and ambitions on connecting up the continent". "These are the things that excite people about a European vision. I didn't hear many of them last week," he said.
And he went on reports that Scottish referendum 'No' campaign boss Blair McDougall had advised the campaign would cause "depression" among commentators of Scottish politics.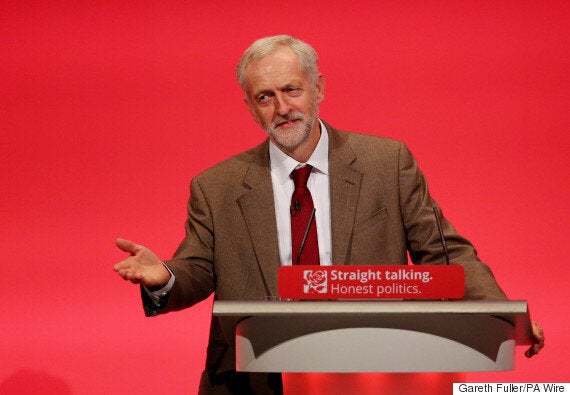 Labour Leader Jeremy Corbyn delivers his first keynote speech during the third day of the Labour Party conference at the Brighton Centre in Brighton, Sussex
He dismissed any suggestion of joining the same campaign as David Cameron and other Conservatives if they secure a deal with EU bosses and back an 'In' vote.
He said: "You share a television studio with anyone who is a democratic politician. Sharing a platform is not about sharing a campaign. I think Nicola is right to suggest we won't be an umbilical part of the campaign we have seen to date. We should fight our own campaign based on the type of Europe we want to see."
And he called on the UK Government to end its opposition to accepting refugees already in Europe. "The response is inadequate to the scale of the refugees crisis," he said. "How can you have nothing to say about refugees who make it to the continent of Europe? You cannot leave that to the southern European and border states. There has to be an approach of European solidarity to deal with the biggest refuge crisis since the Second World War."
Popular in the Community