The 'Star Wars: The Force Awakens' trailer was released to the world on Monday and incredibly, some people responded like this...
#BoycottStarWarsVII because it is anti-white propaganda promoting #whitegenocide.

— End Cultural Marxism (@genophilia) October 19, 2015
I will #BoycottStarWarsVII because it's implicitly anti-White to remove us from theater

@genophilia@hitsfrombehindpic.twitter.com/qqdER01m8a

— truly.genseric (@DanielGenseric) October 19, 2015
Alt-Right, let's make #BoycottStarWarsVII trend. It's just another anti-white propaganda piece. Get the word out!

— Critical Spooking (@officialCritDis) October 19, 2015
#BoycottStarWarsVII because it's becoming clear that it's forced-diversity anti-white agitprop.

— GOP Patriot (@GOP__Patriot) October 19, 2015
Yup, a black man playing a prominent role in the latest instalment of the franchise has prompted calls of white genocide and anti-white propaganda.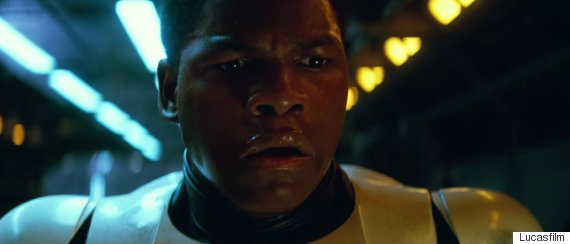 John Boyega plays the new hero Flynn
Of course there were a couple of points the trolls appeared to have missed...
So You Want To #boycottstarwarsvii... pic.twitter.com/mSV10FlD1F

— BELA SUZ-GOSI (@Suzapalooz) October 19, 2015
when #BoycottStarWarsVII supporters find out an African-American man did darth vader's voice >>>pic.twitter.com/BoZyfswlbx

— BILL_NYE_THO (@Bill_Nye_Tho__) October 19, 2015
Racists are planning to #BoycottStarWarsVII due to black actors. Meanwhile here is a pic of the creator & his wife pic.twitter.com/kwTXnZRNsZ

— YORKSHIRE PROBLEMS (@yorkshireprobs) October 19, 2015
Thankfully, the 99.999999% of us with some sense were on hand to shut down the trolls and soon the backlash caused the #BoycottStarWarsVII to trend.
Let's be clear: The backlash against #BoycottStarWarsVII is what is causing it to trend. pic.twitter.com/DCx9tyAUIf

— Tor Haugan (@Tor_H) October 19, 2015
Ava DuVernay, director of 'Selma', then turned it on its head with the #CelebrateStarWarsVII hashtag which caused a torrent of celebration for the diversity of the film.
Exactly. #CelebrateStarWarsVIIhttps://t.co/pQ2XAvsYdY

— Ava DuVernay (@AVAETC) October 19, 2015
My little bro who is OBSESSED w/ Star Wars now gets to see a more diverse cast on screen. #CelebrateStarWarsVIIpic.twitter.com/kEHRwUF0BA

— ur new step dad (@afroeccentrix) October 19, 2015
My take on #BoycottStarWarsVIIpic.twitter.com/8s5tkb8pD7

— Evan F. Moore (@evanFmoore) October 19, 2015
oh my god wait, #BoycottStarWarsVII is actually a real thing EXCUSE ME WHILE I LAUGH EVEN HARDER pic.twitter.com/CrIk3ksGO5

— Desola the Jessicate (@my2k) October 19, 2015
Who cares if racists don't want to see The Force Awakens? h/t @AVAETC#CelebrateStarWarsVIIhttps://t.co/JSYVerZvtypic.twitter.com/4GIYUBY93H

— Charles Pulliam (@CharlesPulliam) October 19, 2015
#CelebrateStarWarsVII because I can finally take my siblings to see a Star Wars movie with POC+women as leads.

— Siyabonga Africa (@siyafrica) October 20, 2015
Saw this in the @Disney Store the other day and I couldn't resist getting it my for my son. #CelebrateStarWarsVIIpic.twitter.com/DyXpxuWc7U

— Antonio French (@AntonioFrench) October 19, 2015
People better get used with having normal people of colour, shape or size in films & it's already happening #diversity#CelebrateStarWarsVII

— Stephan Pierre M (@stephan_pierre_) October 19, 2015
#BoycottStarWarsVII folks,

Lemme get this straight:

Wookies, Ewoks & Droids are fine but a BLACK PERSON is a problem?

Go home.You're Drunk.

— Audra McDonald (@AudraEqualityMc) October 19, 2015
There has been a disturbance in the force... #BoycottStarWarsVIIpic.twitter.com/GISxsI5luF

— Jackass O'Lantern (@marclombardi) October 19, 2015
So #BoycottStarWarsVII is real? Because some white guys are upset at a woman & a black man at the forefront? pic.twitter.com/kc7WiaduB7

— Ozamataz Buckshank (@infinitespeech) October 19, 2015
The clip is the final teaser for the film which will be released in UK cinemas on 17 December.
Like previous clips, Poe (Oscar Isaac), Rey (Daisy Ridley) and Finn (John Boyega) all feature and Harrison Ford's Han Solo and Chewbacca also make an appearance, as does Carrie Fisher as Princess Leia.
LIKE US ON FACEBOOK | FOLLOW US ON TWITTER