Yup, a black man playing a prominent role in the latest instalment of the franchise has prompted calls of white genocide and anti-white propaganda.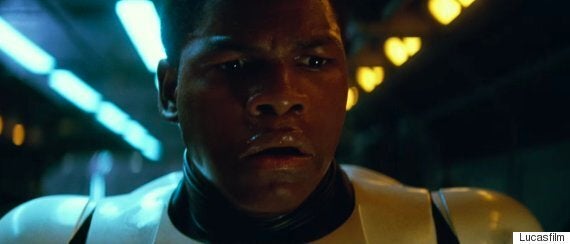 John Boyega plays the new hero Flynn
Of course there were a couple of points the trolls appeared to have missed...
Thankfully, the 99.999999% of us with some sense were on hand to shut down the trolls and soon the backlash caused the #BoycottStarWarsVII to trend.
Ava DuVernay, director of 'Selma', then turned it on its head with the #CelebrateStarWarsVII hashtag which caused a torrent of celebration for the diversity of the film.
The clip is the final teaser for the film which will be released in UK cinemas on 17 December.
Like previous clips, Poe (Oscar Isaac), Rey (Daisy Ridley) and Finn (John Boyega) all feature and Harrison Ford's Han Solo and Chewbacca also make an appearance, as does Carrie Fisher as Princess Leia.
Popular in the Community