Madonna's jogging never went unnoticed, with pictures of her running in the park, often surrounded by bodyguards, going round the world. Boy George recently told HuffPostUK that he used to laugh at the pop superstar's tireless exercise regime "and now I jog".
One young girl in particular used to pore over those photographs of Madonna at her home in New York's Bronx. Now she's a superstar in her own right, she credits those early images for inspiring her to follow her dream.
Jennifer Lopez tells HuffPostUK: "It was all about Madonna for me. She inspired me to want to sing, to dance, to work hard. I saw those pictures of her running in the park, training, and I thought, that's what I need to be doing.
"I'm a girl living in the Bronx at this point. I've never seen the inside of a gym, but I thought, I'm going to find myself a track. It wasn't a moment on stage that did it, it was a picture of Madonna in the park."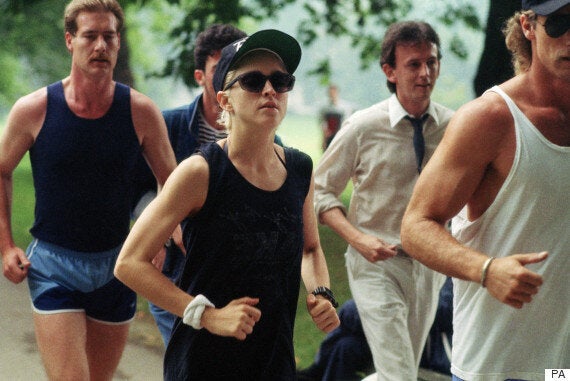 One of the pictures of Madonna jogging that inspired young Jennifer Lopez to do her thing
25 years later, and Jennifer Lopez has proved herself a worthy follower, with the sale of more than 60 million records, and matching success on screen and in business. Surprisingly, it was only in 2012 that she embarked on her first world tour, visiting 65 countries and reaching a million fans.
Even more surprisingly, this massive effort came as Jennifer was still recovering from the tumultuous process of splitting from Marc Anthony, her husband of seven years and the father of her two children. She tells HuffPostUK of the tour: "I had just gotten through the divorce, I was going on the road as a single mother. There were emotional aspects of the unknown."
The HBO documentary 'Dance Again' captures her tireless musical performance, along with a far more vulnerable Jennifer behind the scenes, rehearsing, relaxing and being mother to her twin children Emme and Maximilian.
"This tour was therapy," is how she describes it now. "It was a case of, pick yourself up and dance again. That's why this documentary was born, it was an account of survival."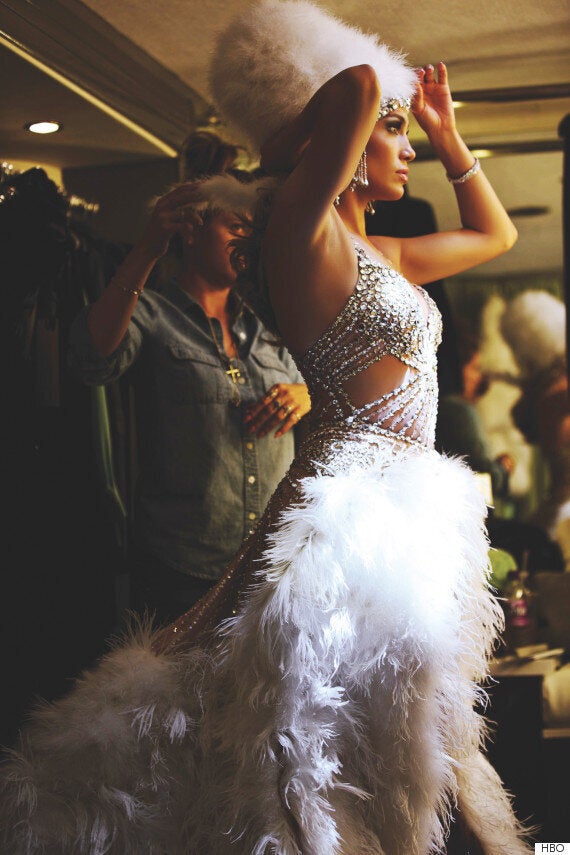 "Everything has to be perfect," says Jennifer Lopez of her first world tour
There are scenes when Jennifer, always depicted as an all-capable alpha-female, is impressively open, vulnerable even, something she doesn't regret, now a few years have passed and she's feeling more robust.
"It's my responsibility as an artist to be introspective and alone, but also to make myself vulnerable," she says. "You have to bear yourself in a sense. We're in a different time from when everybody had an image of Hollywood's people. Our flaws are on show now, we're people, we sing, we dance, we act, but we're human.
"I think it makes you more relatable when you sing, people have something to respond. Nobody's perfect, and we're all trying to be better."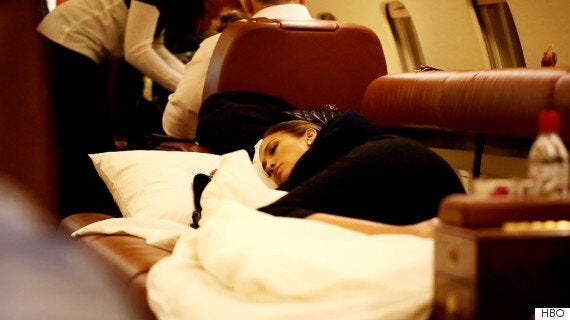 "Our flaws are on show now" - Jennifer Lopez during a quiet moment on tour
Jennifer's children were very much part of this tour, and she tells HuffPostUK that's nothing new.
"This is all they know," she laughs. "They don't know normalcy, they were very travelled babies. Now we're home and they're back in school, but at the time I was feeling my way as a single mum. Emotionally we were still going through the separation, adjusting to life without Marc, and that took time."
If children have changed the focus of Jennifer's life, her stage standards, it seems, remain as high as ever, both for herself and those around her.
"People are paying, and it has to be the best it can possibly be," she says, sounding more like the diva in charge. "You want people to have the best night of their life. That's what inspired me to do this, to give people a place to escape, to forget everything else, to be inspired themselves. That's your role, your responsibility as a performer.
"I'm driven in that way. That's what makes an artist. People in this business understand that, and everyone in the team pushes and pushes. They're all artists. They want to be driven, everyone's seeking perfection."
Sure enough, Jennifer's team has been around her around for a long time. She tells me one of her dancers, Gilbert, was crying one night with her on this tour. "He was with me at my very first concert in Puerto Rico, he had just started working then, and he's still with me."
Why has a tour of this scale never occurred to her before?
"I had waited a long time, and I do wish I had done it earlier and done it 12 times," she admits. "But things happen when they're supposed to happen. It was a huge time of growth, both as a performer, but also making me a better human. Everything about this moment marked a very special time in my life."
Finally, if Madonna got Jennifer from the Bronx onto the running track, it was another superstar who taught her how to wear feathers. "I just love glamour," she says, unsurprisingly. "I grew up watching old musicals with my mother. Barbra Streisand in Funny Girl was my favourite, also Ziegfield Follies. That's what I imagined doing and now I'm doing it."
'Jennifer Lopez: Dance Again' is available on DVD and Digital Download now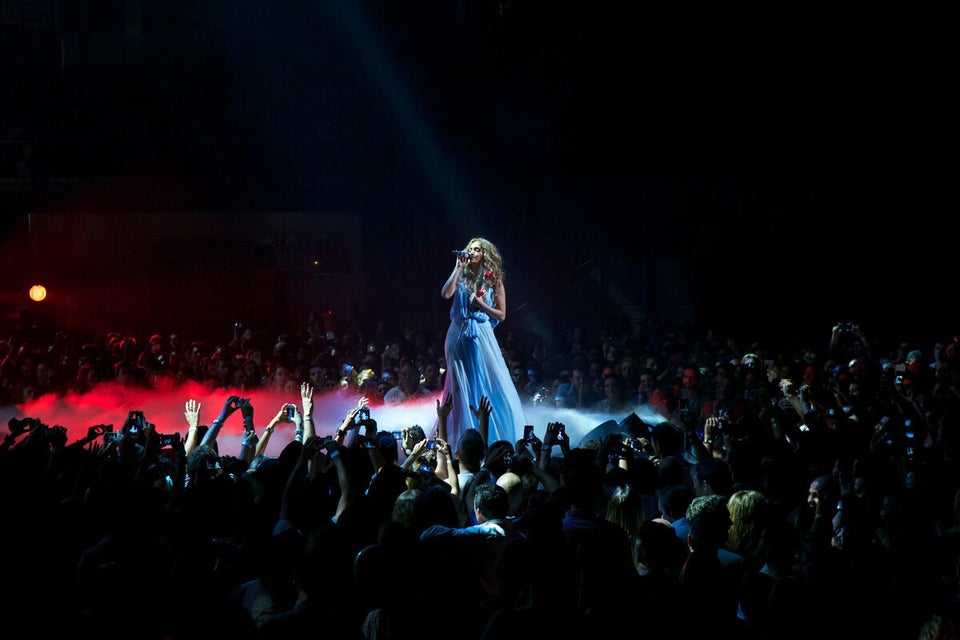 Jennifer Lopez: Dance Again
Related