Migrants have landed by boat on British territory for the first time in the Mediterranean migration crisis, as vessels carrying 140 people landed at the sovereign base in Cyprus.
The Ministry of Defence said the four boats landed at Akrotiri, in what is believed to be the first time migrants have landed on British sovereign territory during the migration crisis that has seen the biggest movement of people into Europe since the Second World War.
No details were immediately available about where the 140 occupants of the boats, which include children, had sailed from or what nationalities they are.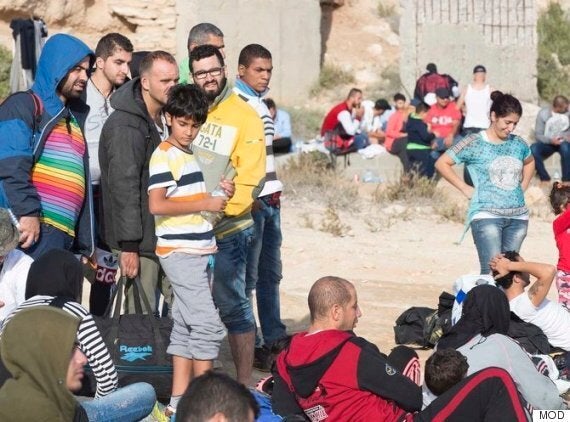 Migrants are seen outside the Ministry of Defence's Akrotiri base
"We have not established where they are from yet," a base spokesman said.
Unlike Greece and Italy, Cyprus has not seen an influx of migrants during the current crisis, in which 600,000 have arrived in Europe by sea so far this year.
The base has been used for bombing missions against Islamic State in Iraq.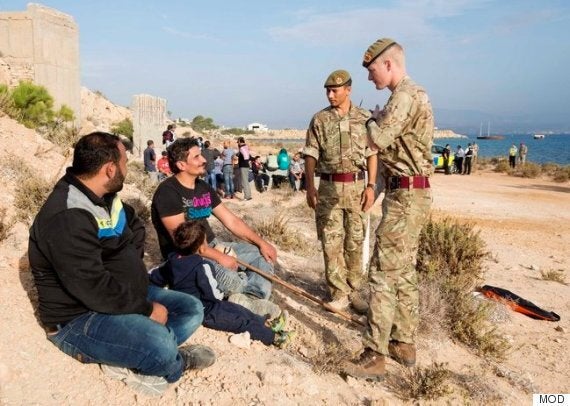 A soldier talks to migrants who arrived in four boats on Wednesday; it is the first time migrants have landed on British sovereign territory
David Cameron visited the base earlier this month and used the visit to announce his decision to send two more Tornado jets to join the four that were already flying missions against IS.
Though the migrants have landed on British sovereign soil, a deal with Cyprus means they would be unable to claim asylum in the UK, according to ITV.
Popular in the Community