The five things you need to know on Wednesday October 21, 2015...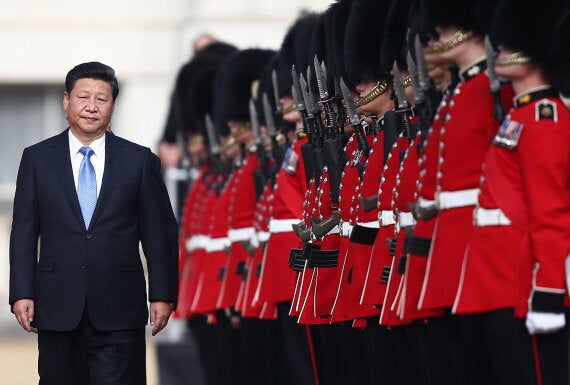 1) XI WHO MUST BE OBEYED?
It's the second full day of the Chinese President's state visit and time to put the 'business' into 'doing business' with Xi Jinping. The French-Chinese deal for three new nuclear power stations, the largest ever inward investment the UK has seen, will be jointly unveiled by David Cameron and the President.
After a working lunch at No.10, Cameron will host a press conference - but President Xi is not expected to attend (he has a Cameroonian dislike of regular press briefings, though it's worth noting that predecessor Hu Jintao held pressers with Obama).
As well as the nuclear deal (and expect some Northern Powerhouse injections tomorrow), the FT reports another key plan to smooth relations, with cheap tourist visas for Chinese visitors. Our restrictions have long been the reason Chinese tour groups visit Paris and Rome yet leave London off their high-spending itineraries.
Cameron will raise steel dumping, but China's human rights record is still causing problems and the spectacle of China orchestrating counter demos off the Mall yesterday has left many Tories with a nasty taste. Steve Hilton, the PM's former close adviser, is the latest to yell that the Emperor had no clothes, telling Newsnight that China was a 'rogue state'. In words designed to wound Osborne, he said signing big deals with Beijing was 'one of the worst national humiliations we have seen since we went cap in hand to the IMF'.
I don't know what John Bercow put in his breakfast tea yesterday but boy did he make waves. The Speaker smacked down Sajid Javid as 'incompetent', and then went on to make plain his irritation with China's lack of democracy. Having in the morning pointedly referred to India as a democracy, he sailed very close to the wind in introducing President Xi with a reference to Aung San Suu Kyi as a 'champion of democracy' and 'symbol of the innate human right of freedom'.
Jeremy Corbyn, who looked strangely dapper in his white tie at the state banquet, raised human rights and workers' rights in his 'cordial and constructive' private meeting. Wu'er Kaixi, a Chinese democracy activist during the Tiananmen Square protests (remember no internet searches in China allow any reference to the protests) was on the Today programme. Asked if China was as authoritarian now as in 1989, he replied: "It's worse".
No one was surprised that the Government won the vote on Labour's tax credits motion last night, but the Tory unease over the plans continues to rumble. And the biggest hurdle to George Osborne's plans remains the House of Lords.
As HuffPost first revealed, the 'fatal' motion on the benefit cuts is what worries ministers most. Downing Street are now saying it would be 'unprecedented', which is the only word the Treasury have been using in recent days. Well, they're right it would be unprecedented for the Lords to apply a fatal motion to a money-related measure. But that doesn't mean it won't happen.
Again, as we first reported, the Tories are warning of a 'constitutional crisis' if the Lords goes ahead. Ken Clarke has expanded in the Tel on his Commons warning yesterday not to 'reopen 1911' [the last iconic Lords v Commons crisis]
There was a flurry of speculation about crossbencher Molly Meacher last night tabling her motion, but she was merely consulting with clerks on what the best form of words would be to garner as much cross-party support as possible. I am told that a motion is likely to be tabled today.
I understand the motion could now 'have the effect' if not the wording of a fatal motion, asking the Government to respond to claims that most tax credits claimants would be worse off. But one plan is to create a 'poison pill' motion rather than an immediate homicide, with wording that unless action is taken before April the statutory instrument would be invalid. This could still force ministers to come back with a new SI. If Meacher waters down her motion too much, Labour and the Lib Dems could even draft their own.
Meanwhile, a Commons star was born yesterday when Tory backbencher Heidi Allen used her maiden speech to warn Osborne of the damage wrought by tax credits cuts. Watch it HERE. Poised yet passionate, she managed to quieten the chamber until you could hear a pin drop. The knives will be out for her, and if he has any sense Corbyn will quote her. But perhaps the shrewdest thing Downing Street could do is get the PM to praise her outspokenness?
Baroness Warsi praised Ms Allen, Tory MP Johnny Mercer made his own plea, Zac Goldsmith signed Frank Field's motion for reforms. The ball's in the opposition's court today, but wiser heads are asking Osborne to get this sorted before it runs out of control.
Jeremy Corbyn has another PMQs test today and in theory tax credits is a gift for him, not least if he makes the PM squirm by quoting Tories worried about the plans. He could even echo the John McDonnell blog for us that breaking promises would turn the Tories into 'the new Lib Dems'. The latest committee report criticising the DWP's Work Programme is another bit of welfare ammo Jezza could use.
Yet No.10 sources tell me they think Corbyn's 'disarming' crowd-sourcing approach actually disarms the Labour leader more than the PM. A pun addict could even call the softly-softly approach Corbyn's unilateral political disarmament (Cameron sets aside his thick PMQs dossier whenever a 'people's question' emerges and visibly relaxes).
Although his overall aim is not to really go for Corbyn, David Cameron has ammo of his own today. The appointment of Guardian's Seamus Milne as his new strategy and comms director provoked a welter of ridicule last night from journalists and politicos who view Milne as a classic public school Trot who has defended Communist regimes, Putin (who has welcomed Assad this morning in Moscow) and even suggested Milosevic shouldn't have been tried for war crimes.
Team Corbyn won't be surprised or upset by the attacks but what's more relevant is just whether, having been a columnist rather than a reporter, Milne has enough practical experience to deal with journalists at the coalface. The other real curio is that Milne is 'on leave' from the Guardian - a move that critics will say suggests both a lack of long-term commitment and an uncomfortably close link to a political party for a newspaper.
Another Corbyn aide is under fire today too. While attention was on George Osborne's tax credits defence at the backbench 1922 Committee on Monday night, the Parliamentary Labour Party meeting wasn't all sweetness and light. The Indy reports that MPs Siobhan McDonagh and Caroline Flint asked why Corbyn had hired Andrew Fisher as his political adviser, given Fisher had described the last shadow cabinet as an 'abject collection of absolute shite'. A trawl of Fisher's tweets found him calling Blair and Alastair Campbell 'scumbags', Jack Straw 'a vile git' and Yvette Cooper 'racist'. Still, Fisher may point to an internal Labour report also in the Indy today that found voters felt Miliband had 'the appeal of a potato'.
Our very own Owen Bennett has interviewed one of the lead organisers of Momentum, who protests it's not about infiltrating local parties. But what's been happening in Lewisham has spooked some MPs.
Has Corbyn been disarmed on Europe? After a speech on the EU referendum last night, Alan Johnson told HuffPost that he was happy Jeremy Corbyn had got behind a united position on Europe but made clear he (and other 'postmen and postwomen') would be leading the Labour 'In' campaign. "Jeremy Corbyn may well have noted 'No' in 1975, in musical terms I was discovering Bruce Springsteen and he was probably still listening to the Incredible String Band," he joked.
The Bank of England's analysis of Brexit is published later. Mark Carney (who sat opposite Corbyn at the Buck House banquet) has a speech but was he protesting too much when he told MPs it would be 'a bit of a yawner'? Meanwhile, the StrongerIn campaign has seized on Out campaign chief Dom Cummings' response to Andrew Neil asking at a Spectator event last night if Brexit would lead to job losses: "in the short term there would definitely be problems in some areas, yes".
BECAUSE YOU'VE READ THIS FAR...
The Health Select Committee finally discovered yesterday that a surpressed official review into child obesity concluded that a sugar tax would be effective in combating the problem. The Public Health England review recommends crackdowns on price promotions and junk food ads, including Coco Pops.
Jamie Oliver, who told the committee this week ministers should back the tax, will be pleased that the study by Dr Alison Tedstone (yes, Tedstone not Edstone, gigglers at the back) is the most comprehensive of its type in the world. Jeremy Hunt has been accused of seeking to delay the report's publication.
The plastic bags tax hasn't proved a disaster so far, so will we copy Mexico with its own sugary drinks tax which has led to a 6% drop in use? UK politicians have been scared of the 'nanny state' tag for years and even Andy Burnham worried about sugar and fat taxes. But maybe, just maybe, the tide is changing.
How can the NHS become more efficient given the rising demand from an ageing population? Well, Labour peer Lord Carter has a Big Idea: build your own care homes for patients discharged from hospital, or block book beds at competitive rates.
Carter's answer to the scourge of 'bed blocking' is part of his plan cutting £5bn in waste. A further£4bn of savings may stem from the Treasury's decision to cap public sector pay rises at 1%. But there's still a mountain to climb to get to the £22bn annual efficiency savings demanded by NHS chief Simon Stevens by 2020. Even with record investment from the Government, that's a helluva challenge that may affect every one of us who uses the NHS in coming years.
The Indy has a scoop that ministers are looking at flogging off the MI5 and MI6 buildings on the Thames, relocating spooks to secure Whitehall buildings vacated by civil servants sent to cheaper outer London sites.
The Local Govt Association is calling for the DfE to relax strict rules banning parents taking kids on holiday during term time. Nicky Morgan could win yet more fans if she overturns Gove's legacy on this one.
The Home Affairs Committee takes evidence from 2.15pm on the police investigation into Lord Brittan. Tom Watson is up at 3.15pm. But a top cop is expected to criticise him.
It's Sunday Trading day, but many Christian Tory MPs are as upset as the bishops that the Government has inserted the reforms into the Cities and Local Govt Bill, which has its Committee Stage today.
If you're reading this on the web, sign-up HERE to get the WaughZone delivered to your inbox.
Got something you want to share? Please send any stories/tips/quotes/pix/plugs/gossip to Paul Waugh (paul.waugh@huffingtonpost.com), Ned Simons (ned.simons@huffingtonpost.com), Graeme Demianyk (graeme.demianyk@huffingtonpost.com) and Owen Bennett (owen.bennett@huffingtonpost.com)
Popular in the Community