Parents have reacted with horror after video has emerged of a baby dancing in a bathtub, whilst the mother whisks the water with an electric hand-mixer.
The electricity and water combination caused social media users to raise concerns about the safety of the child, who has been dubbed as the dancing "bubble butt baby".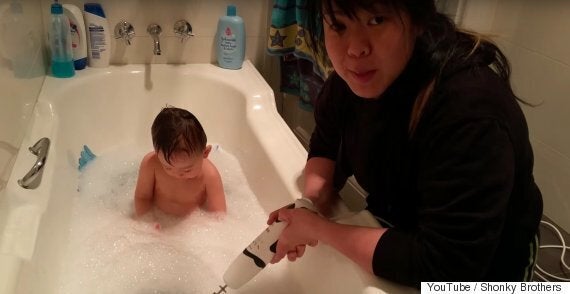 This video is causing outrage on YouTube
One user wrote on the comment section of the YouTube video: "I wouldn't use any electrical appliance in the bath tub with my baby.
"Maybe the GFI [Ground fault interrupters - designed to protect from electrical shock by interrupting a household circuit] would trip if there was a problem, but it would not be worth the risk for me."
Another stated: "Really people? Using device in water that can cause electrocution?"
Once the bath was full of bubbles, mixed up by the hand appliance, the baby danced to electronic music group Major Lazer, prompting his parents to beat-box and sing-along.
Sheila Merrill, public health adviser at the Royal Society for the Prevention of Accidents (RoSPA), told HuffPost Uk Parents: "Water is a good conductor of electricity so you should never touch electrical appliances with wet hands or risk electrocution by using electrical appliances in the bathroom.
"Falls account for the majority of non-fatal accidents among 0-4 year-olds and having a large amount of bubbles in a bath could cause a child to slip."
The video was first uploaded to YouTube in May, but has since been recirculated as the electric mixer debate heated up.
Related