Tommy Robinson is claiming the "death of free speech" after two universities withdrew invitations for him to speak.
Just days after the former leader of the English Defence League spoke to his biggest audience yet at a Pegida anniversary event in Germany, both Edinburgh and Durham universities rescinded invitations for him to address students.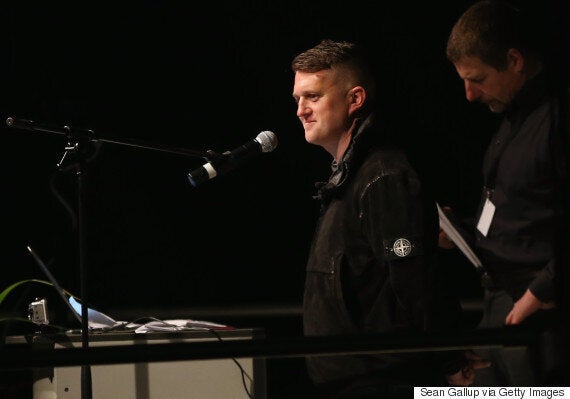 Tommy Robinson, seen above speaking to crowds at a Pegida rally in Germany, has had invitations to speak at two universities withdrawn
The 32-year-old said "ironically" he was due to speak about freedom of speech at the event which was due to take place on Monday. He told the Huffington Post UK that he had pushed the university for a better explanation, but had not been given one.
Robinson said he was due yesterday in Edinburgh to be part of a panel discussion on the use of social media "for recruitment to a cause". He said the university cited "security risks" when they withdrew his invitation earlier this month.
He said: "It is just ridiculous."
Durham University on Thursday was keen to distance themselves from Robinson with a press officer telling The Huffington Post UK that Robinson was due to speak on the request of the Durham Union Society, a student body independent of the university. The spokesperson was reluctant to comment on what if any influence the university had on the cancellation.
The Huffington Post UK has not yet been able to reach the society for comment and Edinburgh University is yet to issue a statement on Robinson's involvement with the university.
Robinson on Thursday refused to comment on any future university speaking engagements he had confirmed. He indicated that he would be involved in future events involving Pegida, but due, in part, to the the recent university cancellations said he wouldn't speak about them until after they had happened.
In November last year Robinson spoke at Oxford University against a backdrop of protests. At the time he said he was unable to speak freely as he had been heavily censored by police. Robinson is no longer under any public speaking restrictions.
On Monday Robinson told crowds in Dresden that Angela Merkel is "handing out the birth right of German citizens like she is handing out candy".
The speech marked an acceleration point in Robinson's quest to reinvigorate his public profile and comes little over two years since he quit the EDL saying he was unable to control "extremist elements" within its ranks.
The Pegida movement has expanded rapidly over the summer as the migrant crisis worsened, with the crowds turning up to rallies growing by the week.
It first emerged as an anti-Islam movement in October 2014, but was said to have largely disappeared from public view after pictures emerged in January showing its co-founder, Lutz Bachmann, sporting a Hitler moustache.
Robinson, 32, told the Pegida crowd that the migrant crisis was being compared to the Second World War, and that like then, people are being encouraged to respond with "generosity". However, he said, there was a difference and problems "we are not permitted to speak about" were being ignored.
They were, he explained: "The two evils: terrorism and ideology."
"We are offered silence, free speech is all but dead in Europe. We live in a post free speech era, the attacks on Charlie Hebdo have proven that to the whole world," Robinson added.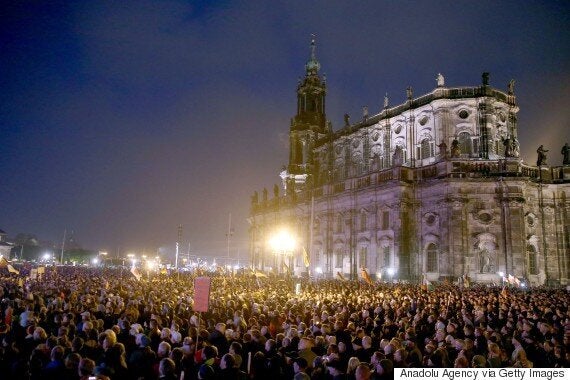 A 40,000 strong crowd turned out for Pegida's anniversary
"Only in assemblies like these can the truth be spoken about. And those like me who speak out about the dangers facing our countries, we're confronted with death threats. We face harassment and persecution."
Robinson went on to say "every country has a right to defend themselves" and encouraged those gathered to "refuse the shame game".
He implored those gathered to "refuse to feel guilty. Germany is not obliged to save the refugee crisis".
"This current immigration is an invasion. Our borders are being overrun. There is little or no control. A country that cannot control its borders will soon not be a country," he said.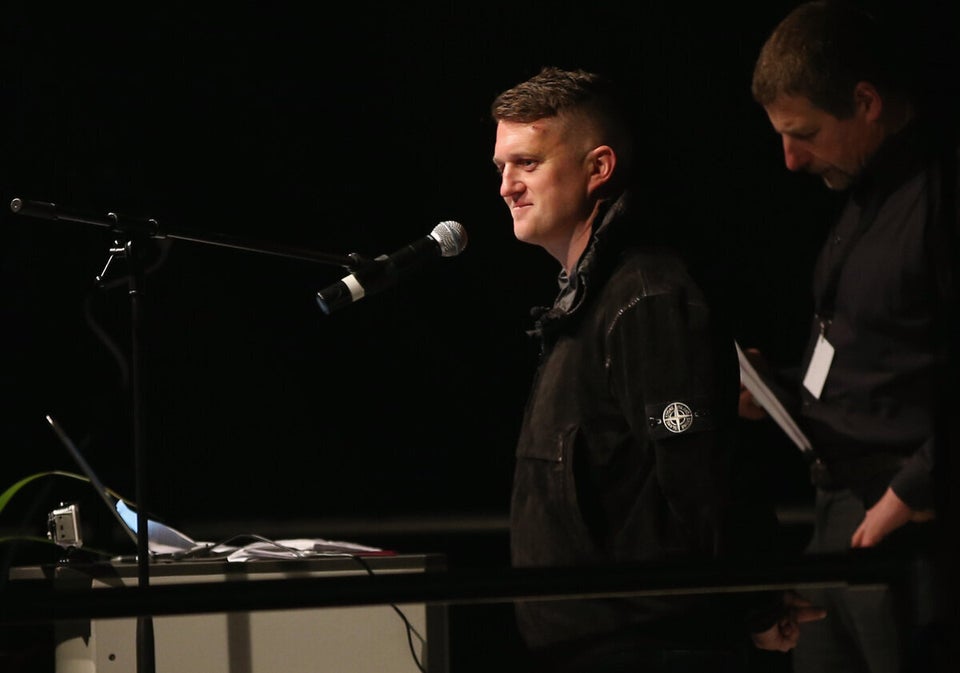 Tommy Robinson addresses crowds at Pegia anniversary
Related