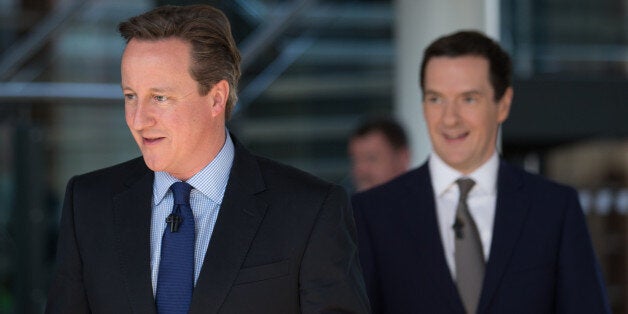 David Cameron has been accused of behaving like a 'schoolboy bully' threatening to 'duff up' the House of Lords if it blocks his tax credit cuts plans.
But amid fears of a looming constitutional crisis over the row, crossbencher and former Cabinet Secretary Lord Butler warned that if peers did take the unprecedented step of rejecting a key Government budgetary policy, it would risk looking "too big for its unelected boots".
The House of Lords is due on Monday to vote on several motions on the Treasury's tax credits cuts, which think tanks have estimated could leave many of the 'working poor' more than £1,000 worse off.
The Liberal Democrats have tabled a so-called 'fatal motion' that would kill the Tory government's secondary legislation that is meant to implement the £4.4bn cuts next April.
Unlike the House of Commons, where the Government has a majority of 12, the House of Lords has a large anti-Tory majority as Labour and Liberal Democrats outnumber their Conservative counterparts.
The HuffPost UK revealed this week that furious Tories were plotting retaliation if the Lords blocked the Chancellor's plans, a stance underscored by Mr Cameron's threat during Prime Minister's Question time to flood the upper chamber with enough Tory peers to create a majority.
Lord Newby told BBC Radio 4's Today programme the threats would have to be faced down.
"Well, the Prime Minister is acting like a schoolboy bully isn't he? He's being challenged in the playground so he is threatening to bring round lots of his mates to duff us up," he said.
"He would be creating a constitutional crisis. But that will be a crisis of his creation, not of ours."
The Lib Dem peer added that his party had decided to go for the 'nuclear option' of a fatal motion because to do otherwise would allow ministers to get off the hook.
"We would have a vote, [say] this is the terrible and the Government would say 'thanks very much, we don't care'," he said.
But Lord Butler said it would be "quite wrong" for peers to block the plans, pointing out they were a 'central plank' of an elected government's manifesto to cut the cost of welfare.
"The House of Lords is already too big, and the fact is that this was established 100 years ago that the House of Lords doesn't oppose the House of Commons on tax and financial matters," he said.
"And the Government would have a quite legitimate grievance if it did. So, that would be really an example of the House of Lords getting too big for its non-elected boots."
In a fresh development, crossbencher Baroness Meacher has now wrapped her own motion into one from Labour's Baroness Hollis, in a move the Opposition believes is a 'poison pill' rather than a 'fatal' motion.
Labour's Lords Twitter feed revealed the switch this morning.
Yesterday, Mr Osborne said he was 'comfortable' with the judgement call he had made to go ahead with the tax credits cuts, despite warnings from Labour MPs that he would put at risk his own chances of becoming Prime Minister.
Tory sources told the Telegraph today that it was unlikely that the would suspend the Lords in retaliation for any fatal motion vote, but there would be new ways deployed to 'clip its wings' on similar votes in future.
Popular in the Community