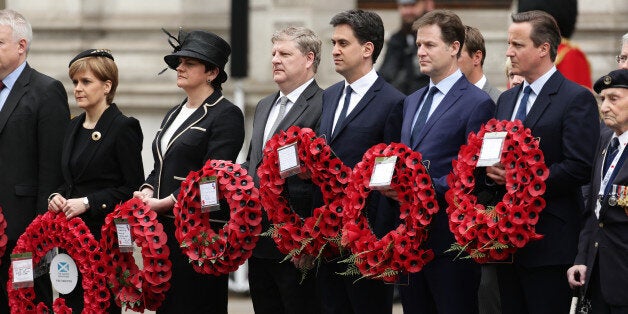 Government plans to make David Cameron the only political leader to lay a poppy wreath individually at next month's Remembrance Sunday service appear to have been scrapped.
The proposal, which was backed by Buckingham Palace, would have seen Labour leader Jeremy Corbyn, and his Lib Dem, SNP and DUP counterparts, laying wreaths at the Cenotaph simultaneously – a huge break with tradition.
The Prime Minister would still lay his wreath individually, as in previous years, keeping his role on a par with the Queen.
An email from the head of ceremonials at the Department of Culture, Media and Sport, seen by The Times, claimed the new plan was to "speed up the event"
But former SNP Leader Alex Salmond was not happy with the proposed changes, and said: "The Remembrance Day service has been supported on an all-party basis since just after the First World War. I would advise the government and everyone else connected that it is not in anyone's interest to tamper with it,"
"It is the ceremony with the utmost solemnity and dignity. People thinking about this should also remember it is about service personnel and the families of the fallen, and keep that uppermost in mind."
This afternoon, the Prime Minister's Official Spokesperson indicated a rethink of the changes was under way, and said: "My understanding is that there are discussions between the royal household and DCMS looking at changes to the ceremony and the format of this year's service. There are discussions ongoing."
Mr Corbyn, who until September was chairman of the Stop the War Coalition, was quizzed about his views of Remembrance Day by Labour MPs last month.
He also refused to rule out wearing a white poppy – regarded as a sign of pacifism - alongside the traditional red flower at memorial events.
Today a spokesperson for the Labour leader said: "Jeremy believes the most important thing on Remembrance Sunday is remembering those servicemen and women who have given their lives for Britain and he will pay his full respects, in line with the arrangements."
Related