An ingenious tunnel system, including a railway, lighting and ventilation, used by drug smugglers has been discovered on the US-Mexico border.
The tunnel, which measures an astonishing 2,400 feet long and is 30 feet deep, is one of the longest cross-border tunnels ever discovered.
The passage connecting warehouses in San Diego and Tijuana, Mexico, is extremely sophisticated and includes its own rail system to quickly transport narcotics across the border.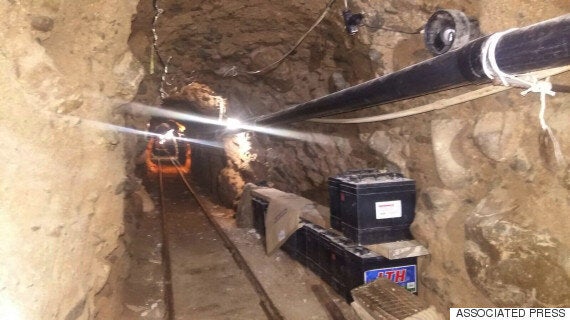 The tunnel stretched 2,400 feet between Mexico and the US
Near-simultaneous police stings on Wednesday resulted in six arrests in San Diego and 16 in Mexico. Authorities recovered two tons of marijuana in the U.S. and 10 tons in Mexico.
The sting came after an undercover agent for US Homeland Security Investigations agreed to provide the drug smugglers with drivers and use of a warehouse in exchange for a $10,000 payment for each truckload of drugs moved, according to a probable cause statement.
The discovery demonstrates the enduring appeal of tunnels to smugglers, despite the significant time and money required to build one. Dozens of tunnels have been found along the US-Mexico border in recent years, some equipped with hydraulic lifts and electric rail cars.
US Attorney Laura Duffy said: "We see a super tunnel open for business once every year or so.
Just when they think they're ready to move, we put it out of business. We continue to make good on our promise to relentlessly pursue and shut down any tunnel as soon as it opens."
The San Diego-Tijuana region is popular because its clay-like soil is relatively easy to dig with shovels and pneumatic tools, and both sides of the border have warehouses that provide cover for trucks and heavy equipment.
It was unclear which drug trafficking organisation orchestrated the latest passage but the region is largely controlled by Mexico's Sinaloa cartel, whose leader Joaquin "El Chapo" Guzman escaped from a maximum-security prison in Mexico in July through an elaborate tunnel.
Related