The five things you need to know on Monday October 26, 2015...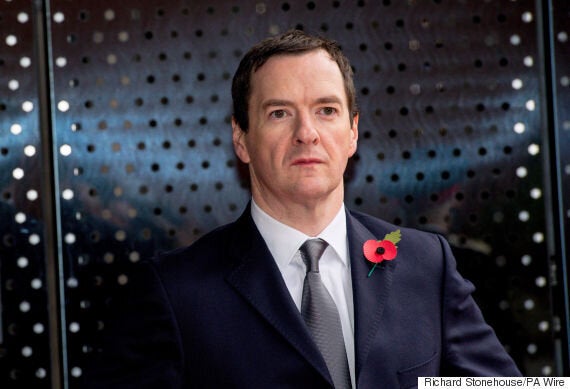 This morning's Waugh Zone is edited by Ned Simons. Paul is away and I am fighting deselection.
George Osborne is now in "listening mode" we're told, having presumably been switched to "airplane mode" for the last few weeks.
Peers can kill-off the chancellor's tax credit cuts today if they vote in favour of a 'fatal motion' tabled by the Liberal Democrats. The changes to tax credits will cost three million families £1,000 a year.
But it's not as simple as that. There will be more than one vote. Another motion tabled by Baroness Meacher would delay the cuts until Osborne spells out how their impact on the working poor will be mitigated.
Labour is backing its own motion which would force Osborne to go away and think up a way to protect people from the cuts. Labour's shadow leader of the Lords, Baroness Smith, explains their position on The Huffington Post. This morning it is this motion that is seen to have the greatest chance of passing.
Voting to kill-off or delay the changes would trigger a constitutional crisis, the government has argued, given the cuts have already been approved by the elected Commons.
The Bishops, meanwhile, have tabled a motion that would express "regret" but allow the cuts through.
Yesterday morning, Nicky Morgan was given the tricky job appearing on Marr to defend the cuts in the face of backbench Tory unease or outright opposition. The education secretary said the government would not back down, but hinted the impact may be softened. Osborne, she said, is "in listening mode". It was a line repeated by Matthew Hancock on Today this morning, the Cabinet Office minister and Osborne ally said the chancellor was "very much in listening mode".
On the sofa next to Morgan yesterday, John McDonnell said Labour would "not make political capital" out of a u-turn. Which is nice of him. If somewhat unlikely.
The spectre of deselection continues to hang over moderate Labour MPs. On Marr, McDonnell insisted centrists would not be purged from parliament at the upcoming boundary review.
However moments later, Ken Livingstone told Andrew Neil on the Sunday Politics that serial critics such as Simon Danczuk should face reselection."If you've got 1,000 new members join your local party because they supported Jeremy Corbyn's policies, you've got an MP completely undermining that, that's fine. They should have the right to challenge that," he said.
Catherine West, the new Labour MP for Hornsey and Wood Green, noted with some understatement on Westminster Hour: "Ken's always controversial."
3) WE'RE GOING TO NEED A MORE EXPENSIVE BOAT
The cost of replacing Trident is "too high to be rational or sensible", the Conservative chairman of the Commons foreign affairs committee has said. Reuters reports the cost of maintaining Britain's nuclear deterrent and submarine fleet could reach £167bn - a lot more than initial estimates. Which perhaps is not entirely surprising. Blunt said: "I believe that this level of spending commitment is excessive as it will mean forgoing an effective conventional capability in order to maintain one weapons system that is unlikely ever to be used."
The SNP said it was an "unthinkable and indefensible sum of money". The increased cost will be tricky for Labour, which is split on the issue. Jeremy Corbyn is opposed to Trident, while many in his shadow cabinet support it. The Scottish nationalists aim to exploit the split soon by holding a Commons debate on the subject.
Saudi Arabia is alarmed at the change in tone towards the country from Britain. The county's ambassador, Prince Mohammed bin Nawaf bin Abdulaziz, has warned there will be "serious repercussions". Writing in the Daily Telegraph the ambassador said "mutual respect" had been "breached" when David Cameron cancelled a prison contract with Saudi Arabia worth £5.9 million. "We want this relationship to continue but we will not be lectured to by anyone," he wrote.
5)INSIDE TRUDEAU'S VICTORY
Over in Canada, Justin Trudeau is settling in as the new prime minister. The Huffington Post Canada's Ottawa bureau chief Althia Raj has an inside look at the stunning election victory that is worth a read. It beings: "Monday's historic Liberal victory may have surprised some Canadians, but it didn't come as a shock to Justin Trudeau and his closest advisers. It was the culmination of a 2½-year strategy that they say was executed perfectly, a leader who rose to the occasion, and a bit of luck handed to them by the Conservative and NDP brain trusts.
"It was also the vindication for Trudeau and those closest to him that positive politics could work, and negative personal attack ads were not necessary."
If you're reading this on the web, sign-up HERE to get the WaughZone delivered to your inbox.
Got something you want to share? Please send any stories/tips/quotes/pix/plugs/gossip to Paul Waugh (paul.waugh@huffingtonpost.com), Ned Simons (ned.simons@huffingtonpost.com), Graeme Demianyk (graeme.demianyk@huffingtonpost.com) and Owen Bennett (owen.bennett@huffingtonpost.com)
Popular in the Community