An adoption charity's appeal to find a three-year-old girl "new parents for Christmas" has been criticised for "pulling on people's heartstrings".
Felicity Collier, who was the former chief executive of British Association for Adoption and Fostering (BAAF), said the language in First4Adoption's campaign was "deeply insensitive".
In the Independent, she wrote: "To describe a child who needs a home in a way which deliberately pulls on peoples' heartstrings is not OK, even if it leads to a positive outcome for Grace."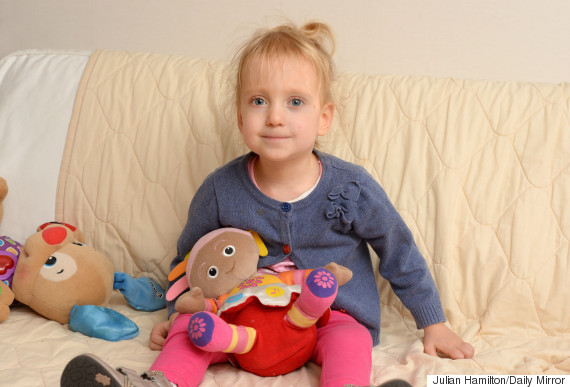 Grace was described in an adoption campaign as "the little girl no one wants to adopt"
The appeal, which was published in the Mirror, described Grace as "the little girl no one wants to adopt".
The piece read: "With her sparkling blue eyes and infectious smile, three-year-old Grace is the picture of happiness.
"But there is one heartbreaking piece missing from her young life.
"Despite spending every day waiting to be adopted, Grace has never been able to find the only thing she wants – a new mum to love her."
Grace is currently living with her foster parents, who told the Mirror: "Anyone would be lucky to adopt her".
Collier, who helped to create National Adoption Week in 1997, said although she believes the intentions of First4Adoption are good, advertising for a home for Christmas is the "worst time".
She wrote: "Animal charities have worked hard to help people understand that a puppy is for life and not just 'for Christmas' yet here we have a reputable agency encouraging people to come forward for just this reason.
"It normally takes six months to create a match, and this timescale will encourage completely unrealistic expectations."
SEE ALSO:

Couple In Process Of Adopting Baby Since Birth Told By Judges To Return Boy To Birth Family

How Adopted Children Inspired Their Parents To Help Others Become Families
Collier also raised an issue with a phrase the appeal writer used to describe Grace.
Grace suffers from cerebral palsy and chronic lung disease, and the Mirror article refers to her as having "nothing wrong with her mind".
Collier said the comment about her mind implies no one would want to adopt a child with learning difficulties.
Collier also argued that, although BAAF, which closed in July, had previously featured children in the media, they took "meticulous care" over the wording of any campaigns.
HuffPost UK Parents contacted First4Adoption but they declined to comment.
Read Collier's full piece in the Independent.