In September we ran a Sustainable Fashion month, guest edited by Livia Firth, and it schooled us in how and what we buy.
On the cusp of the Autumn/Winter shopping splurge, rather than buying a coat that would fall apart in a few months or winter boots that literally lasted one season, it changed our outlook completely. Our previous ways of shopping were a false economy if it meant buying a whole new wardrobe each year.
So we decided to champion sustainable fashion brands that would still be in good condition in five or ten years time.
One area of fashion that is doing remarkably well in the style stakes both in sustainability and design, are smaller British made brands.
But the challenge that previously faced these fashion companies, stunted their growth and almost killed off local craftsmanship was the difficulty in competing with mightier global brands like Chanel and Louis Vuitton.
Interestingly (and wonderfully), fashion's relationship with the internet is giving these brands a bigger platform to access, and opportunity to grow and expand.
A case in point are Scotland-based designers Guy and Leeanne Hundleby, who own Edinburgh-based Strathberry, which was founded after they noticed there was a gap in price point between high street and designer handbags. (An MC Nano starts at £155).
It ended up being one of the top three most funded UK fashion projects on Kickstarter, and as a result they may consider launching a men's line. Previously they would have most likely had to consider funding from venture capitalists - this way the business stays in the family.
Their celeb following also helps - Karen Gillan, Shirley Manson from Garbage and Helena Christensen, Lily Allen and Paloma Faith.
Here we caught up with the founders to find out more about their journey...
You were both doing very different things before you moved into the handbag business. Why did you make the change?
Guy: Leeanne worked as a consultant in the financial sector until four children in quick succession put that on hold for a while. As for me, I previously ran a production company which made for the likes of Oxfam, the RSPCA and the BBC.
When the business was sold to a marketing group I stayed on as MD for a few years and then left in 2011 to set up Strathberry.
The thinking behind it was simply based on the observation that Scotland didn't have a stand-out international luxury accessories brand and we thought it would be an exciting space to develop.
We also both had an interest in design and appreciate quality products, so it gave us a great opportunity to become involved in something creative that we could be passionate about.
Starting your own business can't have been easy - what have been some of the sacrifices, and some of the highlights?
Leeanne: It has certainly not been easy and we've had to be careful from a financial perspective, but we're lucky we haven't had to make too many sacrifices. Our studio is attached to our house, which has meant we've been able to integrate family life and work life together pretty well.
In terms of highlights, seeing the current collection become reality has been hugely satisfying, in particular achieving the level of quality and finish we were after. We've also met some really lovely people, one person in particular is Shirley Manson from the band Garbage. It also gives us a buzz to see stars like Karen Gillan carrying a Strathberry bag on the red carpet!
Is Strathberry sustainable?
Very much so. We use high quality materials and great craftsmanship, the end result of which are beautiful, fairly priced bags that are made to last.
We'd love for customers to associate the brand with longevity and it would be lovely if their Strathberry bags might be passed from one generation to the next. In addition we re-use waste materials wherever possible and have products in development, which if they come to fruition will result in even lower levels of waste.
There seems to be a big focus on buying British at the moment...
Yes, it's terrific that British brands and British product is having something of a resurgence and long may it continue. We're in fact currently in production with a local cashmere supplier, and as we further develop our collection it's our intention to work closely with more UK factories and workshops.
Why did you start Strathberry?
We looked at the numerous luxury brands from England, France, Italy and the US and it became apparent that there was no similar brand like that from Scotland, so we decided we should do it. Possibly a hugely foolhardy thing to do!
However, although it's very hard work we really enjoy it, especially when we see the reaction to our collection from customers, bloggers and the wider fashion community.
I was impressed by the price point - how do you manage to produce independent handbags at that price?
We keep costs low and we mainly sell direct, therefore by not having our prices put through the usual retail mark-ups it means we can sell a super high quality designer bag at a more accessible price point.
We don't want to cut corners so even our packaging is top notch – dust bags and quality boxes usually only found with brands like Chanel or Dior. We in fact recently took a wander through one of the upmarket department stores and were surprised to see a lack of quality material in bags and accessories being sold at more than double the price of our bags.
Talk us through the process of making a bag...
Initially we come up with the concepts, we'll produce rough sketches and mock up samples from card and paper.
Once progressed to a stage where we're happy with them we then work with David (our ex Louis Vuitton/Loewe designer) who inputs his own thoughts on the designs and we agree and adjust as necessary.
David will then produce the technical drawings which we then discuss and develop with the workshop. it's then onto sampling and fine tuning a new style at each sampling stage until we get the design just the way we want it, sometimes it takes four or five samples to get it right, at which point we're then ready to go into production.
Working as a husband and wife team, what strengths do each of you bring to the table?
Guy: I think we probably have a fairly complimentary set of skills, we both work on design, in addition to which I'll manage production and finances, whilst Leeanne will focus more upon promotion and raising awareness of the brand.
Where do you source the leather and craftsmanship from?
We spent a long time looking around and visiting workshops but ended up partnering with a team in Spain. Like us they were a relatively new start, however the craftsmen and women all have terrific experience working with some of the most luxurious brands in the world, such as Givenchy, Chloe and Chanel.
The challenges we now have are in terms of achieving the production levels being requested by customers. It's not a bad problem to have though!
What have been the biggest challenges with the business so far?
Guy: Financially it has been tricky – having a young family and setting up a new business is always going to lead to some fraught and questioning moments. You have doubts and financial concerns, but if you believe strongly enough in the idea or concept (which we did, and do) then you just press on even when you know people think you must be mad.
The reality though was that Leeanne had to go back to work part-time in order to bring money in, however we're now getting onto firmer financial footing, in part thanks to our great Kickstarter project.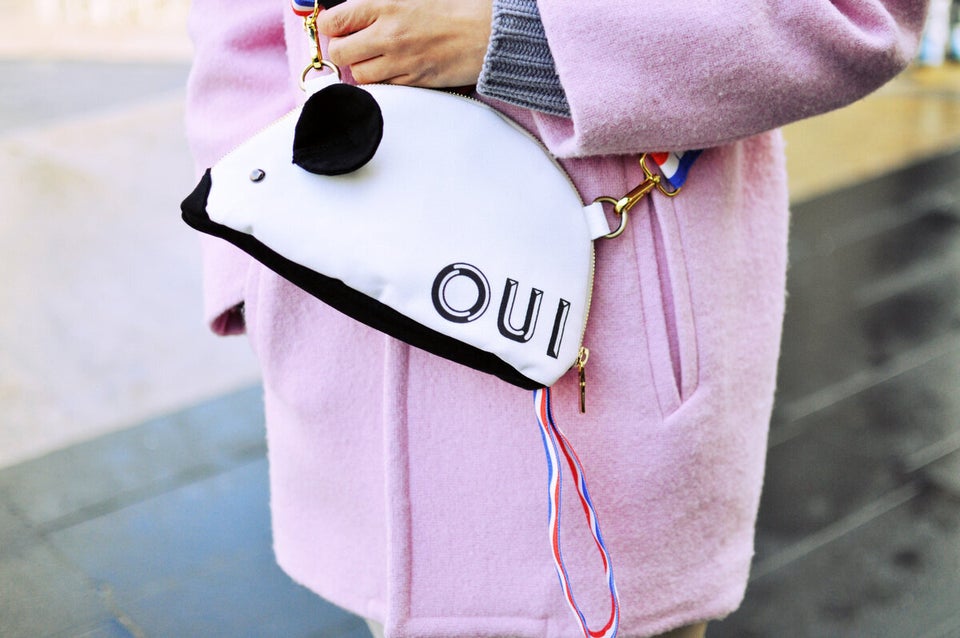 NYFW Fall 2015: Handbags
Popular in the Community