'X Factor' bosses have ditched the much-discussed 'fifth judge' plans, according to reports.
READ MORE:
It was previously reported that Simon Cowell was planning to bring in a guest judge to help the panel each week, and that the show's team had already contacted stars including Rod Stewart and Dolly Parton.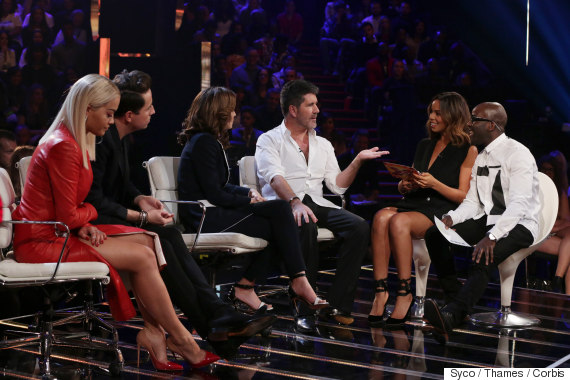 The judges chat with 'Xtra Factor' presenters Rochelle Humes and Melvin Odom
However, that idea has reportedly been dumped, just days before the live shows kick off.
A source tells The Sun: "Another idea has been tossed on the scrapheap, because it wasn't planned well enough.
"This is becoming a recurring problem. Execs come up with ratings-chasing ideas on a whim, not thinking whether they will be possible, leave it too late and then ditch them.
"The fifth 'legend' judge was a strange idea, borne out of a fear 'Strictly' was pulling far ahead in the ratings.
"Up until a couple of days ago it looked like it would happen. Simon was keen. It really doesn't look good."
The gimmicks may not all have been totally ditched though, as Simon has fuelled speculation about wildcard entries, though it looks as though fans will have to wait until the weekend's shows to find out what he has in store.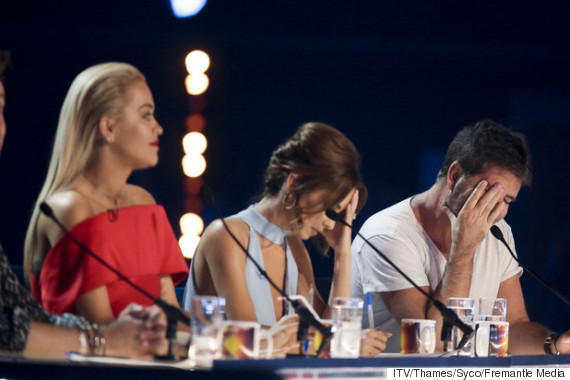 Oh, guys.
As if that wasn't enough, there's also the small matter of Louis Walsh, who has hinted that he could be a making a comeback.
So far, the 2015 series of 'X Factor' hasn't exactly been a roaring success, and plans for live judges' houses shows - shot in exotic locations - were scrapped due to logistics issues.
Ratings-wise, the show has suffered embarrassing to not only 'Strictly', but also 'Countryfile'. Ouch.
LIKE US ON FACEBOOK | FOLLOW US ON TWITTER