You might not immediately recognise the name but Bob Ross was - and still is - a bit of a legend.
The ever-cheerful painter with the big hair graced TV screens from 1983 to 1994 and would spend 30 minutes creating imaginary landscapes.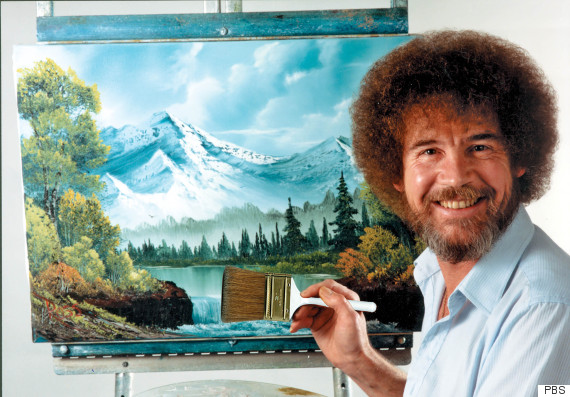 Bob and his trusty brush
In celebration of what would be his birthday on Thursday, Twitch are streaming every single episode of 'The Joy of Painting' in a marathon of soothing artistry.
Maybe this cloud has a friend, a little friend. Maybe this little friend's name is Clyde. He lives right up here and floats around with him.

— Bob Ross (@BobRoss) August 2, 2015
Ross died in 1995 but a Twitter account has kept his spirit alive by delivering some of his best quotes on a regular basis.
Here are some of the best.
Maybe this one's got two arms. Who knows. You put as many arms on your cactus as you want. This is your world. pic.twitter.com/nrkXRNu7rR

— Bob Ross (@BobRoss) July 31, 2015
All sorts of happy little things live inside of your 2 inch brush... You just gotta push em out. There.

— Bob Ross (@BobRoss) August 11, 2015
We don't make mistakes, just happy little accidents. :)

— Bob Ross (@BobRoss) August 2, 2014
Who knows. This is your cloud, so you put the shadow where you want it. Maybe... maybe this cloud has a little friend.

— Bob Ross (@BobRoss) February 12, 2013
Today let's take the one inch brush and make a happy little cloud. Now you have to make a big decision, where does he live in your world?

— Bob Ross (@BobRoss) October 1, 2012
Just go out and make friends with a tree. Isn't nothing wrong, if you're an artist, you're allowed to do weird and crazy things.

— Bob Ross (@BobRoss) August 6, 2014
There's nothing wrong with having a tree as a friend.

— Bob Ross (@BobRoss) December 7, 2012
Let's give this happy little cloud a friend. There.

— Bob Ross (@BobRoss) February 20, 2015
This is your world, make it as happy as you want it.

— Bob Ross (@BobRoss) June 20, 2014
Trees cover up a multitude of sins.

— Bob Ross (@BobRoss) September 1, 2011
We want happy paintings. Happy paintings. If you want sad things, watch the news.

— Bob Ross (@BobRoss) May 19, 2014
Don't be afraid to go out on a limb, because that's where the fruit is, out on the end of the limb.

— Bob Ross (@BobRoss) June 20, 2014