There are now 2,000 employers accredited by the Living Wage Foundation for paying all staff above the minimum wage, twice the number 12 months ago, it announced today.
The Living Wage Foundation praised those paying a living wage but called out companies, including big brand names, for not paying more.
The call follows research by auditors KPMG, which found there are 5.84 million people in the UK earning less than living wage, an increase of 497,000 on a year ago and a total of 23% of working Britons.
The KPMG research also found women were more likely to earn less than a living wage, with 29% of them earning below the living wage compared with 18% of men.
Sarah Vero, the foundation's director, said: "These employers are not waiting for Government to tell them what to do; their actions are helping to end the injustice that is in-work poverty in the UK now."
She added: "They join a growing list of organisations ranging from FTSE 100 companies to independent businesses, SMEs and third sector employers who all share our belief that work should be the surest way out of poverty. The Living Wage is good for people and for business."
The Huffington Post UK asked Tesco and Greggs, neither of which is accredited, whether they planned to pay their staff more and seek Living Wage accreditation.
A Tesco spokeswoman told HuffPost UK: "We're committed to a competitive pay and benefits package which is greater than the living wage for all established colleagues. As we improve our performance we'll continue to share those improvements with colleagues.
"If we hit our targets this year, our turnaround bonus is worth 5% of pay."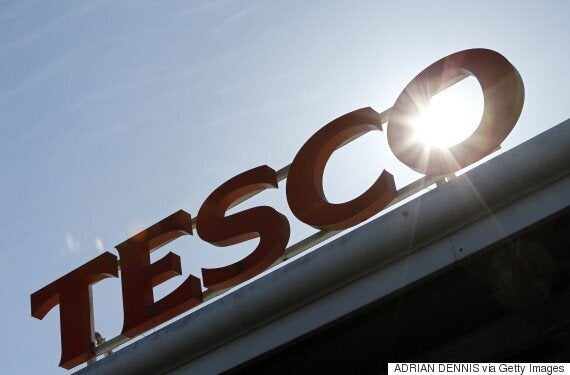 Tesco said it was 'committed to a competitive pay and benefits package'
A Greggs spokesperson said: "Our standard rate for hourly-paid shop staff is already above the national minimum wage and we will maintain a competitive position in the market going forward."
Neil Jameson, director of campaigning group Citizens UK, said: "Whilst huge gains have been made with increased numbers of organisations signing up, the fact remains that nearly six million workers, earn less than a Living Wage.
"Where are some of the UK's biggest names on the issue of low pay? Life on less than the Living Wage is better described as survival; when living becomes the challenge of trying to exist from one pay day to the next, what room does that leave for family life, for faith or for learning?"
Accredited Living Wage employers will pay their staff at least the new voluntary Living Wage rate of £8.25 per hour, rising from £7.85.
This is higher than the national minimum wage of £6.70 per hour and the new minimum wage premium for over 25s of £7.20 per hour that will come into force in April 2016.
Mike Kelly, head of living wage at KPMG, said: "With the cost of living still high the squeeze on household finances remains acute, meaning that the reality for many is that they are forced to live hand to mouth. The figures released show that there is still more to be done if we are to eradicate in work poverty.
"For some time it was easy for businesses to hide behind the argument that increased wages hit their bottom line, but there is ample evidence to suggest the opposite – in the shape of higher retention and higher productivity. It may not be possible for every business, but it is certainly not impossible to explore the feasibility of paying the Living Wage."
Related