Firefighters have rescued 50 people from a burning tower block in west London after a fire in a third-floor flat.
Around 60 firefighters and eight fire crews rushed to Adair Tower in North Kensington this morning after the blaze in a two-room apartment.
Two people escaped from their balconies by ladder.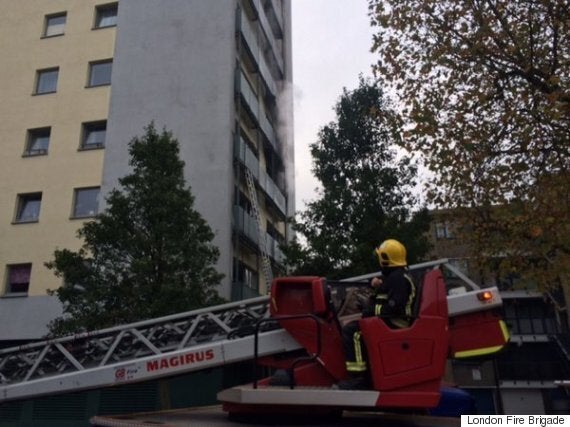 Firefighters at the scene
Sixteen people have been taken to hospital as a precaution, the fire service said.
Fire crews were called to the 14-storey block of flats in Appleford Road just before 9am and the fire was under control by 10.20am.
The flat was described as "100% alight" by the fire service, who said the third-floor lobby was also on fire.
Station Manager Jim Smith who was at the scene said a third-floor flat was "completely alight and smoke was pouring from a window".
He added: "Control officers did a brilliant job keeping residents calm and ensuring those who were trapped or couldn't move were in the safest place while firefighters reached them.
"Crews worked quickly to bring the fire under control and rescue 50 people.
Liz Hymns Control Operations Manager said: "Our job is to keep people calm and make sure they are in the safest possible place.
"We took nine fire survival calls during this incident, we gave residents reassurance and made sure they were in the safest place.
"For example, in one call, a woman couldn't move from the back bedroom but we got her to describe the lay out of her flat so that when firefighters arrived they knew exactly how to find her.
"Obviously, when you speak to people in this situation they are scared and looking for reassurance. It's the most amazing feeling in the world to hear the relief in their voices when they hear firefighters breaking into their flat and they know they are going to be rescued."
The cause of the fire is under investigation.
Related