Update: To view the best places to meet Santa in 2016, click here.
If you haven't made your plans to see Santa yet this year, it's definitely time to get into the Christmas spirit.
Here's a selection of our favourite Santas who will be flying into the UK for the festive season. Don't forget to check tickets are still available before heading down...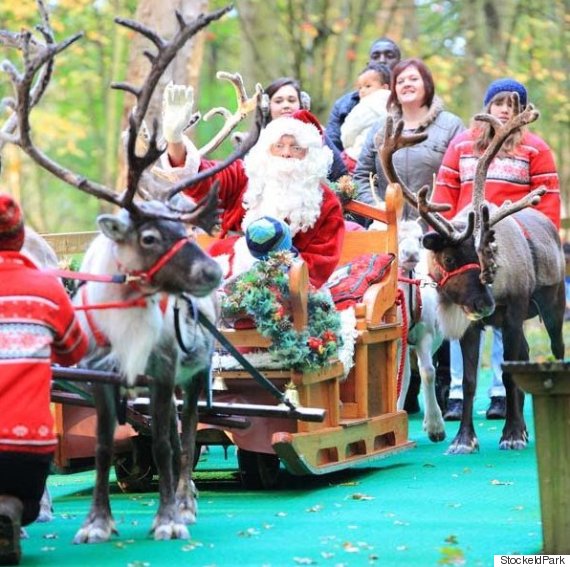 Santa's Winter Workshop
Where: Center Parcs (Sherwood Forest, Elveden Forest, Longleat Forest, Whinfell Forest and Woburn Forest) 03448 266 266, Centerparcs.co.uk.
All five of the Center Parcs Villages will fall under a captivating spell and magically transform into a Winter Wonderland this Christmas. Adorned in a glittering array of twinkling lights and decorations, the woodlands will come alive with the anticipation of Christmas. There are also lots of seasonal activities and events for the whole family to discover together as well as the opportunity for kids to meet Santa.
When: 6 November - 3 January 2016
Tickets: £399 for a short break in a 3 Bedroom Woodland Lodge for up to 6 people. This price applies to selected breaks, accommodation and villages only. Conditions apply.
Christmas Adventure
Where: Stockeld Park, Wetherby, Yorkshire, 01937 586 101, Stockeldpark.co.uk.
Sitting in his luxury log cabin, you could be forgiven for thinking you'd just travelled to Lapland, rather than Yorkshire, when you visit Santa in this beautiful grotto, with ski-ing, skating and a maze to enjoy nearby. Santa arrival weekend at Stockeld Park is celebrated with a wonderful reindeer parade.
When: 14 November (Fri/Sat/Sun only until 27 November then daily until 24 December 2015)
Tickets: £10 per child (peak season), £8 per child (mid season) £2 for accompanying adult.
Christmas at LEGOLAND Windsor
Where: LEGOLAND, Winkfield Road, Windsor, 0871 2222 001, Legoland.co.uk/christmas
Father Christmas and his elves will be visiting with a big sack of LEGO® gifts for little guests Saturdays and Sundays throughout November and December. As well as a visit to Father Christmas' magical grotto, where every child will receive a free LEGO gift, guests can enjoy a jam packed day with 15 rides and attractions. The elves will be looking for little helpers to make Christmas cards, decorate biscuits and write letters to Father Christmas.
When: 21 November - 23 December 2015.
Tickets: Tickets must be pre-booked in advance and are £25.
Drayton's Magical Christmas
Where: Drayton Manor theme park, Staffordshire. draytonmanor.co.uk.
HuffPost UK picture editor, Elliot Wagland said: "The 'Magical Christmas' is a wonderful experience the children will never forget.
"The majority of the park is closed during the winter months but the Thomas Land experience is still open to the public, it's full of festive cheer and the children still get to use the best part of the park. For the price of the ticket, the children got to enjoy the ice skating rink, the Christmas parade the amazing the Polar Express in 4D.
"The best part of all was seeing our boys meet Father Christmas in the Castle of Dreams, with his strong Birmingham accent and operating his own camera which was all part of the charm, this Santa was the best of the bunch and picked up on every detail of the children's Christmas wishes. They beamed all the way through and he even gave them a medal to place by the window, so he knew which house to call on during his rounds on Christmas Eve."
When: 4 December - 31 December
Tickets: Under 2 free, £10 for ages 2-3, £15 for 4-11 and £20 for aged 12+.
Santa's Snow Kingdom
Where: Chill Factore, Trafford Way, Trafford Quays Leisure Village, Manchester, chillfactore.com.
Take one step into Santa's Grotto and feel the crunch of the real snow below your feet at the Chill Factore. Surrounded by real snow, sparkling trees, glistening lights and chattering elves, Santa will be joining us in his Snow Kingdom every weekend from 7th November and every day in December right up until Christmas Eve. He will be joined by a very special friend (Peppa Pig) on 14, 15, 21 and 22 November.
When: 7 November - 24 December 2015.
Tickets: From £15 each.
Christmas Kingdom
Where: The Celtic Manor Resort, Wales, celtic-manor.com/christmas-kingdom.
Enjoy a wonderful winter adventure filled with all the magic and sparkle of the festive season, when our sensational Christmas Kingdom returns. Not only does your experience include a chance to meet Santa, you'll also visit Mrs Claus in her kitchen and help decorate her gingerbread Christmas trees. Write your letter to Santa and post it in his North Pole postbox, and be sure to visit his reindeer who will be resting up at Celtic Manor ahead of their busiest night of the year.
When: 26 November - 3 January 2016
Tickets: from £12.50.
Christmas fun medieval style
Where: The Canterbury Tales, Kent, canterburytales.org.uk.
Enjoy a magical medieval Christmas this year at the award-winning Canterbury Tales attraction. It will be transformed into a festive wonderland for visitors to explore as they step back in time to 14th-century England.
The whole family will have the chance to dress up in elf costumes for a fun photo opportunity, and youngsters will be able to write down their Christmas wish and post to Santa in the attraction's special mail box. As you continue along the cobbled road, be sure to stop for mead tasting (adults only!) before visiting Santa's grotto, where there will be a gift for every child.
When: 19-20 December 2015.
Tickets: The Canterbury Tales' Magical Medieval Christmas cost £7 for adults, £10 for children.
SEE ALSO:

Christmas Presents For Children And Toddlers: 25 Toys And Games For Christmas 2015

Good Housekeeping Reveals Great Big Christmas Toy Test Results
Father Christmas at the Royal Albert Hall
Where: Royal Albert Hall, Kensington Gore, London, royalalberthall.com.
For the first time ever - Father Christmas will park his sleigh at the iconic venue and offer children the chance to enjoy a truly magical festive experience. Invited to meet Father Christmas in his grotto filled with gifts, young visitors will be taken on an exclusive children's tour of the beautiful building and take part in fun-filled Christmas card and decorations workshops.
When: 7 December – 24 December 2015 at the following times: 9am, 10am, 11am, 2pm, 3pm, 4pm
Tickets: £26.50 (adults and children under two go free). Call the box office on 020 7589 8212.
Santa's Grotto Eastgate
Where: The Eastgate Shopping Centre, Gloucester, eastgateshoppingcentre.co.uk.
Children can visit Santa in his grotto after you've done a bit of Christmas shopping from 21 November. Parents must book time slots online prior to attending - the information on how to do this will be listed on the website nearer the time.
When: 21 November to 24 December. 11am - 3pm.
Tickets: £5, with photo merchandise products available at an additional cost.
LaplandUK
Where: Windsor. www.laplanduk.co.uk.
HuffPost UK's picture editor, Elliot Wagland, said: "Upon arriving at LaplandUK, your Christmas experience starts the moment step into the arrivals hall to collect your 'passport' and that's just the tip of the Christmas iceberg.
"The whole of 'Lapland' is filled with snow-covered trees, log cabins and lots of friendly elves running around. The children get to make toys in 'Santa's workshop', then they're whisked off to meet Mother Christmas, who decorates gingerbread with the children, she then read the classic tale, The gingerbread man.
"You also get to enjoy the wonders of the main square, It's main focus is the skating rink, it's beautifully lit with the shops and restaurants scattered around the outside and the addition of real huskies and reindeers which the children can touch only adds the wonderful experience. Then it was time to meet Father Christmas, you take a secret pathway through the 'enchanted forest' then register to meet the big man in red.
"As your children's names are called, you're met by a Christmas-fueled elf full of excitement. The elf leads you through a beautifully lit pathway in the forest where you arrive a cabin. Santa is ready and waiting for you, he recounts every piece of pre-filled information to impress the star-struck children, poses for a picture then presents them with a gift. The children leave Santa's grotto impressed that he 'see's and know's everything' and clearly lapped up his every word.
"The experience is not cheap for a family of four to see Father Christmas but it is a once in a lifetime treat that your children will never forget."
When: 21 November - 24 December
Tickets: From £55. See ticket prices for dates you'd like to visit here.
The Polar Express Tram Ride
Where: Seaton Tramway Riverside, Depot Harbour Road, Devon, tram.co.uk.
Based on the best-selling book by Chris Van Allsburg and everyone's favourite Christmas movie, this trip to the North Pole invites you to take part in the Polar Express experience by tram. Listen to and sing along with all the songs, be served hot chocolate and cookies by the dancing chefs and meet Santa and his happy bunch of elves.
Each child will receive a special gift from Santa and you're welcome to wear your pyjamas on board just like the film.
When: 4-6, 11-13 and 18-24 December 2015
Tickets: Adult tickets are £19.95, children (3 to 15 years) £15.95, and children under three years are free.
Flying Santa
Where: Southampton Christmas Festival, WestQuay and the Bargate, Facebook.com/xmassouthampton.
The Southampton Christmas Festival has a real-life Santa and his reindeer take to the sky between West Quay and Bargate every day, before opening the doors of a giant advent calendar to offer presents to the kids to take home.
The event is also a free festival with festive foods, gifts and drinks.
When: 14 November - 23 December 2015. 10am-8pm. Flying Santa has twice daily shows - Monday - Saturday at 5pm and 7pm and Sunday at 3pm and 5pm
Tickets: Not needed.
Merry Christmas at Willows Activity Farm
Where: Willows Activity Farm, St Albans, Hertfordshire, Willows Activity Farm.
Every child who visits Willows is able to make their very own teddy bear to take home, included in the entrance price.
Working with the elves in the Teddy Bears workshop, children can bring their bear to life as their very own festive friend to join in and enjoy their magical day at Willows before taking them home to treasure. Visitors are also invited to meet Santa in his spectacular grotto, where every child receives a golden key to his toy shop - full of gifts for boys and girls of all ages to choose from!
When: 2 November - 24 December 2015.
Tickets: From £8.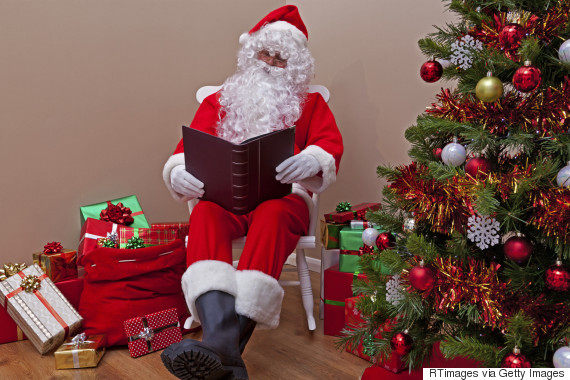 Santa's Christmas Wonderland
Where: Paultons Park, Romsey, Hampshire, paultonspark.co.uk.
Santa's Christmas Wonderland will be descending on Paultons Park and Peppa Pig World and transform into a wonderland of twinkling illuminations, seasonal music and giant Christmas trees. Kids can meet Santa and his singing reindeers - Rudolph and Donner. After receiving a special present from Santa in his grotto, children can also visit the Park's state-of-the-art 4D Show Street Cinema and join the adventures of Mumble the penguin in the Happy Feet
When: 14 November - 23 December 2015
Tickets: Tickets start from £23 and must be pre-booked online.
Santa's Grotto and Ice-skating at Millets
Where: Millets Farm Centre, Abingdon, Oxfordshire, milletsfarmcentre.com.
A family visit to Millets' grotto lasts just over 45 minutes and is the ultimate way to visit Santa. Enter his magic wonderland, sing with his bashful elves, then make some reindeer food ready to sprinkle on Christmas Eve. The adventure continues into Santa's living room where you will listen to an enchanted story read by Santa himself.
Combine the visit with ice-skating at the on-site, covered ice rink, which is open daily from the end of November through to January with a special New Year's Day skate complete with bacon sarny.
When: From 14 November
Tickets: Entry to Millets Farm Centre is free of charge, with free all-day parking. Santa's Grotto tickets are £4.49/adult and £9.99/child inclusive of gift. Photographs with Santa are £5.99.