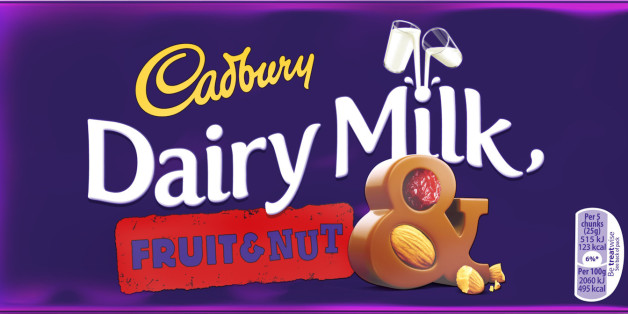 Cadbury
'Fruit & Nut' lovers, you might want to sit down.
Cadbury has announced that it will be changing its infamous 'Fruit & Nut' chocolate bar by adding, wait for it...
Sultanas.
The chocolate bar recipe has remained the same for almost 90 years, however the company has decided to add sultanas into the mix for "more variation".
Claire Low, marketing manager for Cadbury Dairy Milk, defended the decision by saying: "We are committed to making sure that Cadbury Dairy Milk Fruit & Nut remains true to what makes it so special – the iconic blend of Cadbury Dairy Milk chocolate, dried fruit and almonds."
But the internet still isn't happy about it.
Why are they messing with our Cadbury's?! I don't like Fruit & Nut but why @CadburyUK? STOP MESSING WITH PERFECTION! https://t.co/dKxipctERi

— Louise✏️ (@LJMacP3) November 3, 2015
So raisins are being replaced by sultanas in Fruit & Nut Choc. In tests many people couldn't tell the difference. I will, I hate sultanas!

— Nigel Jennings (@Jennings2Nigel) November 3, 2015
Cadbury's adding sultanas to the Fruit & Nut bar to 'mix it up a little'? AFTER 90 YEARS? Do one. https://t.co/7wOiI7NaPp

— Maria Mazzarelli (@rubycadillac) November 3, 2015
So Fruit and Nut bars are to have a new ingredient for the first time in 90+ years. Wait for it - it's...

sultanas.

Really, @CadburyUK ? 😕

— Ben Kane (@BenKaneAuthor) November 3, 2015
I hate cadburys for changing the fruit and nut. Damn the American ownership running perfectly good sweets!

— Simon Barry (@bigsimo79) November 2, 2015
Guys, a word of advice: if it ain't broke, don't fix it.
SEE ALSO:

Nutella Doughnut Milkshake Looks Like Heaven In A Mug

The Definitive Ranking Of Chocolate Bars As Decided By You