A former writer of the BBC soap has hit out at current bosses for rewriting history, after it transpired that Dirty Den's famous catchphrase "Hello, Princess" was actually something that Gavin had asked Sharon's adoptive father to say to her as a secret hello from him.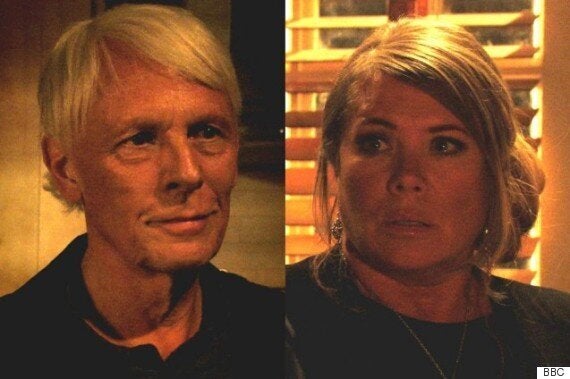 Gavin and Sharon in 'EastEnders'
When a fan tweeted about the retconning of the line being "unforgivable", script writer Sarah Phelps said that she was feeling "feeling bilious" about the development.
Unleashing her fury, she accused 'EastEnders' execs of "pissing on the memory" of iconic Queen Vic landlord and landlady Den and Angie Watts, who adopted Sharon as a baby.
"Never ever piss on the memory of Den and Angie," she ranted.
"Never. I wrote that f**king line. That was Den. Not some turd in a syrup," she added of Gavin, in the now deleted tweet.
Tuesday's (2 November) episode of the soap saw Sharon (Letitia Dean) learn more about her background, after he took her Kathy, Ben, Phil and Denny hostage on Halloween.
Gavin (Paul Nicholas) told her that he'd sold her to Den in exchange for a cut on a dodgy deal, before she then called the police on him.
But after he told her about the way he'd asked Den to say "Hello, Princess" to her, she let him escape before the police could arrive.
'EastEnders' continues tonight at 7.30pm on BBC One.