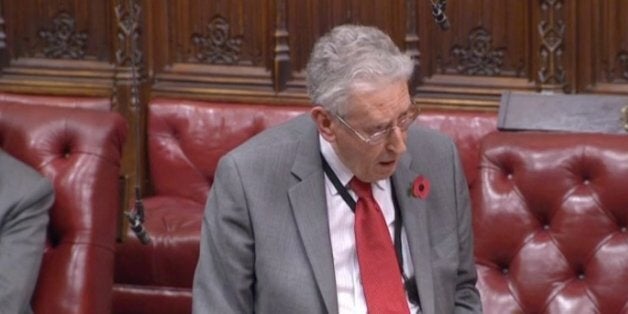 Eurosceptic peers have turned on the Government's EU renegotiation tactics, with even George Osborne's father-in-law saying freedom of movement is "crumbling before our eyes."
Speaking in a House of Lords debate last night, Lord Howell was scathing in his assessment of the Eurozone, describing its problems as "chronic and insoluble."
Former Tory MEP Lord Balfe argued that even if Britain voted to leave the EU, "nothing will happen" as Brussels would not make "our process of withdrawal easy".
Lord Howell, whose daughter Frances is married to the Chancellor, was the most damning, and said: "My own view is that modern Europe should leave the whole eurozone system to wither on the vine.
He added: "The great principle of freedom of movement in Europe is, of course, crumbling before our eyes.
"Again, it is not just, or even mainly, a British problem. Recent weeks have shown that very clearly."
He also proposed a "deal" to other EU countries, including Germany, which would see the backing a new treaty to give added protection to the eurozone in exchange for the UK excluded from future bailouts and less Brussels meddling in the City of London.
The Lords debate was held to consider a report from the EU Committee on the Government's process of renegotiation ahead of a referendum.
David Cameron has vowed to hold the vote before the end of 2017, but has yet to announce a specific date.
Lord Boswell, chairman of the EU Committee, speculated that as the UK is due to hold the presidency of the European Council in the second half of 2017, it would make "the arguments for an earlier referendum all the stronger."
He added: "On the other hand, an earlier referendum creates the possibility of the UK having voted to leave before the presidency takes place.
"While the Government were right to press ahead with their plans for the presidency in 2017, it is only fair on our fellow member states to be ready to put contingency plans in place should the referendum either be delayed or result in a vote to leave."
Lord Boswell also called for the Tories to consider a "green card" option for the UK Parliament, which would allow it to put forward European-wide laws, not just block those coming from Brussels under a "red card" system.