SEE ALSOLATEST: Bonfire Night Chaos Ensues As Protesters Descend On Capital City
Police are "expecting trouble" from the 18,000-strong crowd expected to take part in tonight's Million Mask Marchbonfire night protest in London, with one officer warning it could get "nasty".
Thousands of officers will descend on the West End to keep order during the annual protest organised by hacktivist collective Anonymous.
Police have said a six-hour student protest in the capital on Wednesday, that descended into violence and resulted in a dozen arrests, was a "dress rehearsal" ahead of the expected chaos.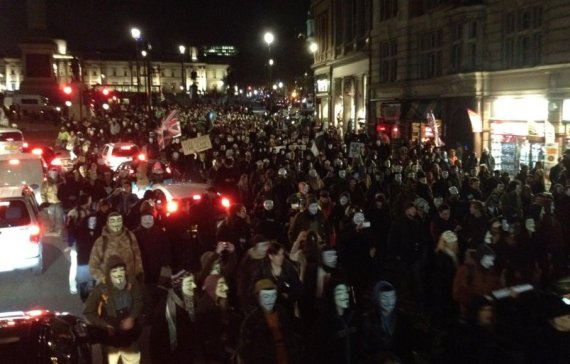 Around 18,000 people are expected to take part in the Million Mask March in London tonight
A police sergeant told the Evening Standard that tonight will be the "big one" as most of the "hardcore protesters" had stayed away from the student fees protest as they did not always have a view on it, and would have wanted to avoid the risk of arrest and potentially missing tonight's march.
He said of the march where protestors wear the famed 'V for Vendetta' mask associated with their movements' figurehead, Guy Fawkes: "We're expecting trouble and for it to be nasty."
Chief Superintendent Pippa Mills, of the Metropolitan Police, said: "We will always facilitate peaceful protest and have a strong history of doing so. However, over the last few years this event has seen high levels of anti-social behaviour, crime and disorder.
"This year we have strong reason to believe that peaceful protest is the last thing on the minds of many of the people who will come along."
She added: "It is unacceptable that a small minority should believe they have the right to break the law, harass people, damage buildings and attack police officers.
"My message to those people planning on attending on Thursday night is if you want to take part in peaceful protest that is your right and we want to work with you. If you want to break the law then we will police you. Where offences are committed we will investigate them and make arrests."
READ MORE:
Police warned commuters could face disruption getting home from work as they set out a strictly-defined marching route from Trafalgar Square along the Victoria Embankment to Millbank, Parliament Square and Whitehall.
Last night's protest organised by the National Campaign against Fees and Cuts saw "small numbers" of anarchists square up to police outside two government buildings.
Activists hurled eggs and smoke bombs at police in Victoria Street after trying to push their way into the Department for Business, Innovation and Skills which has overall control over universities and further education.
About 50 students were later reportedly kettled in St James' Street, near the Mall, after gathering outside HSBC's corporate offices chanting: "What do we want? Free education. When do we want it? Now."
Student organisers blamed the skirmishes on the "Black Bloc" of hardcore anarchists who threw flares at police lines.
Excitement was building on Twitter ahead of tonight's Million Mask March. No one was inciting violent, but one tweet advised protesters on taking precautions to protect their identity.
If you are attending the million mask march tonight, please consider this: https://t.co/gGwCN77UYS anti-face recognition makeup #mmm2015

— Mike Preston (@darkflib) November 5, 2015
Anyone going on the million mask march tonight? Just FYI... https://t.co/4AlYGvDIyo

— paul 'stock' barnard (@paul8ar) November 5, 2015
@MikePannett but won't tolerate those who turn violent or commit offences during tonight's 'Million Mask March' as sadly seen last year.

— 4Policing.com (@4Policing) November 5, 2015
I've seen 'V for Vendetta' & want my life 2 have meaning. Also desperate 2 be 'Interesting, cool & part of any movement'. #MillionMaskMarch

— 'Orrible Morrall (@JamieMorrall83) November 5, 2015
Welcome Million Mask March #Anonymous#MillionMaskMarch

https://t.co/NTfKpgilzr#MMM2015pic.twitter.com/ger9tyFOqp

— Anonymous (@AnonsOpNews) November 5, 2015
Are You Ready? Brothers and sisters

Join us. Million Mask March nov th5

@anon_0x0pic.twitter.com/fdwFiLr48H

— ANONYMOUSⅤ❤Rin❤ (@4n0n_HR) November 5, 2015
RT @AnonswedenInfo Happy Million Mask March 2015 nov 5th Are You Ready? #MMM2015#Anonymous#Swedenpic.twitter.com/TEaxDAA5TM

— xXx redpilled xXx (@AnonAlarm) November 5, 2015
@FibsFreitag Hi brothers ☺ Million Mask March nov 5th #MMM2015pic.twitter.com/FhQYpnp3fN

— ANONYMOUSⅤ❤Rin❤ (@4n0n_HR) November 5, 2015
ARE YOU READY? JOIN US.#ANONYMOUS MILLION MASK MARCH

NOVEMBER 5TH OPVENDETTA

WORLD WIDE OPERATION.

#MMM2015pic.twitter.com/WJT3KYBg8w

— #GHC_sec Central (@Global_hackers) November 1, 2015
The first Million Mask March of 2015. Wellington. New Zealand. pic.twitter.com/9UUoS1hCBA

— Anonymous (@AnonyPress) November 5, 2015
Police 'expecting trouble' at Million Mask March

& will get in some much needed battering practice.

November 5, 2015
Westminster On Lockdown As Police Gear Up For 'Million Mask March' https://t.co/9FSz6VmkH1

— CyberPirateUK (@CyberPirateUK) November 5, 2015
The Million Mask March has previously sparked violent scuffles between protesters and police, and 2015's march is tipped to be the biggest yet. Similar protests will take place across the world, with some already underway.
Fearing large-scale civil unrest, damage to monuments and attacks against officers, the Met has locked down Westminster and placed strict conditions on the event.
Officer numbers have been beefed up and severe restrictions have been placed on the march route and where protesters will be permitted to remain stationary, including around Parliament Square.
Static assembly will only be allowed between 6 and 9pm in the tourist hotspot Trafalgar Square, a small section of Whitehall opposite Downing Street, and on the lawns outside Parliament.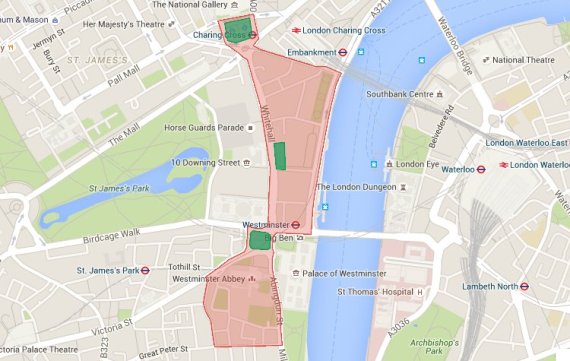 A fringe group of protesters has already announced plans to protest outside the Ecuadorian embassy, where Wikileaks founder Julian Assange is seeking refuge from extradition, under the guise of demonstrating to "free Robin Hood".
They too will be wearing 'V for Vendetta' masks, while clad in black robes and full, shoulder-length white judges wigs.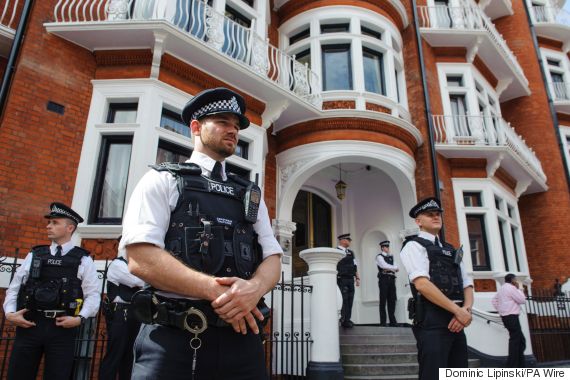 The embassy where Assange was guarded from leaving by police
Chief Superintendent Pippa Mills claimed that in 2014 "hundreds of people on their way home from work, or out enjoying an evening in the capital, were surrounded by people causing them huge concern".
But her comments were rebutted by the march's organisers in a statement on Facebook, who said the event was to call for a "positive change in the world".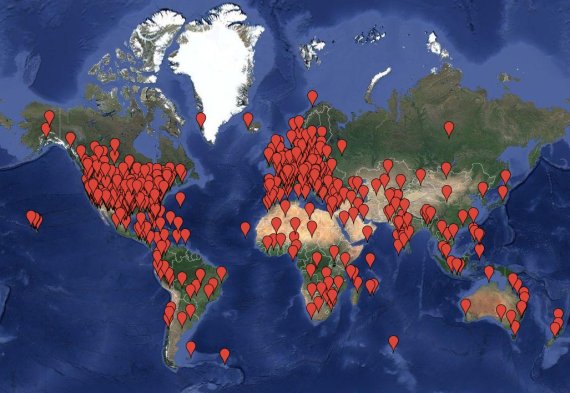 A map of organised events taking place in conjunction across the globe
"We have seen the abuses and malpractice of this government, and governments before it, we have seen the encroaching destruction of many civil liberties we hold dear," they wrote.
"We have seen the pushes to make the internet yet another part of the surveillance state, we have seen the government's disregard for migrants, for the poor, the elderly and the handicapped.
"We have seen the capital, profit and greed of the few put before the well-being of the many and we say enough is enough.
They invited fellow activists, workers, students, doctors and nurses - and "all those that want to see a positive change in the world", to join them on the November 5th march.
"The government and the 1% have played their hand," they concluded, adding: "Now it is time to play ours."