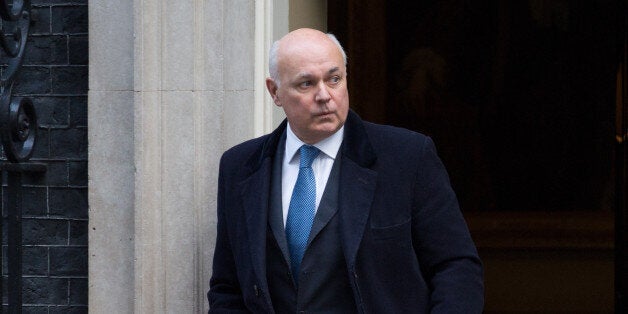 David Cameron has been accused of overseeing a "bonus bonanza" after Whitehall bureaucrats pocketed more than £90million in pay-outs last year.
Figures obtained by The Huffington Post UK show that in the year to April, 12 Government departments forked out £89.4million in bonuses to staff.
The most rewarding was the Department for Work and Pensions, which handed out £42.1million in bonuses to its staff - £38.1million of which went to Senior Civil Servants.
The figures only relate to 12 out of the 20 Government departments, meaning the total bonus figure could soar to almost £140million if the average pay out of almost £7million per department continues.
Labour MP Andrew Gwynne, who uncovered the figures, said: "For all his talk of belt-tightening, these figures show that David Cameron is happy to splash the cash on bonuses.
"Whilst the NHS is in crisis, this bonus bonanza would pay for thousands of new nurses."
In 2012, then-Treasury minister Danny Alexander vowed to end bonuses for "run of the mill performance" as the coalition Government slashed departmental budgets.
Since 2010-11 the Government has restricted awards for senior civil servants to the top 25 per cent of performers.
The overall figures show the amount paid out in total has fallen since 2012/13, down 13 per cent.
However the departments for Business, Education, Transport, Health and Wales all paid out more in bonuses for 2014/15 than the previous year.
International Development, Environment, Work and Pensions, Defence, Northern Ireland, Health and Scotland all paid out less in bonuses.
Mark Serwotka, general secretary of the Public and Commercial Services Union called for the bonus system to be scrapped.
He said: "It is unfair and favours the already well paid. The money should be put towards decent pay rises, especially considering that since 2010 rank and file civil servants have seen their real incomes fall by 20 per cent."
Jonathan Isaby, chief executive of the TaxPayers' Alliance, said: "While it will be encouraging for taxpayers that the overall bill has come down, the increase in individual payouts will raise eyebrows.
"The most important thing though is to ensure that bonuses are paid out to staff who have performed exceptionally well, rather than handed out as a matter of course to top up pay."
Prospect, a union for professionals, claimed the focus on bonuses is a "distraction" from the drop in take home pay of many civil servants.
Deputy general secretary Garry Graham said: "Pay in the private sector is increasingly buoyant with average increases running at more than 3.5 per cent. Civil servants have been told that average increases will be capped at 1 per cent until 2020.
"Pay rates in the private sector outstrip those of the public sector – and that gap is only forecast to increase, creating real problems in recruiting and retaining staff, particularly the professional specialists and managers Prospect represents.
"Many, if not all of our members would happily forgo the opportunity to earn a bonus in return for a decent and fair increase to their base pay.
"Government has created the bonus culture in the civil service, not the staff. And only 1 per cent of the civil service paybill is spent on bonuses."
In a statement alongside his department's figures, Work and Pensions Minister Justin Tomlinson said: "In line with Civil Service pay guidance, DWP rewards employees for their performance through either end of year non-consolidated payments and/or in-year payments. In year payments are limited to 0.23 per cent of the total DWP paybill.
"Employees who have attained agreed performance levels as part of their performance review may receive an end of year non-consolidated payment based on their grade and end of year performance marking. End of year payments are limited to 1.9 per cent of the total DWP paybill."
Related