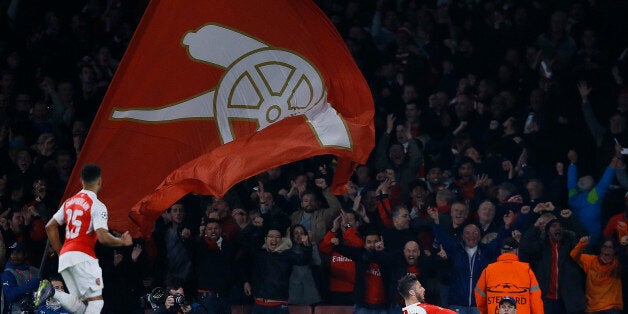 Arsenal FC is to be protested by its own fans ahead of Sunday's north London derby Against Spurs, with supporters demanding the club pays its staff a Living Wage. According to PA, campaign groups have long targeted Britain's top clubs to persuade them to pay the voluntary rate, which increased this week by 40p an hour to £8.25 and by 25p to £9.40 in London.
"Arsenal is a very wealthy football club with stars paid millions of pounds a year so it can afford to pay cleaners, caterers and security staff a living wage," said Gary Doolan, of the GMB union, which supports the protest.
The only Premier League club that is currently accredited to the Living Wage Foundation is Chelsea, with Norwich promising to follow. Heart of Midlothian and Luton Town are also accredited.
"We pay all our people good rates which are above the London Living Wage," read a statement from Arsenal. "This includes permanent and fixed-term employees and workers. As an example, match day stewards at the Emirates are paid £9.50 an hour. This means that rates for all our employees already exceed the Government's 2020 National Living Wage target."
"It also goes beyond the Premier League's recent resolution, which we fully supported," the statement continued. "In terms of third-party contractors, pay conditions form part of our renewal discussions as those contracts come up for renewal. Our recent maintenance contract with CBRE, for example, contains an undertaking by CBRE that their employees are paid at least the London Living Wage. Pay conditions will form a part of the discussion when our cleaning contract comes up for renewal and are included in ongoing discussions with our caterers."