Daisy Greenaway, a 20-year-old University of Westminster journalism student and self-described animal lover, was at the massive protest on Thursday night when she intervened to protect a horse that a demonstrator was attacking.
The man, who was wearing a gas mask, responded by punching her in the stomach and calling her a " stupid slag" while others verbally abused her and said her compassion towards the animal showed why women should not be there.
Alone, she fought back against the man's attack and he fled when he realised she was resisting.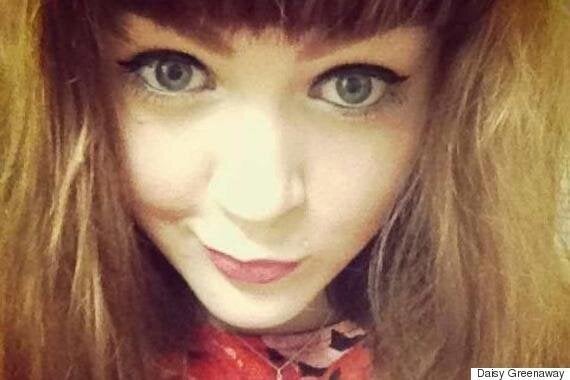 Daisy Greenaway was called a 'slag' and berated for trying to protect a police horse
The incident took place near Buckingham Palace, where demonstrators had gone, away from the agreed route for the protest.
The police deployed horses to contain the protestors. Ms Greenaway, who was separated from her friends by this point, saw demonstrators let off fireworks to startle the horses and one ran by that had lost its rider.
"They started trying to throw things at the actual horses to try and scare the police away," she told The Huffington Post UK.
"One guy tried to grab on to one of the horses, so I pushed him away from it. Not only is that stupid, he could've got hurt himself.
"Then he pushed me back. And tried to grab me, so I started to fight him back. He punched me in the stomach and started yelling at me. When he realised I was fighting back, he sort of ran off.
"Others were yelling at me when I said not to hurt the horse. Others were saying 'horses don't have feelings. Police horses are trained for this. Why are you caring about the horses, care about us'."
Though this man was the only one who physically attacked her, other protesters verbally abused her.
"First, the guy was like, 'oh, stupid slag'. [The others] were like 'that's why you can't have women here'. They obviously thought I was being too caring," she said.
"I was more angry than anything else. They're not going to win any support doing that... The whole thing was so disorganised. I think a lot people weren't there to protest anything in particular.
She chose not to report the assault to police as it "didn't seem helpful as he was masked anyway".
She had attended the demonstration to cover it for her student paper. She set out to show it from "the perspective that 'it's not all bad" but said the footage she ended up shooting showed the police in a better light than the demonstrators.
When asked how the attack left her feeling, she said: "I was just stunned. I thought 'obviously I'm here because I support some of why you're here. I'm obviously not trying to stop you. The horse didn't propose cuts... Not even the police did'."
She left the demonstration afterwards. "I just wanted to leave because I didn't want to be associated with that kind of behaviour. I don't want people to be thinking that's what I support."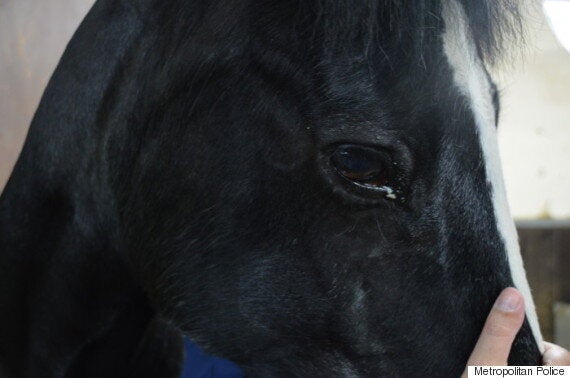 Illustrious (above) and Embassy (below), two of the injured horses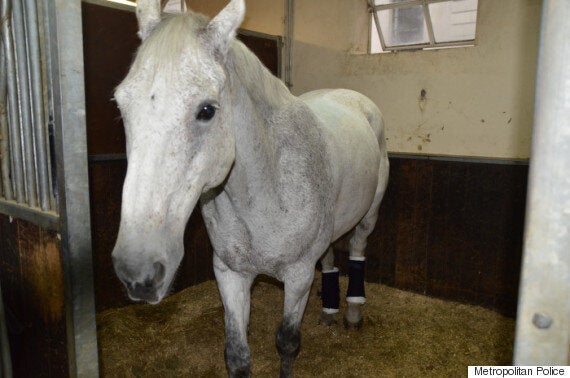 Six horses were injured during the protest. It is not clear which one Ms Greenaway defended.
Embassy, the horse that lost its rider, sustained injuries to his side, rear fetlock and front leg. Embassy's rider suffered a fractured wrist.
Quartz sustained an injury, believed to from glass, to his hind leg, Qwerty sustained an injury to his hind quarters. Heather sustained a cut to her fetlock on her hind leg and Illustrious sustained an injury to his eye caused by a stick.
A total of 50 people were arrested and 48 were in custody as this story went live.
One person has been charged with assault on police. One person has been cautioned for an assault on police.
Commander BJ Harrington, from the Met, said: "Officers have been hospitalised, a police horse suffered injuries and a police car was criminally damaged during the course of the protest which is completely unacceptable.
"I praise the professionalism and restraint that officers have shown in the face of hostile provocation and enabled the policing operation to pass without major incidents. We will bring those responsible for the criminality to face justice."
Related