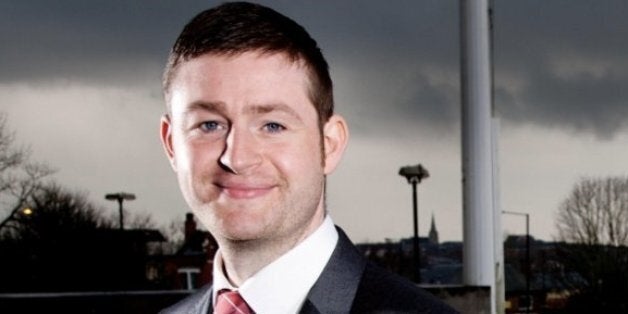 Labour's candidate for Oldham West and Royton has told UKIP to 'bring it on' if they want to make patriotism a key issue in the coming by-election.
Jim McMahon was selected as the party's candidate for the Greater Manchester seat on Thursday night, defeating left-wing rivals by a large margin.
On a visit to the seat this week, Nigel Farage made clear that Jeremy Corbyn's love for his country would be central to UKIP's campaign, highlighting the Labour leader's failure to sing the national anthem, his 'cosying up' to the IRA and his calls for defence cuts.
But Mr McMahon, who at 35 is seen as one of Labour's rising stars, pointed out that he had strong family links to the military and was set to got to Buckingham Palace next month to pick up his OBE for services to the community.
"My grandfather served in the army, my father and my partner's fathers were in the Territorial Army. I raised money to restore my local cenotaph," he said.
"On 18 December I will be going with pride to London to collect my OBE from the Queen and bring it back to Oldham as a local boy done good. If they want to pick a fight on patriotism, bring it on."
Mr Corbyn, who will personally campaign in the by-election, tweeted his congratulations.
As the leader of Oldham Council, Mr McMahon was the strong local candidate for the Labour selection and won 232 votes, way ahead of Unite-backed councillor Mohammed Azam's 141 votes.
Ex-MP Chris Williamson garnered just 17 votes from the local party, a result that was greeted with glee by moderate Labour activists who claim that Jeremy Corbyn's long-time ally was being pushed hard by Jon Lansman and his grassroots leftwing group Momentum.
"It's a kick in the teeth for Momentum. The moderate candidate won despite the hopes of all those around Corbyn," one party insider told HuffPost UK.
Mr McMahon stressed that he did agree with Mr Corbyn on the key topic of Tory cuts. "On issues like austerity, I'm very close to Jeremy indeed. I think our public services are buckling under the cuts," he told The Guardian.
Straight after his victory, he said in a statement: "The Tories have broken their promise to stand up for working families.
"Here in Oldham 17,000 working families and over 21,000 families with children are set to lose an average £1,300 a year in Tax Credit cuts. While Tory plans to cut Police could see Greater Manchester lose a further 1,300 officers, putting public safety at risk."
UKIP came second in Oldham West in the May general election, but were still 14,000 votes behind the late Michael Meacher, whose death last month prompted the by-election.
Earlier this week, Mr Farage made plain that UKIP would try to make the by-election a referendum on Mr Corbyn's patriotism and wider leadership.
"I feel we really can bite very, very hard into that old Labour vote who have frankly very little in common with the North London, trendy hard left Labour mafia," he said on a trip to the seat.
Paul Oakden, the local UKIP strategist who masterminded the party's near-miss campaign in nearby Heywood and Middleton last year, told HuffPost that Mr Corbyn was "so anti-British it's ridiculous".
UKIP's Oldham candidate will be John Bickley, who represented the party when it came within 617 votes of toppling Labour in Heywood last year.
Mr Bickley told a press conference this week that Labour and Tory records on 'uncontrolled immigration' had been the biggest issue on the doorstep in Heywood.
"I've got a good feeling it's going to be exactly the same here in Oldham West and Royton," he said.