UPDATE: An EasyJet Plane has landed in the UK carrying British tourists from Sharm el-Sheikh. The flight was the first UK-bound service to leave Sharm since the ban enacted by the government.
As many as three fights to Sharm el-Sheikh to rescue 20,000 stranded Brits have been turned around with reports that the airport is "too overcrowded".
The developments comes as Russia suspended flights to Egypt hours after local authorities were said to have suspended eight of ten scheduled flights following Saturday's bombing which killed 224.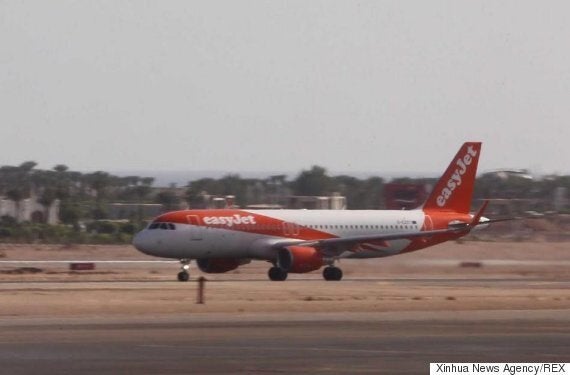 The first of two easyJet flights to leave Sharm el-Sheikh today
Vladimir Putin has reportedly agreed to halt flights after Russia's federal security chief said it wold be "expedient" to do so. Putin, according to Russian media, said the suspension will continue until the cause of the plane crash has been established.
Putin's flight suspension comes amid reports that two Thomas Cook flights to Sharm el-Sheikh had been turned around. There is no official line on why the flight was returned. There is also reports that as a third flight may have been turned around.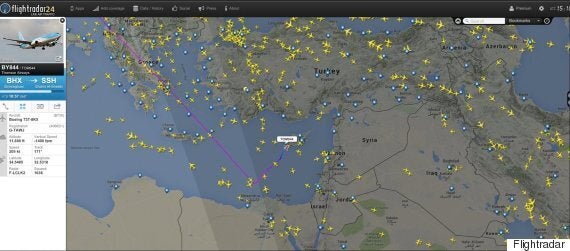 A Thomas Cook flight to Sharm el-Sheikh has turned back and is heading for Manchester
With passengers already at the airport waiting to depart, Egypt's Minister of Civil Aviation Hossam Kamal said the number of flights cleared to depart for the UK on Friday had been cut from 29 to just eight, Sky News reported.
EasyJet on Friday said it had suspended its flights just hours after British authorities said flights had been resumed from the Egyptian resort amid tightened security, including a ban on carrying hold luggage. Eight of 10 scheduled flights are said to have been affected, and media at the scene suggest that the carrier will only return 339 passengers to Britain today. EasyJet said two of their flights, to Luton and and Gatwick had departed. A easyJet video update can be seen here.
The UK Government said it is expecting more than 20 flights to bring Britons home over the course of Friday, and Transport Secretary Patrick McLoughlin said it hoped to clear most of the backlog of passengers by the end of the day.
The Monarch airline said that five planes are currently in the air on the way to pick up Britons from Sharm el-Sheikh and bring them home as scheduled. A British Airways plane was also set to leave Gatwick Airport on a planned rescue mission.
UK Ambassador to Egypt John Casson has been "heckled by holiday makers" at Sharm el-Sheikh, a BBC reporter based in Cairo tweeted. Casson has been pictured speaking to reporters at the scene where he is said to have denied Egyptian authorities were "blocking arrival of UK planes".
A statement from Easyjet on the suspension reads: "We're sorry to inform passengers that our rescue plans that were put in place yesterday have been suspended by the Egyptian authorities.
"Discussions are currently on-going at the highest political level to resolve this situation. We are very sorry and understand that this is extremely frustrating for our passengers - unfortunately the situation is outside of easyJet's control."
The UK government suspended air links on Wednesday in the aftermath of the tragedy which has been linked to the Islamic State (IS) and which left some 20,000 Brits stranded.
UK investigators looking at what caused the Metrojet Airbus A321 to crash en-route to St Petersburg believe a bomb was put in the hold before take-off, the BBC has reported.
The Egyptian security shutdown was reportedly sparked by British spies intercepting messages after the crash which revealed IS was planning a major terror attack in the region, according to The Telegraph.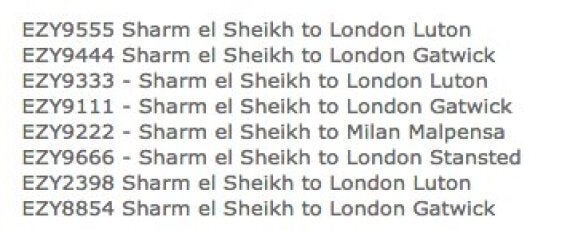 The affected easyJet flights are as above
The newspaper said the communications and "chatter" - was what prompted Prime Minister David Cameron to say that it was "more likely than not" the Russian aircraft was brought down in a terrorist attack. The comment angered Russia with its Foreign Ministry spokeswoman Maria Zakharova saying if Britain did have information about a bomb on the plane, it's "shocking" that hasn't been shared with Russia.
The MI5 are said to be preparing to now British spies are to be preparing to interrogate Egyptian baggage handlers over the bombing, the Mail Online reported.
The Government gave approval for flights to resume after a day of intense negotiations with Egyptian leaders and the airlines.
Downing Street said: "Our utmost priority is to make sure we have all the right measures in place to ensure that British citizens can return safely to the UK.
"The Prime Minister held talks on the situation with President (Abdel Fatah) Sisi and, following further discussions with the airlines and the Egyptians, we have agreed on a package of additional security measures that is being put in place rapidly.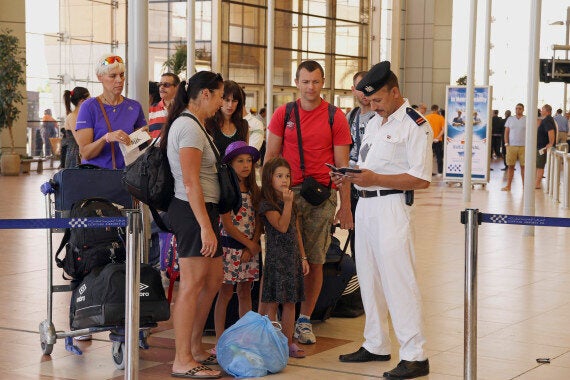 An Egyptian officials checks a passenger's passport at Sharm el-Sheikh
"The additional security measures will include permitting passengers to carry hand baggage only and transporting hold luggage separately.
"Outbound flights from the UK to Sharm el-Sheikh remain suspended and the Foreign Office continues to advise against all but essential travel by air to or from Sharm el-Sheikh airport but we are continuing to work with the Egyptians to get back to normal service as soon as possible."
EasyJet, Thomson Airways, British Airways, Thomas Cook and Monarch all announced they will operate to the UK on Friday, including a number of "rescue flights".
The restrictions on hold luggage mean that anything that cannot be taken into the aircraft cabin will have to be transported back to the UK separately.
Fallon told the BBC he was appealing to MPs to reconsider the case for airstrikes in the country. In 2013, MPs rejected possible UK military action in Syria against President Bashar al-Assad's regime and it has recently been reported a second vote on the issue has been dropped, something Fallon dismissed.
He said: "ISIL is a very direct threat to us in Britain. We've had 30 British holidaymakers slaughtered on a beach in Tunisia, and it's not right morally to rely on French or Australian or American aircraft to keep our streets safe."
Downing Street confirmed a team of British experts had gone to Sharm el-Sheikh about 10 months ago as part of a long-term approach to assessing security arrangements at the airport.
McLoughlin said hold luggage was "one of the big concerns" about security.
He added: "We have reassured ourselves about the way in which Sharm is operating, but we have put in place separate measures as far as people not returning with all their luggage.
"That will be returned separately and that will be repatriated to them in due course."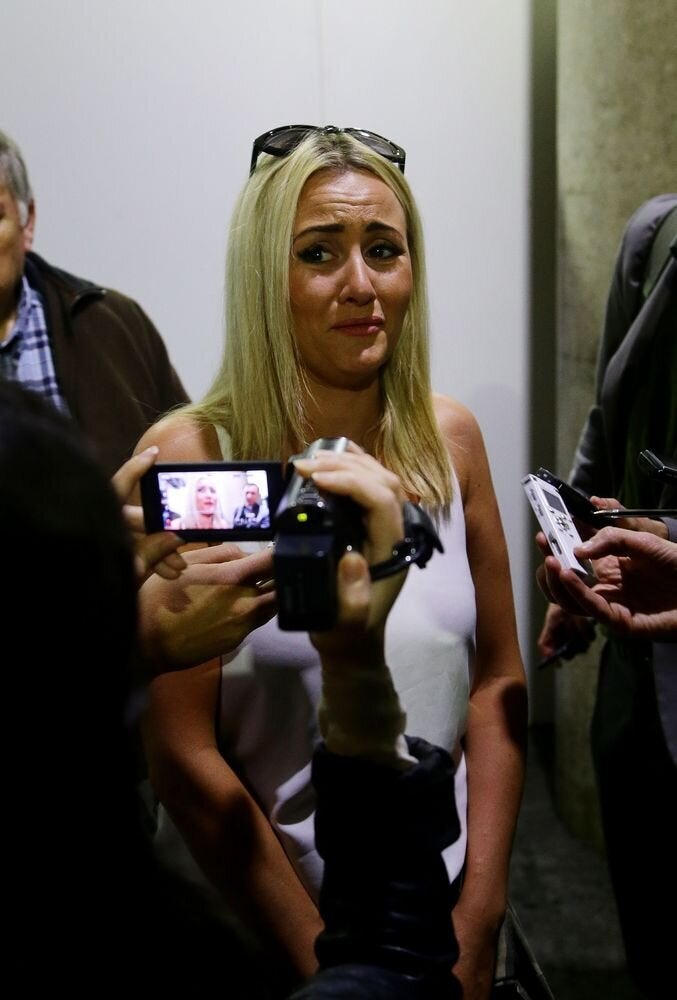 British Tourists Stranded at Sharm El-Sheikh
Asked why it was necessary to leave the hold empty he said: "It's one of the big concerns we had. Without going into too much of the information that we have received and had before, we think this is one of the ways of making sure the people who are returning are safe."
McLoughlin indicated that although the airport was inspected 10 months ago, different measures were needed now.
Since the bombing passengers have spoken about lax security measures at the airport, including a worker manning the scanning machine whilst playing candy crush on his phone. Sky News also reported claims on Friday by Dale Parkyn who said he he jumped queues and baggage checks by paying just £15.
"Just because something was seen to be OK 10 months ago doesn't mean to say it's the same today and doesn't mean to say that we don't need to see changes that perhaps we didn't need to see 10 months ago," McLoughlin said.
The Association of British Travel Agents (Abta) advised holidaymakers to contact their airlines about travel arrangements.
"As a result of the current situation, holidaymakers travelling from Sharm el Sheikh airport will have to follow certain special procedures as set out by the Government, including restrictions on taking hold luggage and the size of hand luggage," a spokesman said.
"Whilst it is appreciated this may cause some inconvenience, these procedures are being implemented for the security and safety of passengers and its important that passengers follow their airline's requirements."