Students are planning a "major" escalation in reaction to the government's Higher Education green paper, released late on Thursday night, which will allow ministers to raise tuition fees.
The proposals, announced by universities minister Jo Johnson, were described as a "direct assault on the rights of students" by the National Campaign Against Fees and Cuts (NCAFC) group.
The group promised more action on 17 November following Wednesday's protest, which saw thousands of students march through London demonstrating against the scrapping of maintenance grants.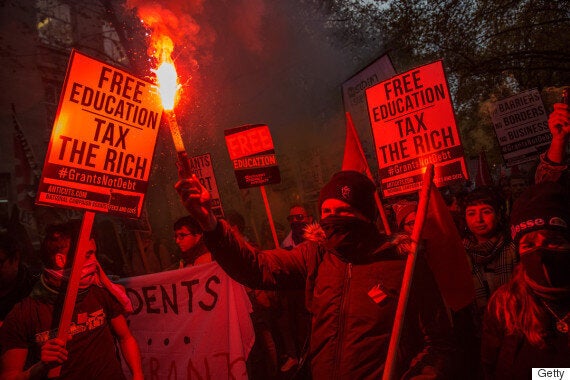 Students demonstrating in London on 4 November
"These proposals are being openly touted by Jo Johnson as treating students as 'consumers'," NCAFC member James Elliot said. "If implemented, they will mean potentially unlimited tuition fees, and, by linking teaching funding to graduate earnings, threaten to impose cuts on humanities and the arts.
"It will be a disaster for students and education workers alike, meaning more fees and debt, and threatening jobs too."
The green paper, published by the Department for Business, Innovation and Skills, promises a "new sector regulator and student champion" called the Office for Students (OfS), which will see England's funding council merged with the Office for Fair Access.
Titled 'Fulfilling our Potential - Teaching Excellence, Social Mobility and Student Choice', the paper proposes plans for the teaching excellence framework and how it will be linked to universities being able to raise tuition fees.
It also outlines plans to allow ministers to set tuition fee caps; currently, any fee rise has to be through secondary legislation and approved by a vote in parliament.
If the plans in the paper go ahead, it could mean some universities would be able to charge significantly higher fees than others.
Deborah Hermanns, another member of the NCAFC, added: "This week, 10,000 students marched through central London against the marketization of education and cuts to maintenance grants. Students across the country have shown a willingness to oppose and defeat the government through a campaign of direct action – and this campaign will now escalate."