Jeremy Corbyn has hit back hard at Britain's most senior armed forces chief after he warned that the Labour leader's refusal to use nuclear weapons would be a 'worry' if he became Prime Minister.
Chief of Defence Staff Sir Nick Houghton sparked a huge row as he laid bare his fear that Mr Corbyn could undermine the UK's Trident nuclear deterrent.
Asked by the BBC's Andrew Marr for a response to Mr Corbyn's vow never to press the nuclear button, General Houghton replied: "It would worry me if that thought was translated into power, as it were."
But Mr Corbyn declared that the military chief had overstepped the mark and had breached long-standing constitutional principles of the separation between the armed forces and politicians.
"It is a matter of serious concern that the chief of the defence staff has today intervened directly in issues of political dispute. It is essential in a democracy that the military remains political neutral at all times," Mr Corbyn said.
"By publicly taking sides in current political arguments, Sir Nicholas Houghton has clearly breached that constitutional principle. Accordingly, I am writing to the defence secretary to ask him to take action to ensure that the neutrality of the armed forces is upheld."
Mr Corbyn expressed his frustration to Channel 4 News.
Earlier, Labour's Shadow Defence Secretary Maria Eagle backed up the defence chief, stating: "I don't think there's anything wrong with him expressing himself in those terms. I think he has to answer questions from journalists.."
With Corbyn supporters and the Shadow Cabinet at odds over the renewal of Trident, Ms Eagle also revealed that she had not yet met Mr Corbyn to discuss the matter, saying only "I have a meeting in the diary".
But as all the party leaders marked Remembrance Sunday at the Cenotaph, it was the Chief of Defence Staff's comments that sparked the most controversy.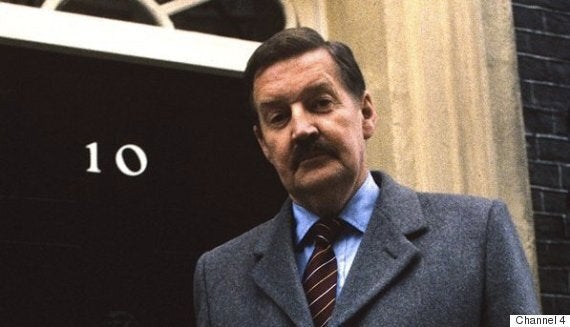 Fictional leftwing Prime Minister Harry Perkins in Channel 4's 1980s drama 'A Very British Coup'
In an echo of the TV drama 'A Very British Coup', where a leftwing Labour leader is toppled from power by the establishment, some Corbyn supporters believed the military chief was challenging the democratic process.
He also later said "Would anybody press the nuclear button?", but David Cameron swiftly made clear that he would indeed do so in order to make the UK's nuclear deterrent a reality.
Sir Nick made clear that he felt that Mr Corbyn would have to change his views if he got into power and to realise that nuclear deterrence relied on a credible threat that a Prime Minister would use it.
Asked about the prospect of Mr Corbyn being power, Gen Houghton said: "There are a couple of hurdles to cross before we get to that.
"But the reason I say this, and it is not based on a personal thing at all, it is purely based on the credibility of deterrence.
"The whole thing about deterrence rests on the credibility of its use. When people say 'you are never going to use the deterrent', what I say is you use the deterrent every second, of every minute, of every day. The purpose of the deterrent is that you don't have to use it because you successfully deter."
His remarks echo those of an unnamed general who sparked a row in September by claiming that there would be "mass resignations at all levels" if Mr Corbyn became PM, adding there was the "very real prospect of an event which would effectively be a mutiny".
At the time, Labour refused to comment publicly but party sources warned that "you can't have serving officers effectively threatening a coup against an elected government...this general seems to have forgotten we live in a democracy".
Pro-Corbyn supporters - as well as some who are not his fans - leapt to his defence.
And Ed Miliband's former senior aide Lord Wood added an American comparison.
Today, Ms Eagle stressed that Labour's national policy on Trident remained unchanged, despite a recent vote by the Scottish Labour party to dump the nuclear programme.
She backed up Gen. Houghton: "I understand the point that he is making. It's a point that I made myself when Jeremy said what he said.
"I said that there are those who don't believe deterrence works, I'm not one of them - I think Jeremy' s point of view is about whether or not he believes in the effectiveness of deterrence.​"
Ms Eagle also sent a strong warning that she was ready to quit her post if Labour changed policy towards unilateral disarmament.
"I am not a unilateral disarmer, I don't believe that that works, I think I would find it difficult but we're not there yet, we have a big process to go through and I think we should engage in that."