Britain is "letting down" its allies by not taking part in airstrikes against Islamic State in Syria, the UK's top military commander has said.
General Sir Nicholas Houghton, the chief of the defence staff, said it "makes no sense" that RAF airstrikes in neighbouring Iraq had to stop at the border when IS, also known as Isil, based its stronghold in Syria.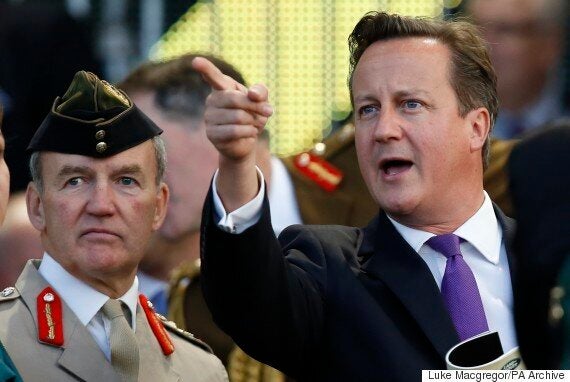 General Sir Nicholas Houghton with Prime Minister David Cameron
Sir Nicholas told Sky's Murnaghan programme: "To an extent yes, we are letting our allies down by not being a full player.
"But my view on this is a far more fundamental and simple one in a way and it's the point you make about going up to a border and having to stop there. In the most simplistic way it's like being asked to win a football match but not being able to go into the opponents' half.
"Daesh, Isil, they have a caliphate that extends across that border.
"But the source of their power, their command and control, their logistics, their organisation, the place from which they issue orders to international terrorists is from within Syria.
"And so to be denied our ability to play a proportionate role in that makes no sense."