The campaign group for leaving the EU was accused of "shameful opportunism" for a Remembrance Sunday tweet that suggested a Brexit would honour the sacrifice of Britain's war dead.
At 12.01pm, an hour after the two-minute silence on Sunday, the official twitter for Leave.EU tweeted: "Freedom and democracy. Let's not give up values for which our ancestors paid the ultimate sacrifice".
It was accompanied by a photo of a veteran surrounded by poppies.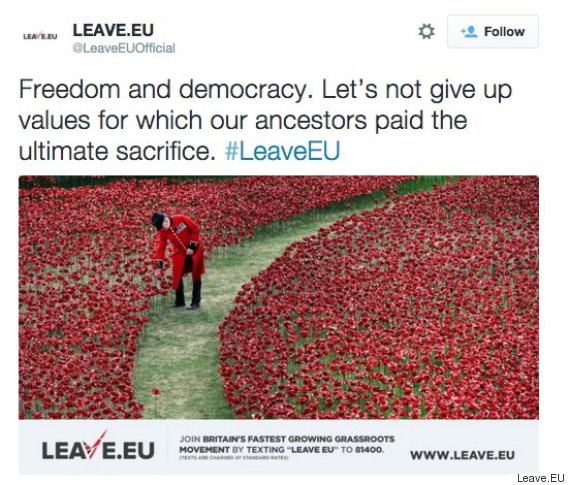 The tweet was deleted around an hour later after a barrage of criticism, including from people who supported Britain leaving the EU.
A spokesman for Britain Stronger in Europe told HuffPost UK: "Remembrance Sunday is a time for reflection and honouring the fallen, not making crass political points."
"Shameful" was a popular choice of word to describe the tweet when it went online.
Whatever you think of the referendum, this is shameful campaigning pic.twitter.com/EL9D6qZVId

— Rupert Myers (@RupertMyers) November 8, 2015
This is shameful and you should remove this tweet https://t.co/APdESdai6z

— Jessica Elgot (@jessicaelgot) November 8, 2015
.@LeaveEUOfficial Whether you're for or against #Brexit, this is shameful opportunism.

— J. J. Lindsley (@letuckshop) November 8, 2015
Others doubted whether those who fought in both world wars did so to prevent Britain joining a union of European states.
@LeaveEUOfficial glad my relatives fought for your right to chat utter shite

— t o m (@td_rules) November 8, 2015
The group was accused of politicising Remembrance Sunday.
@LeaveEUOfficial As someone who supports the UK leaving the EU I am ashamed to see you use Remembrance Sunday for point scoring. Disgraceful

— Ali L (@Alichat66) November 8, 2015
@LeaveEUOfficial This is a disgraceful insult to those who gave their lives. How dare you politicise #Remembrance

— FW (@frozenwarning) November 8, 2015
Andy Wigmore, the head of communications for Leave.EU, tweeted that the he "apologised unreservedly" for the tweet.
"This was not intended to offend," he said.
On behalf of Leave.eu we apologise unreservedly this was not intended to offend https://t.co/UQ4ISUgLFL

— Andy Wigmore (@andywigmore) November 8, 2015
It was not the only time politics crept in to this year's Remembrance Sunday.
Labour leader Jeremy Corbyn, whose anti-war stance is well established, was criticised for supposedly not bowing after he laid his wreath at the Cenotaph.
He had actually bowed, though his was much smaller than David Cameron's.