Britain First were on typical form over Remembrance weekend as they repeatedly exploited good causes and the memories of veterans and soldiers to further their far-right agenda.
Never one to miss an opportunity to pull on the heartstrings of an unsuspecting public, the pseudo-political group even went as far as hoodwinking kids.
Here are seven things they exploited over Remembrance weekend.
1) Children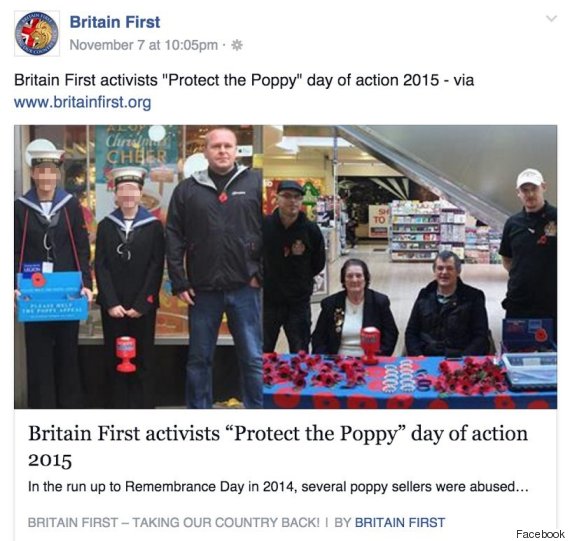 Britain First were accused of exploiting children on Saturday after having pictures taken alongside member of the Nottingham Sea Cadets.
Despite being asked by the youth movement themselves to remove the pictures, they remain online.
In Chesterfield, a similarly dressed duo reportedly hoodwinked children into posing for the same picture.
PROTECT THE POPPY 2015 - CHESTERFIELDToday, across the country, Britain First activists are standing watch over poppy sellers to ensure they don't get any hassle from leftwing anarchists and Islamists.

Posted by Britain First on Saturday, 7 November 2015
2) Veterans
Specifically the fantastic RAF Benevolent Fund, a charity set up to look after RAF and ex-RAF personnel in a number of ways including welfare breaks for families and veterans.
3) Churchill
The war-time prime minister is a popular symbol among far-right, anti-Islam groups such as the EDL, which has approvingly posted online a famous qoutation of his that condemns Islam.
But long before the Second World War, Churchill's future sister-in-law wrote to him in 1907 to protest his apparent fascination with Islam.
Despite this Britain First seem to be convinced that if he was alive now he'd be up on stage next to Paul Golding.
4) Sergeant Blackman
Sergeant Blackman is a Royal Marine imprisoned for executing a Taliban fighter.
He shot the Afghan, who had been seriously injured in an attack by an Apache helicopter, in the chest at close range with a 9mm pistol
There is a concerted campaign on his behalf led by his wife who insists he is not a murderer,
5) Lee Rigby
Despite repeated calls not from the family of Lee Rigby, Britain First continue to exploit the memory of the murdered soldier.
Not once.
Not twice.
Nor thrice.
Not even four times.
But FIVE times in one weekend.
6) The last surviving Dambuster
7) Oh, and Jesus
Y'know, the "Love thy neighbour" fella.