The five things you need to know on Monday November 9, 2015...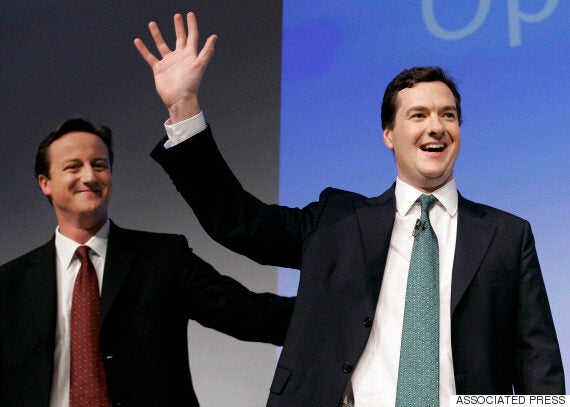 George Osborne's two big tasks this month are the Autumn Statement and the spending review and combining them on the same day is proving a mixed blessing (in 2010 remember they were separate events).
But after his Lords rebuff over tax credits, the Chancellor is back to his robust self and today has an Imperial College speech setting out his big principles behind the spending cuts. This morning's hot news is that not only have four departments agreed cuts, but those cuts are an average of 30% by 2020. Yes, that's more than the 25% minimum asked by Osborne and represents a massive squeeze. DoT, DCLG (more pain for councils), Defra and the Treasury itself are the depts. 'We are still spending too much' the Chancellor will say.
The PM has his own speech at the CBI this morning and will set out his own backing for the Chancellor. Still, as the Sunday Times made plain yesterday, some ministers are holding out and have submitted spending cuts of less than the requested 25% (let alone the 40% higher poker bid): Nicky Morgan and Theresa May among them.
And IDS is still not happy at suggestions his Universal Credit could be tapered to provide cash to bail out the Treasury over tax credits cuts. Philip Hammond yesterday didn't deny IDS was upset:
"We all have robust discussions with the Chancellor…Of course, people fight their corner and seek to sway the agenda." I'm told IDS isn't going to walk but will dig in.
On tax credits, note that Osborne is sticking to his 2019 surplus plan today too - so that's one option for wriggle room removed. But the FT reports something very significant: Whitehall and Treasury sources say low interest rates have handed Osborne a windfall that means his cuts won't have to be as severe to get a surplus.
When Andrew Marr asked Sir Nick Houghton yesterday about Jeremy Corbyn's views on nuclear weapons, he didn't really expect the Chief of Defence staff to bite. But the General bared his fangs and bit a big lump out of the Labour leader's approach to deterrence. Even better for the Marr Show was the way Maria Eagle instantly reacted to the CDS's comments ("I don't think there's anything wrong with him expressing himself in those terms.")
HuffPost swiftly had it as our splash and Corbyn was equally swift to react: warning the military to be neutral and writing to Michael Fallon to complain. Even non-Labour types agreed Houghton had overstepped the party political mark (even if he had a valid point). Will the General 'clarify' his remarks later?
Houghton didn't attack Labour policy - as policy remains pro-deterrent. But he did attack Corbyn's personal vow not to use nukes. And he made it worse by even speculating on Corbyn's 'hurdles' to facing office.
All this again highlights starkly just how divorced the PLP is from its leader (and his hundreds of thousands of party member supporters). Corbyn's entire leadership is like a Twitter bio that reads: 'All views my own. Not my Parliamentary party's'…
There's another row this morning as the Corbynistas have also gone on the offensive over the Sun's reporting of Corbyn's bow at the Cenotaph. The @jeremy4leader Twitter account is urging people to RT its tweet that the Sun's front page splash - 'Nod In My Name; Pacifist Corbyn Refuses To Bow' - is an 'out and out lie'. Telegraph readers also polled more than 50% saying Corbyn had indeed bowed his respect. The Sun says its front page is "a reflection that many on social media, including Labour MPs Graham Jones and Simon Danczuk, thought Jeremy Corbyn's behaviour at the Cenotaph yesterday was unacceptable".
Former Sea Lord and Labour minister Lord West told Today this morning he would resign the whip if Labour adopted unilateralism. But he said Houghton "strayed a little further than he should have done".
3) CAMERON'S EU TUSK FORCE
When the PM submits his long-awaited letter to European summit chief Donald Tusk it won't be too specific. Eurosceptics are unlikely to be impressed, but No.10 believes Cameron is being shrewd in not fully revealing a hand that could easily be blocked by any one of 27 EU partners.
But will it be a Tuskforce or a Tusk farce? Cameron has his big speech tomorrow to accompany the letter and it is yet more proof of the complexities of saying you want and expect to stay in the EU, while threatening your public could vote to leave. The PM is both good cop and bad cop in these negotiations.
The Brussels good cop will warn that membership is about not just economic security but national security (shades of the Hugh Orde murderers on the streets stuff?). The good cop will also kill off Boris's (and Dom Cummings') 'double referendum' plan - to vote Leave, scare the hell out of the EU, get better concessions and then vote Stay. He will say that this is a 'final decision', not a neverendum.
The Brussels bad cop will say that 'of course' the UK could be 'successful' outside the EU. This is a bit of a shift his warning that Brexit would not be a 'land of milk and honey', but part of a tactic to show the EU the pitfalls of not giving him what he wants. Boris in his Tel column says the PM is 'right to flash some steel'.
The Times splashes on claims that the PM is 'ready' to gamble on a June 2016 referendum date. No10 sources say the report is 'not true' because it suggests a date has been pencilled in and is 'putting the cart before the horse'. But a rapid referendum would definitely spark fresh Eurosceptic suspicions.
The Leave.EU campaign blundered yesterday, having to delete a tweet linking Brexit to Poppy Day sacrifice. But the rival Vote Leave campaign are more sure of their footing. Today they have an advert at Marble Arch tube near the CBI conference, pointing out the big business body got it wrong on ERM and on the euro. And why are they using the ad? Well, I'm told that the CBI refused to give them a stand at the conference. Not a good look, if true.
BECAUSE YOU'VE READ THIS FAR…
Michael Gove's rapidly growing reputation as a reforming Justice Secretary continues today with his pre-dawn (6am) announcement of nine, yes NINE, new prisons. Gove's first speech after he took the job last summer signalled his intention to close Victorian, cramped jails and swap them with shiny new purpose-built and rehabilitation-friendly replacements. But few expected him to crack on so quickly - and on such a large scale - with his plans.
Of course, there's always money to think about. Note this is a joint announcement with George Osborne. On the one hand, this is a rather canny move to sell off outdated prisons which are in very lucrative areas for housing developers - and the MoJ expects to create about 3,000 new homes. I wonder how many will be 'Starter Homes'? Gove also expects to save £80m a year from reduced costs of running modern prisons.
But there's a big but: the cost of building nine new jails could be huge. Paul Johnson of the IFS told Today the net cost may even be 'negative', thanks to the profit to be made from housing developers. Still, don't forget that MoJ and Home Office are facing deep cuts. Johnson warned prisons and police were facing a 'very tough' spending round. Finding the right sites for new prisons isn't easy either.
Lilian Greenwood has closed the door on the Corbynista idea of women-only carriages on trains and Tubes. It was only ever floated tentatively in a policy document this summer but even that was enough to spark a backlash among people like Yvette Cooper and others furious at the 'segregation' of the sexes. It prompted the mother of all rows but now seems dead.
Labour's Shadow Transport Secretary has told The Telegraph she was "not convinced" women-only carriages were "the best way or a practical way" to stop harassment on trains. A shadow transport source is less polite: "This is obviously a barmy idea. The leader's office knows it is a bit unworkable but don't want to be seen to be rowing back."
If you're reading this on the web, sign-up HERE to get the WaughZone delivered to your inbox.
Got something you want to share? Please send any stories/tips/quotes/pix/plugs/gossip to Paul Waugh (paul.waugh@huffingtonpost.com), Ned Simons (ned.simons@huffingtonpost.com), Graeme Demianyk (graeme.demianyk@huffingtonpost.com) and Owen Bennett (owen.bennett@huffingtonpost.com)
Related