The National Living Wage could prove "lethal" to Tesco, its chief executive has said, despite commitments by other supermarkets, including budget store Aldi, to pay it.
Dave Lewis said the company, which employs more than 500,000 people and has nearly 8,000 stores, had a "history of paying people well" but claimed the living wage could combine with other rising costs to create a "potentially lethal cocktail".
A National Living Wage of £7.20 an hour for over-25s will be introduced in April, above the minimum wage of £6.50 per hour.
There is also a UK Living Wage of £8.25 an hour and London Living Wage is £9.40 an hour, calculated to reflect the basic cost of living and advocated by the Living Wage Foundation.
His comments follow commitments by other stores, including Aldi and Morrisons, to pay all staff the living wage.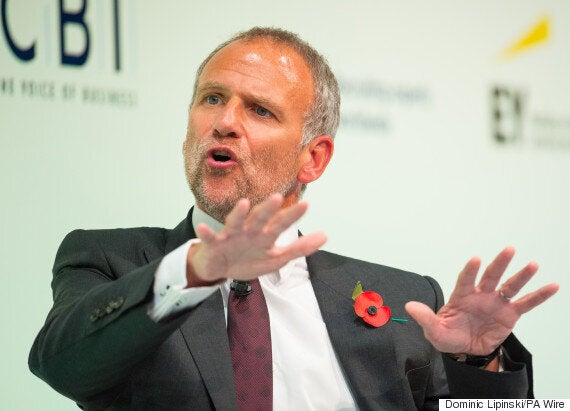 Dave Lewis addresses the CBI conference
Mr Lewis said Tesco staff were already paid above the living wage, if benefits were taken into account, at £8.80 an hour.
He said the "pressure to increase base pay at the expense of benefits" was not the answer.
"We shouldn't simply strip down employment to an hourly rate or draw arbitrary lines. It's more complex than that. Benefits are hugely important to our colleagues. Valuable too. Our workforce is not homogenous," he said.
"Our colleagues say they value different things at different stages in their lives and at Tesco this is what we are trying to accommodate.
"We need a fuller debate aimed at doing the right thing for the people in our industry without imposing more cost without providing individual benefit or business return."
He added: "There is a worry that the unintended consequences of the living wage have not been fully thought through."
Mr Lewis referred to "the challenge we face this year," referring to the supermarket's falling profits. Its underlying profits for the first half of 2015 were 55% lower than that posted for the same period in 2014.
The living wage has apparently divided Britain's supermarkets, and Mr Lewis' comments are in stark contrast to comments and commitments by other stores.
In October, Aldi announced it would pay all staff at least £8.40. Chief executive Matthew Barnes said: "We are also committed to offering the best pay and benefits in the industry. The success of Aldi in the UK and Ireland has been driven by the commitment, hard work and ambition of our employees and we will continue to maintain our leading position on pay."
Sarah Verso, director of Living Wage Foundation, praised Aldi's commitment.
She said: "Their bold move demonstrates that paying the Living Wage in retail is achievable; despite other major supermarket chains telling campaigners that higher wages for the lowest paid are simply not possible.
"The economic climate has shifted. It's time for business to recognise we need a recovery for all."
Earlier this month it was revealed that nearly a quarter of working Britons earned less than a living wage and The Living Wage Foundation called on more businesses to sign up to paying it.
Popular in the Community