Disabled people are sleeping fully-clothed in their wheelchairs and surviving on biscuits due to social care cuts, a new report has revealed.
Many are in crisis because the care services relied on by thousands are "crumbling", the research by charity Scope has found.
It noted that many people have had their welfare packages cut and as a result cannot get the right care, PA reported.
The results of their survey published on Tuesday, which questioned 500 disabled people in total, found that 55% said they could not get vital support they needed to live independently.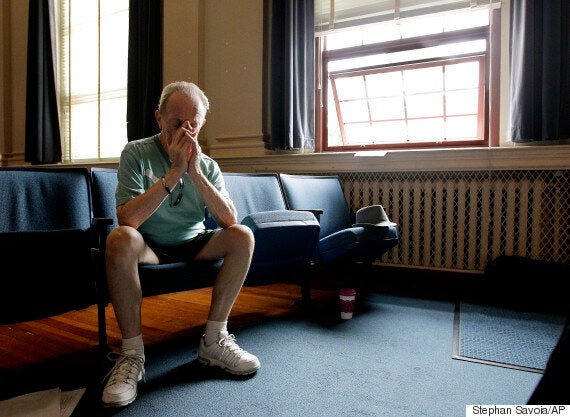 Tuesday's research reveals the effects of social care cutbacks
Rachel Watt, a 36-year-old from Southampton, is in constant pain and has ended up having to sleep in her wheelchair.
"Since 2010, I have had two thirds of my care package cut, from two and a half hours a day down to 45 minutes," she said.
"In November 2010, I lost my evening call to help me get ready for bed. Then a few months later I lost my domestic assistance, and then the following year I lost my meal preparation time.
"Now I just have a short morning call to help me get washed and dressed.
"On my worst days, I can't get undressed properly in the evenings, or transfer from my power wheelchair into bed, so I have to sleep in my chair, in my clothes.
"I had to fight to get a care call so I can shower once a day. My local authority suggested that three days a week would be enough - it's horrible.
"When my arms aren't working properly, I can't prepare meals, so I end up just having bread.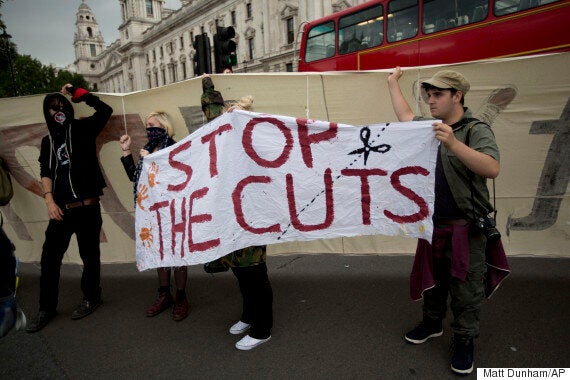 Demonstrators protest before George Osborne's recent Summer Budget
"Before, I would have had my meal prepared. The last time I was in hospital, they told me I was malnourished."
Also surveyed was Josie Evans, a 40-year-old from Bristol, who said her basic needs were met but she received no real help leaving the house.
"It means that some days I barely get to speak to anyone, let alone have a social life.
"If I get an infection and have to ask my carer to pick up a prescription, I don't get to have a shower that day. There just isn't enough time.
"After three years of asking, my council have finally agreed to give me 45 minutes a week for social time."
Robert, 63 and from Warwickshire, suffered an accident 15 years ago and is entitled to 14 hours of support a week.
He said: "If you have a week like I had last week, where I had three hospital appointments, all my social care is used up on getting me to hospital.
"If I'm on my own, I don't have anything to eat or drink all day. There's a bottle of water and a box of Belvita biscuits by my bed, and that's all I'll get to eat all day because I can't afford to pay for care. So life is miserable, to be honest."
Jo Allen also spoke out about the time pressures to complete tasks.
The 47-year-old from Cambridgeshire, who has spinal muscular atrophy, said: "You end up cutting corners with the very basic things.
"I might end up not washing my hair, because it means I'd be keeping the carer here too long. It might take me three quarters of an hour to have a shower, but social services say 'Well, actually you can do that in 15 minutes'."
The Scope research found 36% of disabled social care users said support has become worse since 2010, with 19% saying it had improved.
Overall, 29% of social care users say their hours of support have been cut, while 24% say their hours have been increased.
And 83% of those whose hours of support have been cut say they now do not get enough support through their care package.
Mark Atkinson, chief executive of Scope, warned many disabled people were being left "socially isolated".
Commenting, he said: "Our findings show the horrific consequences that disabled people face as a result of our collapsing social care system.
"Disabled people have told us they are waiting fourteen hours to go to the toilet, sleeping in their clothes, unable to eat or wash and left socially isolated."
Atkinson also said social care funding gap is growing by at least £700 million a year.
"The social care system is crumbling under severe financial pressure and this is set to intensify when the spending review further reduces the funds available to cash-strapped councils."
A Department of Health spokeswoman replied in response to Tuesday's report: "No-one should be left for hours waiting for the care they need.
"We've set new guidelines for councils on how they commission their services so people do get enough time and enough say over their care.
"And we're making sure older and vulnerable people have a strong health and care service, having invested an extra £3.2 billion to social care between 2011-2014 and putting £10 billion extra into the NHS during this Parliament."
Related