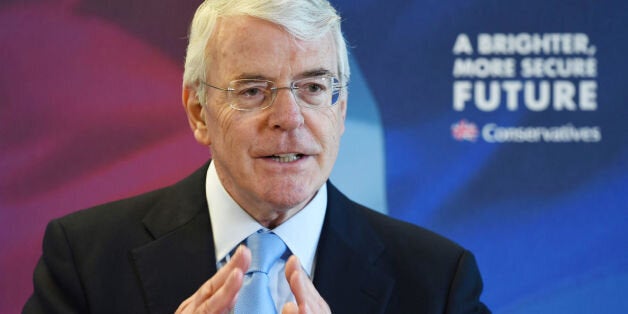 Sir John Major has attacked the "shocking" impact of inequality in Britain and said rich individuals and successful companies should do more to address the problem.
In a speech in London, the former Conservative prime minister said too many poor people "not only live meaner lives but shorter lives".
He was delivering an annual lecture established in the memory of charity stalwart Nicholas Hinton who died on a peacekeeping mission in Croatia.
"I have no doubt that much of this disparity is caused by poor lifestyle, poor choices, poor diet – but poor environment, poor housing and poor education must surely be contributory factors," he told the National Council for Voluntary Organisations.
"Whatever the reasons, this is a shocking situation in 2015. As a country, we are one of the richest in the world and yet some of our communities are among the poorest in all Northern Europe."
He said the Government was right to seek to improve conditions by strengthening the wider economy - calling for more action to ease the housing crisis, boost infrastructure and extend job creation to areas "left behind".
But while poverty would not be ended "by benefits alone", ministers "must understand how hard it is to escape from such circumstances" and have an "equal concentration on those who are failed by the system" as those who cheat it.
"If the Good Samaritan is in debt, he can be of no help to others. That is why the repair of our national finances – which is clearly a government responsibility – is the essential pre-requisite to ending poverty," Sir John said.
He went on: "In a nation at ease with itself, business, too, has a role. Of course, its main purpose is to make profits but, as it does so, it can do more for social development than paying taxes and creating jobs.
"Many private sector companies sponsor named charities each year, or contribute to them, or collect for them among their employees.
"Some newly rich private sector benefactors are proving to be enormously generous. This, I believe, is an area that can and should grow dramatically."
On the charitable sector, he said prominent examples of "bad fundraising practices and poor governance" risked undermining the UK's record as a generous nation.
"All charities have a duty to protect their reputation. Unless they are seen as efficient and well run, donations will fall away," he said - warning that without their input over centuries "social conditions would be incomparably worse.
"As a general principle, I am not an admirer of regulators. I am therefore surprised to have reached the conclusion that we would be wise to expand the remit, and the funding, of the Charity Commissioners.
"I believe, in so doing, we can improve the chance of eliminating malpractice and scandals in a charity sector that has an annual income of nearly £70 billion."
Sir John lamented what he said was his powerlessness to end poverty in office because of the poor state of the economy at the time.
"Today, I have no power and no public money at my disposal, but I care no less now than I did then. I also have a voice which, by and large, the poor don't.
"And I wish to say – 25 years on – that we are still not a nation at ease with itself. Much has been done, is being done, to ease inequality, but we can do so much more.
"As the world becomes richer, inequality becomes less tolerable, and the case for reducing it more urgent. A crusade to widen prosperity more equally will not only ease hardship, it will build our national wealth and health."