The Apple iPad Pro is now on sale in the UK. With a giant 12.9-inch Retina Display, dedicated stylus and its very own folding keyboard this is the tablet which Apple believes can replace your laptop.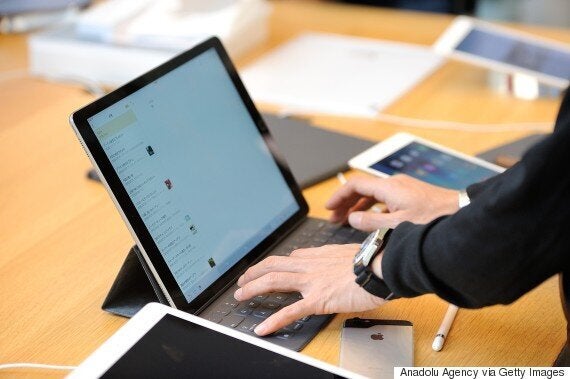 Indeed if you're thinking of picking up an iPad Pro then the starting price for one of these £679 putting Apple's most powerful iPad ever well and truly into the sphere of laptop pricing brackets.
Apple's only selling three versions of the Pro in three colours (silver, space grey and gold), a 32GB WiFi model that costs £679, a 128GB WiFi model that costs £799 and then there's the top spec 128GB WiFi + Cellular version which will cost you an eye-watering £899.
It's important to bare in mind that if you are thinking of the iPad Pro as a replacement for your laptop then £900 isn't actually far off from Apple's MacBook.
Apple iPad Pro 128GB WiFi + Cellular, iPad Pro Keyboard, Apple Pencil: £1,117.00
Apple MacBook 256GB WiFi 1.1GHz Dual-Core, 8GB Memory: £1,049.00
That premium might seem like it's all for nothing but wait until you've seen the specs and by the end of it suddenly everything becomes clear.
The iPad Pro has a massive 12.9-inch Retina Display with a resolution of 2732x2048, that's higher than any iOS device ever made and it's actually even higher than Apple's very own MacBook.
It's also one of their most advanced screens, capable of adjusting its refresh rate dependent on how demanding the task is.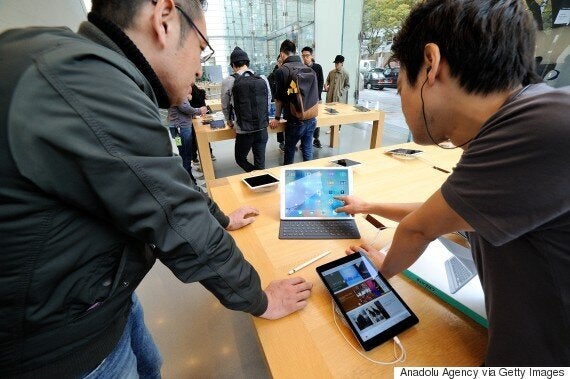 There are four speakers which can intelligently direct sound dependent on how you're holding it and inside there's Apple's most powerful mobile chip ever, the A9X.
It's hard to compare this with current laptop equivalents but for the moment Apple's saying it's more powerful than 80 per cent of the Windows computers shipped last year and graphically it's 90 per cent faster on last year as well.
All of this power then helps support the Apple Pencil, the company's first real attempt at a stylus. Charged via a Lightning cable on the top and connected via Bluetooth the Pencil can detect orientation, pressure and speed making it one of the most accurate styluses we've ever seen.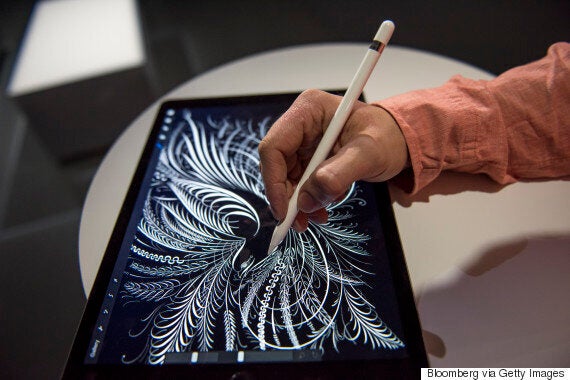 There is a downside, which is that the Pencil can't magnetically attach to the iPad like Microsoft's does on the Surface. The Pro is also pretty heavy when combined with the keyboard. However on its own the entire unit weighs around the same as the first ever iPad, impressive when you consider that it's actually thinner than the iPhone 6s.
So what are the reviewers saying? Well so far the response has been positive:
"If you're the kind of person that wants a device that can seamlessly switch from typing to sketching to playing loads of great games to enjoying the best possible experience on a tablet, then this is just perfect for you. If you need to do more powerful things, like uploading photos while manipulating reams of text and having to refer to other information with a flick of the wrist, you'll struggle a little with the new iPad."
"I would still consider this a worthy runner-up to a laptop, or the one (non-smartphone) device I would take with me next time I travel — something I've never felt confident about before when it came to the iPad. This new iPad is powerful, it's fast, it has a large display, and it never lagged when I was multitasking or switching between apps. It's not better than my laptop, but makes far fewer sacrifices than I expected."
"Because it runs on iOS 9, the iPad Pro isn't as serious a device as the Surface Pro 4. It means business, but works even better as a premium entertainment hub. It's the perfect digital coffee table book that just about doubles as a laptop. So long as you can get by with the app-based incarnations of desktop software like PhotoShop and Excel."
"If Apple were intending to replace PCs or a Mac, they would have made different decisions, like enabling all of your iCloud storage to be on the iPad…. or to enable every app to multitask regardless of the experience….. or to download all attachments in Mail. But Apple didn't.
The point of the iPad Pro is to extend the capabilities of the iPad by adding a much larger and higher resolution display surface, multitasking, a much higher performance engine, and two new ways of inputting content with the Smart Keyboard and Pencil."
"If you think the iPad Pro is simply about a bigger iPad, you're missing the point. Apple's iPad Pro is a new front in the quest to grow the productivity and business market for the iPad. Consumers are likely a secondary consideration. The iPad Pro does everything a smaller iPad can do, but its size, especially when paired with the Smart keyboard and Pencil, offers benefits tiny tablets can only dream of."