The streets of Edinburgh were a throng of screaming masses on Thursday as George Clooney made a flying visit to lend his support to a charitable cafe.
The Hollywood A-lister drew press and public alike, all eager to see him eat a sandwich.
A stir this morning as George Clooney eats sandwich by our office. Come and talk #womensrights with us after, George pic.twitter.com/yqehe6n9Ap

— Scottish Women's Aid (@scotwomensaid) November 12, 2015
Amazing scenes from Edinburgh as George Clooney visits sandwich shop for the homeless @SocialBite_ - fab charity! pic.twitter.com/DWeDkzJBTp

— Chloe Bugelly (@Chloebugelly) November 12, 2015
It's George Clooney! Hollywood star visits Edinburgh cafe which helps homeless people https://t.co/P91I6CcKYQ pic.twitter.com/HGmxECWwe4

— BBC Scotland News (@BBCScotlandNews) November 12, 2015
Which apparently he didn't do... but promised to buy a loyalty card.
Clooney sandwich update. He was offered the platter but didn't eat anything. Too tight a schedule apparently. More as we get it..

— James Matthews (@jamesmatthewsky) November 12, 2015
@JaneLewisSport #sandwichgate #tiffingate Untouched by Hollywood hand pic.twitter.com/HXz0ap1yuA

— James Matthews (@jamesmatthewsky) November 12, 2015
George Clooney flew to Scotland to eat a sandwich but never actually ate a sandwich. Ridiculous. He should resign.

— James Cook (@JamesLiamCook) November 12, 2015
Clooney was of course there for a very good cause - to raise the issue of homelessness.
Delighted George Clooney fans Sandy and Kirsten Pringle got their #selfie after waiting since 7am! pic.twitter.com/bC4zKsxFFj

— Radio Forth News (@RadioForthNews) November 12, 2015
The Social Bite cafe donates all of its profits to charity. One in four of the cafe's staff are formerly homeless people and they run a "suspended coffee and food' initiative in which customers can pay upfront for meals and drinks which are then given to homeless people.
Clooney stopped to greet some of those who had waited for hours in the cold, and described the social enterprise as "fantastic".
He told a media scrum outside the cafe: "It's pretty amazing, and I'm looking forward to seeing it, I haven't seen it up close yet.
"I like what they're doing, I think it's a very important cause. I think the idea that we can all participate in everyone's difficulties is really important."
Clooney star described Edinburgh as "beautiful" and said he felt bad for the crowd who had been waiting for him because "they're standing out in the cold".
The carefully managed PR occasion was a far cry from last month when Jeremy Corbyn visited the cafe's sister branch in Glasgow last month and pre-paid for two meals to be given to homeless patrons.
There were no screaming fans, only this chap.
You do meet the strangest people in Glasgow (@ Social Bite) http://t.co/8HOohuhs6G pic.twitter.com/TUHakD9gNB

— Ade (@ademund) October 2, 2015
Indeed, news of Corbyn's visit didn't even reach the press until two days after his visit.
A spokeswoman said: "Mr Corbyn visited our Bothwell Street shop yesterday/Friday morning. We appreciate his kind donation."
So there you go Jeremy, all you have to do between here and your next visit is win a couple of Oscars, endorse a coffee capsule brand and perhaps buy some sharper suits.
Oh, and maybe pose for a selfie like this...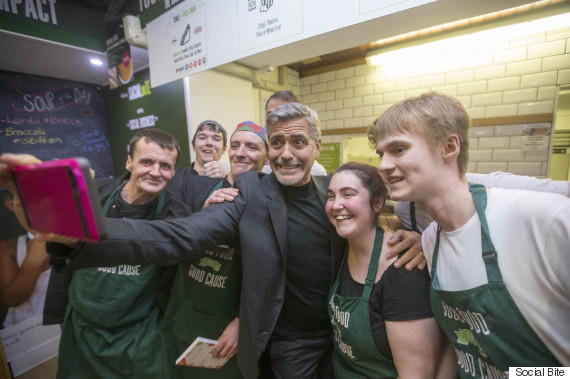 One staff member who met Clooney was kitchen worker Sonny Murray, 36, who said: "Only two years ago I was living on the streets of Edinburgh with a heroin addiction and unable to even afford to eat.
"Today I'm in full-time employment, have an amazing family and I just made lunch for one of the biggest stars on the planet!
"George genuinely seems like a great guy and it was a really special moment when he came into Social Bite to see what it is all about."