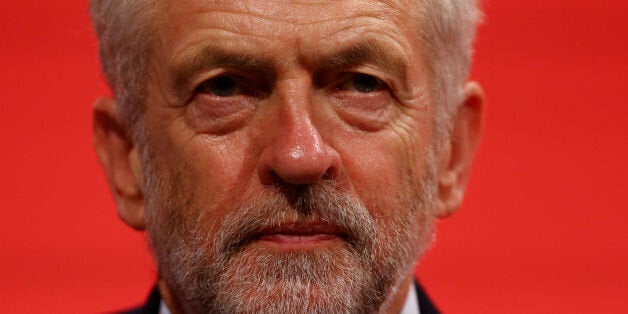 Jeremy Corbyn has underlined his personal opposition to extending UK military action to Syria amid fresh signs that the Tory government is planning to revive the idea.
A letter from the Labour leader to Defence Secretary Michael Fallon, which has been obtained by HuffPost UK (see below), reveals that he was just as upset by a military chief's remarks on Syria as he was by the row over Trident.
The letter, which was only sent in the middle of the week, criticises Chief of Defence Staff General Sir Nick Houghton for suggesting that the UK was "letting our allies down" by failing to extend the RAF's airstrikes from Iraq to Syria.
The remarks, made to SkyNews by Sir Nick last weekend, were swiftly overshadowed by his comments on BBC1's Andrew Marr show attacking Mr Corbyn's vow never to use nuclear weapons if he became Prime Minister.
The Labour leader's warning came as the Ministry of Defence prepares to invite MPs in for a fresh briefing next month on the military fight against ISIL in both Iraq and Syria.
The attacks on Paris are expected to fuel renewed calls from ministers and from some Tory MPs for Britain to show greater solidarity with the French by joining their forces in the military action.
Peace talks on Syria were set to continue in Vienna today as leading powers including Iran, Russia, France, the UK and US work on a coordinated plan of diplomatic action.
Mr Corbyn has repeatedly stressed the need for diplomacy and in a keynote speech on foreign policy - due today but postponed after the terror attacks - he had been due to lambast the "succession of disastrous wars that have brought devastation to large parts of the wider Middle East".
Western military intervention had "increased, not diminished, the threats to our own national security in the process", the Labour leader had been set to say.
On Friday, Mr Corbyn underlined Labour's new approach, saying it would have been preferable if IS terrorist 'Jihadi John' had been faced justice before a trial rather than executed.
Today, he said of the Paris shootings: "This is the kind of attack on all of us who stand for the kind of fairness and inclusive societies that we all want to live in".
He added: "We need to find out exactly what's happened and then discuss and decide how we deal with this to bring about peace and security for everyone."
In his letter of complaint to Mr Fallon, the Labour leader has singled out Gen Houghton's Syria remarks as proof of the need for generals not to stray into party politics.
"Sir Nicholas stated that Britain was 'letting our allies down' by failing to extend airstrikes from Iraq to Syria," Mr Corbyn writes.
He stresses that the issue is one of 'current political dispute' and that "it is clearly unacceptable that the Chief of Defence Staff should intervene directly in matters of political controversy" and be seen to be "taking sides".
Meanwhile, HuffPost UK understands that Mr Fallon and military experts will hold the meetings in December with as many Labour MPs as Tory backbenchers, setting out the facts on the ground.
The meeting was scheduled before the Paris murders but is now bound to have added significance.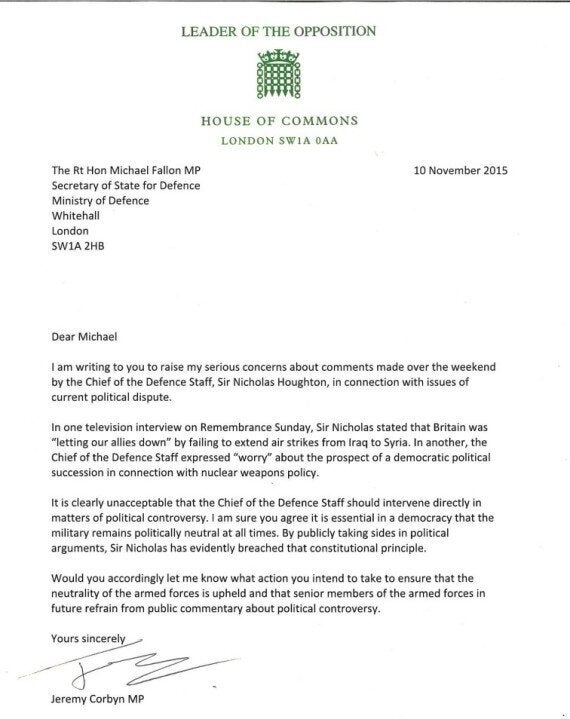 Jeremy Corbyn's letter to Michael Fallon
The move, which follows a similar briefing in the summer, is sure to be seen as a new move to persuade Labour 'hawks' to back action in Syria when the Commons is next asked to vote on the decision.
The killing of 'Jihadi John' by the United States, as well as the RAF's role in the defeat of ISIL in the key Iraqi Kurdish city of Sinjar, has prompted fresh thoughts on extending UK military action into Syria as ISIL appears for the first time in months to be on the retreat.
Although some MPs believe that Vladimir Putin's decision to send airplanes to Syria has scuppered any British involvement, Mr Fallon firmly believes that US-led coalition action in the east of the country can be kept separate from Russian activity which is confined to the west of Syria.
Labour's Shadow Chancellor told a Labour conference fringe meeting in September that a free vote on Syria would be preferable, given many MPs like himself were opposed to extending the RAF's campaign over the border from Iraq.
Labour MP John Woodcock, who chairs the party's backbench defence committee, said recently that he was minded to vote for action in Syria but warned that more than 'chats in corridors' was needed to make the case.
With a majority of just 12, Mr Cameron is wary that more than 30 of his own MPs voted against military action in Syria when a Commons vote was last held in 2013.
But the MoD believes that the argument has changed because the previous vote was not about ISIL and that many of the 30 can be persuaded of the need for action.
In his letter, which has not yet received a reply, Mr Corbyn declares that General Houghton has breached the constitutional principle of the political neutrality of the armed forces chiefs.
He asks Mr Fallon to inform him of what action he is taking to "ensure that the neutrality of the armed forces is upheld and that senior members of the armed forces in future refrain from public commentary about political controversy".
Shadow Foreign Secretary Hilary Benn made plain his unease with that stance and this week made his own speech in which he stressed Labour's strong history of intervening to prevent suffering in other countries.
In a little-reported speech, Mr Benn compared foreign policy on civil wars with outdated views that police couldn't intervene in domestic violence cases.
"A crime is a crime, and the sovereign state of the kitchen or the bedroom no longer provides any protection against enforcement of the law," he said.
"I think we are currently witnessing the world going through exactly the same process internationally for exactly the same reason. An increasing number of voices are saying that leaving people by the roadside of conflict to fend for themselves simply cannot be right."
Related