The horrific terrorist attacks on Paris have unleashed a wave of anti-refugee sentiment as people seek to apportion blame for the killings.
CLOSE THE BORDERS; DEPORT ALL JIHADIS BEFORE THEY KILL; FORCE MOSQUES TO REPORT ALL SUSPICIOUS... https://t.co/nkQbKK8iEG

— Michael Savage (@ASavageNation) November 14, 2015
Yet another terrorist attack on European soil. Should close #Europe's borders to refugees for #security reasons. https://t.co/BLbzTpYRCR

— Alistair (@plantknight) November 14, 2015
This has ISIS written all over it. Now France close your borders and US stop receiving refugees. Paris is a developed country and look.

— CWS (@OhYeahShowtime) November 14, 2015
Even stars like Rob Lowe joined in.
Oh, NOW France closes its borders. #Hollande

— Rob Lowe (@RobLowe) November 13, 2015
Thankfully amongst the knee-jerk reactions were voices of reason, particularly this message from a 19-year-old Brit.
To people blaming refugees for attacks in Paris tonight. Do you not realise these are the people the refugees are trying to run away from..?

— Dan Holloway (@RFCdan) November 13, 2015
The sentiment was echoed elsewhere.
Refugees don't deserve blame for #ParisAttacks, they deserve even more sympathy: attacks like these are what made them refugees.

— Bobby Ghosh (@ghoshworld) November 14, 2015
People do not seem to realise that these extremists are the people the refugees are running from. Do not blame the innocent. #ParisAttacks

— Finlay Russell (@mrfinlayrussell) November 14, 2015
WHAT WE KNOW SO FAR:

At least 127 dead, and fears death toll could be around 140
At least five locations targeted in suicide bombings and shootings
Around 80 slain at Bataclan concert theatre after hostage situation
Restaurants, football stadium attacked in night of horror
Police leave cancelled and around 1,500 soldiers mobilised
French border controls increased, state of emergency declared
Eight extremists killed, all attackers thought to be dead
Manhunt under way for accomplices
David Cameron to chair meeting of Government Cobra committee
Here's some context as to why refugees are fleeing their homes...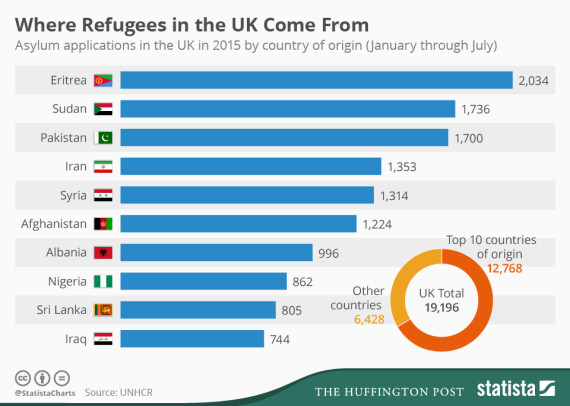 Infographic supplied by Statista
The chart above shows the the origin countries of the 19,196 people who claimed asylum in the UK from January to July of 2015.
SEE ALSO: