The French air force launched a "massive" air strike on the city of Raqqa on Sunday, the capital of the Islamic State movement in Syria. Twelve aircraft including 10 fighter jets targeted a jihadi training camp and a munitions dump, where the Paris massacre was planned, according to a dispatch from Iraqi intelligence officials.
Some 20 bombs were dropped, marking the biggest air strikes by French forces since the country extended its bombing campaign against the extremist group to Syria in September. According to a French Defense Ministry statement, jets were launched from Jordan in coordination with US forces in the Persian Gulf.
In France, police continued their hunt for more members of the sleeper cell that carried out the attacks that killed 129 people on Friday. On Sunday, authorities posted an arrest warrant for Salah Abdeslam, a 26-year-old born in Brussels, wanted in connection with the killings.
French police on the Belgian border stopped a car carrying Abdeslam on Saturday, but let him go. Authorities later identified Abdeslam as the renter of Volkswagen Polo that carried hostage takers to the Paris theater, the scene of the greatest number of fatalities. Abdeslam is one of three brothers believed to be involved; One who crossed with him into Belgium was later arrested, and another blew himself up inside the Bataclan theater after taking the audience hostage and firing on them repeatedly.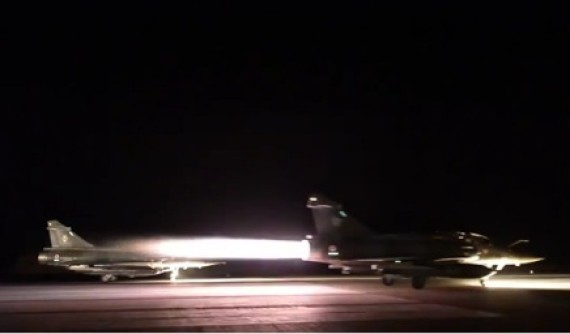 Twelve aircraft including 10 fighter jets hit Raqqa on Sunday
On Sunday, Iraqi intelligence officers revealed they had warned coalition countries, and France specifically, of an impending Islamic State attack a day before Friday's killings. The dispatch sent to western nations said an attack by ISIS was imminent. The coordinated assault on the French capital killed 129 people and left hundreds injured.
According to the Associated Press, the attack was ordered by ISIS leader Abu Bakr al-Baghdadi, who demanded reprisals against the coalition countries currently fighting the group in Iraq and Syria "through bombings or assassinations or hostage taking in the coming days."
Four Iraqi intelligence officials said they warned France specifically of a likely attack, though the Iraqis said they had no details as to when or where the attack would take place. However, a French security official moved to play down the warning on Sunday, telling AP this was the type of communication they receive "all the time."
The dispatch was shown to an AP reporter on Sunday. Two officials, who spoke under condition of anonymity, said the dispatch included details of how the plan was hatched in Raqqa, Syria, with attackers trained specifically for an attack on France. They were sent to Europe where they contacted a sleeper cell, which was to aid with their operation.
On Saturday, ISIS claimed responsibility for the attacks on the Stade de France, the Bataclan and Paris cafes. Seven of the assailants were killed, six by detonating suicide vests. Police shot one attacker, while an eighth suspect remains at large.
WHAT WE KNOW SO FAR:

129 dead, 352 injured, 99 critically
Restaurants, football stadium, rock concert attacked
Attacker named as 29-year-old Omar Ismail Mostefai
French border controls increased, state of emergency declared
Seven extremists in three teams carried out attacks
SEE ALSO