Journalist and foreign affairs analyst Tim Marshall laid out his 'unpopular' opinion on Islamic State (IS) and the Paris terror attacks during Monday's episode of BBC Daily Politics.
Presenter Jo Coburn asked whether he was surprised that reports were coming in to say France would call for effective suspension of Schengen open borders. Marshall then discussed his perceived IS plan to divide and cause barriers between countries in Europe.
He delved into the ideology of the terror group, stating: "This is the success of IS, I'm confident they are going to lose. I actually think they are both fascists as you said, but I think they are Islamic fascists, I don't think you can separate religion from it, which is a very unpopular thing to say.
"But it's a personal belief. They are going to lose but in the manner of which they're losing they are going to divide and that's pretty sad."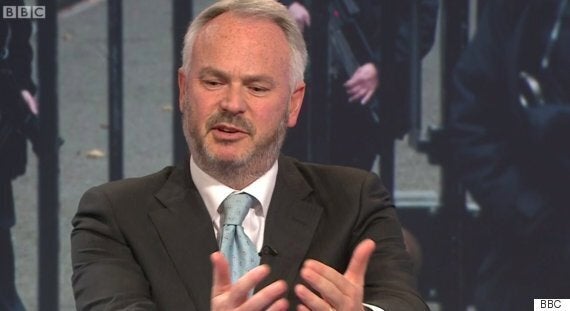 Tim Marshall spoke about religion and ISIS on BBC Daily Politics
Prior to Marshalls remarks, Quilliam Foundation's Haras Rafiq also delivered his opinion on IS and being a Muslim in Britain.
He said the ideology [of IS] was "brainwashing" young people into carrying out terrorist attacks, which meant that those people no longer identified as British or French but "Islamist jihadists". He said to counter extremism that narrative needs to be "deconstructed" and "our alternatives promoted".
Rafiq also placed blame on victimhood, saying that, "Muslims, people like me… need to play our part and get over this victim mentality."
The programme focused on the Paris terror attacks, which occurred on the evening of Friday the 13th. Since the tragic events, which killed 129 people, many commentators and politicians have edged into the conversation on stopping extremism.
The Islamic State claimed responsibility for the coordinated attacks across Paris that the French president subsequently described as "an act of war".
In the Bataclan theatre, several gunmen held hostages until French security forces raided the building. The death toll from that attack stands at 80.