Jeremy Corbyn has suggested the British media under-played terrorist attacks in Beirut and Ankara compared to its coverage of the atrocities in Paris this weekend.
The Labour leader claimed the events "got hardly any publicity" and the media should "report things that happen outside of Europe as well as inside".
On Thursday evening, over 40 people died in Beirut in an IS terror attack a day before the Paris strikes. The extremists are also believed to have been responsible for the October suicide bombings in Ankara, Turkey, which killed over 100 people.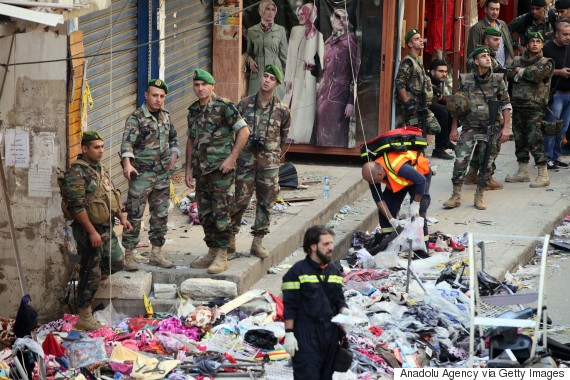 Lebanese soldiers inspect an area where two explosions took place at Dahieh, know as Hezbollah stronghold, South Beirut, Lebanon
Mr Corbyn told ITV's Lorraine Kelly this morning: "I think first of all what happened in Paris was appalling, this is a vibrant, multicultural city, young people of all faiths, and older people as well, all there together, and cultures, and this terrible thing happened.
"Likewise, which didn't unfortunately get hardly any publicity, was the bombing in Beirut last week or the killing in Turkey. I think our media needs be able to report things that happen outside of Europe as well as inside. A life is a life."
READ ALSO: Claims Paris Attacks Received More Media Coverage Than Beirut Called 'Blatantly Untrue' By Journalists
Media coverage of the terrorist attacks events has come under scrutiny on social media, with some questioning the apparent lack of coverage of the Beirut attacks in particular - with one tweet being shared more than 53,000 times.
No media has covered this, but R.I.P to all the people that lost their lives in Lebanon yesterday from Isis attacks pic.twitter.com/mZXUEcxDmR

— Jackjonestv (@jackjonestv) November 14, 2015
However, many journalists have dismissed the claim. "Search Google News and you will find pages and pages of reports of the attacks in Beirut," wrote journalist Martin Belam. "Pages and pages and pages. Over 1,286 articles in fact — lots of which pre-date the attacks in Paris."
I got fed up of people claiming that the media aren't covering stories which they really, really are covering https://t.co/b8dlAZpoyS

— Martin Belam (@MartinBelam) November 16, 2015
The Labour leader went on to argue French air strikes in Syria will make little difference to tackling terrorism, and renewed his call for a political settlement to end Syria's civil war.
"One war doesn't necessarily bring about peace, it often can bring yet more conflicts, more mayhem and more loss," he said.
This morning, David Cameron renewed his position that Britain would not join the US and France in airstrikes on Syria unless he could secure a majority vote in the House of Commons, warning it would be "damaging" for Britain's reputation if a vote failed.
Labour's position has remained opposed to bombing, but some of Jeremy Corbyn's backbenchers believe IS need to be crushed. The Conservatives have a majority of 12 but some Tories are opposed to extended air attacks from Iraq to Syria.
SEE ALSO: