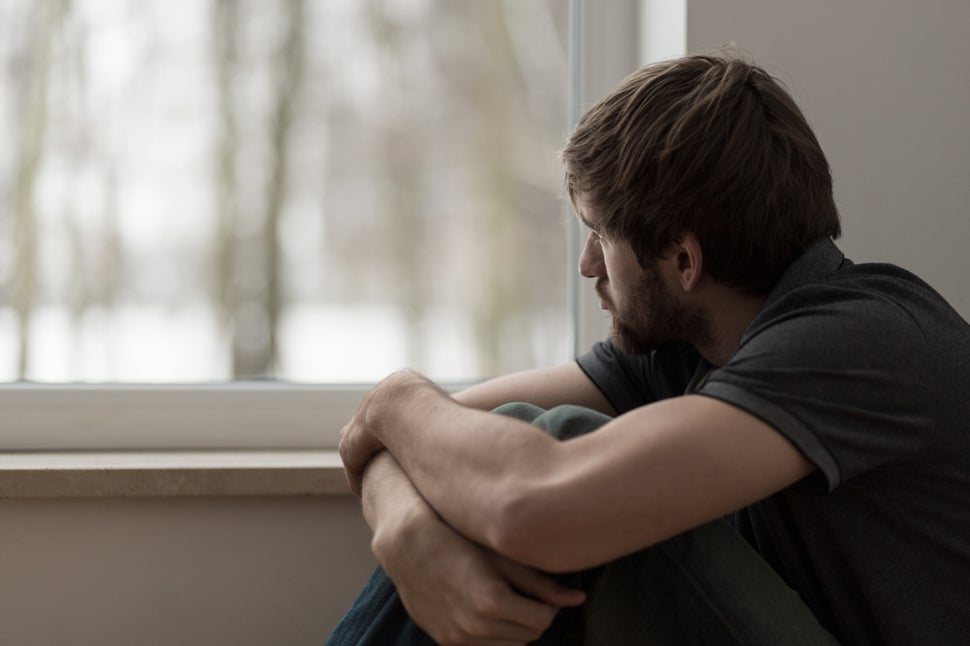 "I had my dressing gown and slippers on when he told me he was going to rape me. I have no idea why he did it, he was really angry."
Five years ago, John Lennon, a 46-year-old dog groomer from Manchester, was brutally attacked and raped on a Tuesday morning by a man he barely knew.
The attack took place in Lennon's own flat after he confronted the man, who he had met four days previously, about some money that had gone missing from under the sink.
"It was vicious," Lennon tells The Huffington Post UK. "It lasted for around three-and-a-half hours. He repeatedly raped me - sometimes conscious, sometimes semiconscious."
Lennon required plastic surgery on his face and suffered from genital mutilation, photos of which later had to be shown in court as evidence.
At first when Lennon called the police, he reported a theft. But his mother later persuaded him to call back and report what had really happened.
His attacker, who was 20 at the time, was sentenced to four years, three months and two days (to be exact), but was released after 15 months.
"Within the first few days of release he attempted to get to me through Facebook," Lennon explains. "I reported it to police, who investigated, and he was stuck back in prison for violating his terms of release. Then he served every single day."
A report published today, called 'Silent Suffering: Supporting The Male Survivors Of Sexual Assault', reveals that as few as 3.9% of male victims of rape and sexual assault report the crime to police.
The report, which was commissioned by Greater London Authority (GLA) Conservative London Assembly Member Kemi Badenoch, crunches numbers from various official reports alongside research conducted by Survivors UK, a charity working with male survivors of rape and sexual assault in London.
It estimates that across the UK between 2010 and 2014, 679,051 sexual assaults and rapes of males took place. Of these 652,568 were not reported to any police force.
According to figures released previously by the Ministry of Justice, more than one in 10 victims of rape or attempted rape are male.
Michael May, chief executive of Survivors UK, tells HuffPost UK that, as with women, most perpetrators are known to the victim, with the same proportion of rapes taking place in relationships.
However there are marked differences between male and female victims. "Males are more likely to be assaulted by multiple perpetrators and to have had threats of violence or weapons used in the commission of the crime," he reveals.
May also notes an increase in rape-related incidents at sex parties where people take drugs, such as gay 'ChemSex' parties which are fuelled by meth, meph and G.
But this is far from a 'gay issue'. The 'Silent Suffering' report states that 60% of victims of male rape or sexual assault are heterosexual and May quotes international research that suggests most men who rape men identify as heterosexual.
The law on rape and sexual assault:

Under the Sexual Offences Act 1956, the statutory definition of rape is any act of non-consensual intercourse by a man with a person - and the victim can be either male or female.
In 1995 Andrew Richards became the first man to be convicted of raping another man.
The Sexual Offences Act 2003 defines a rape to include the penetration by a penis of the vagina, anus or mouth of another person.
At present, women are legally unable to rape a man. If a woman forced unwanted sexual activity on a man, which included penetration, this would be considered under the offence of sexual assault by penetration, but not rape.
The CPS also recognise the pervading myth surrounding male on male rape that only gay men rape and only gay men get raped.
The report says that the reasons men are not coming forward are complex and multi-faceted.
Many men do not perceive what happened to them to be a crime, fear they will not be believed or are concerned their sexuality will become the focus of the investigation, the report reveals.
If a man ejaculates or gets an erection during the assault, he could be left questioning his sexuality and whether the crime was indeed a crime. Experts stress that any physical reaction on the part of the victim is, of course, purely physical and due to stimulation rather than enjoyment.
Duncan Craig, founder of Survivors Manchester, who support men who have experienced sexual assault and rape, says that male on male rape is often (wrongly) framed around sexuality, when the real issue is power and control.
"As a result men start to question their sexuality," Craig explains."'Did this happen to me because he thought I was gay? Does this now make me gay?'"
Lennon, who identifies as gay, agrees: "If you are a heterosexual man who has been raped, it must be almost impossible to come to terms with."
Lennon says that despite his initial "wobble" where he reported theft but not rape, he hasn't had any doubt about pursuing the course of justice. "Rape is a crime and you are the victim."
Another major issue preventing men from coming forward is due to society's expectations around masculinity.
May explains: "Society is generally afraid to see men as victims. From infancy males are told that they should strive to be resilient, self-sufficient, protectors, dominant in sexual interactions and able to defend themselves."
He adds: "An experience of rape or sexual abuse contravenes all of these masculine expectations. It leaves the survivor feeling 'less than a man' and society feeling that without a firm, inviolate masculine ideal - so safety is fundamentally compromised."
May recognises that reporting an experience to police is particularly hard for men. "Police are one of the major alpha male representations in our society, so we're essentially asking someone who has been robbed of masculinity to go to the biggest man in the room to talk about it," he says.
One of the key ways to overcome the societal taboos is talking about the issues openly, and Craig believes this has to be led by men.
"We have to make the change, we have to ask for help," he says. "If we don't create the conversation, men won't have the vocabulary. We need to teach men to talk about sensitive issues and give them permission to do it."
For those who do overcome these odds to seek help, services are limited. There are far fewer specialised services for male survivors of sexual assault and rape, compared to those for women and girls. As such, rape is still perceived - and tackled - as a gendered crime.
The report says that while the Mayor Of London has been "hugely supportive" of female victims - quadrupling Rape Crisis Centres and establishing a specialist command within the Metropolitan Police Service to tackle rape in 2013 - male victims have not had the same support.
Earlier this year a 'misleading' CPS crime report on Violence Against Women And Girls (VAWG) conflated male and female figures without due effort to identify them as such. The CPS has since agreed to be more transparent with their figures.
Some of the key recommendations from the 'Silent Suffering' report is to develop a Sexual Offences Against Men and Boys strategy to help victims and to have services better sign-posted.
SEE ALSO:

Male Rape Victims Should Never Feel 'Less Than A Man' Says Survey
That's precisely why Craig, who was sexually assaulted and raped in his teenage years and early twenties, set up Survivors Manchester, after he became aware of the lack of male-focussed support services in Manchester.
Craig called his local Rape Crisis Centre, but as he was male he was only permitted a phone conversation and was forced to travel 180 miles to Wiltshire to have face-to-face counselling.
Lennon, who is also based in Manchester, echoes this experience and said it was difficult to know where to get support as a male victim. Although he "cannot fault" police for the way they handled his particular case, he says: "My recovery was down to myself, nobody else."
He was referred to a St Mary's Sexual Assault Referral Centre (SARC) which supports both women and men, but he was acutely aware of being the only male victim at the service.
Then Lennon contacted Survivors Manchester and had one-to-one counselling with Craig, who is a qualified therapist as well as CEO. "Seeing him was a great help as it made me leave the house and talk to someone," says Lennon. "After the rape, I isolated myself and locked myself away because I didn't trust anyone."
Lennon was diagnosed with Post Traumatic Stress Disorder (PTSD) six months after the attack and says the condition has "controlled and ruined" his life.
"After the rape my business went kaput. Now, I work part-time three days a week, which is as much as I can manage. All the dreams and ambitions that I had have all gone," he says. "I've thought about killing myself many times."
Five years on, Lennon has therapy once a fortnight. He is very vocal about his experience and hopes that speaking out in the media will help raise awareness and change the way male victims of sexual assault and rape are seen by society.
Lennon is determined to get his life back on track. He went on his first date since the attack just last week, which was with an old friend and went "brilliantly". Lennon, who describes himself as a "very open person", says they ended up talking about the rape.
"After all, this is my life now. I'm not going to live in shame because of what my attacker did to me," he says. "Society creates the stigma around rape, not me."
Survivors UK offers support for men and boys - 0203 598 3898
To get involved with Building Modern Men, email uklifestyle@huffingtonpost.com. If you would like to use our blogging platform, email ukblogteam@huffingtonpost.com.
HuffPost UK is partnering with Southbank Centre's Being A Man Festival, taking place 27 - 29 November. It will focus on lighthearted, serious and challenging issues facing boys and men in the 21st century. There will be talks and debates, concerts, performances, comedy and workshops with contributions from over 200 speakers and performers, including Akala, Frankie Boyle, David Baddiel and Kellie Maloney. Day passes are £15, 3-day passes are £35. For more information, visit the website or call 0844 847 9944.