Armed police have been deployed at Wembley Stadium, where the French football team is playing England in a friendly tonight, while another international match was cancelled over security fears.
The stadium in Hannover, Germany, that was due to host a Germany vs Holland, has been evacuated due to a "suspicious object" within the grounds and loudspeakers were saying the game has been cancelled.
Chancellor Angela Merkel was among the dignitaries scheduled to attend the match to show they would not bow to terrorism.
The Duke of Cambridge, David Cameron and Labour leader Jeremy Corbyn will be among those in the Wembley crowd in a show of solidarity after the deadly attacks in Paris on Friday night that left 129 people dead.
Boris Johnson is also be at Wembley tonight and England fans are being encouraged to join in the singing of the French national anthem before kick-off, The Press Association reports.
Story continues beneath slideshow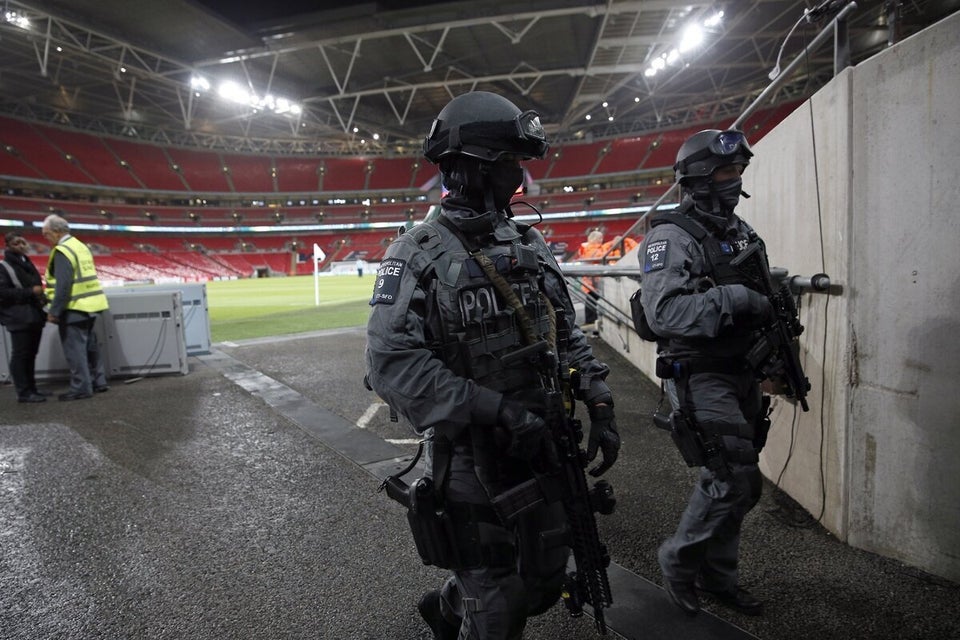 Armed Guards Deployed At Wembley Stadium
French supporters waved Tricolor flags outside the national stadium and displayed banners, including one that read: "Thanks to the world".
A spokesman for Mr Cameron said he "will take part in any tribute that is fitting", adding the Prime Minister is "looking forward" to the match.
Labour said Mr Corbyn will also be at the match.
Fans arriving early for the match said they are hoping for a peaceful event.
Muslim friends Ansheed Tahir, 24, and Mazin Mohammed, 23, who are students from Upton Park, east London, said they are worried after Friday's events but are determined to attend to show their sympathy for the French.
Mr Tahir said: "We have had the tickets for two months and have not been put off by what happened.
"I am looking forward to the minute's silence and a chance to show solidarity with the people of Paris."
His friend added: "This has not affected us as Muslims. People in Britain are good to us. Globally there is blame for the Muslims but it is a tiny minority who are doing this and we do not approve of violence - it is against our religion."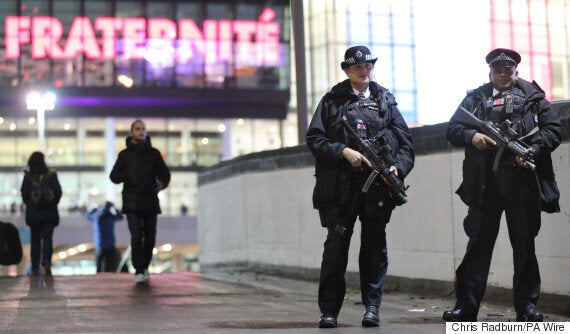 Armed police at Wembley ahead of kickoff
The stadium bore the words Liberte, Egalite, Fraternite in red, white and blue and the arch over the ground was also lit in the colours of the French flag.
Armed police stood guard on Olympic Way, the main approach to the stadium.